The amazing baby sleep tricks you need to try
Getting a baby to sleep is one of life's hardest tasks. Thankfully there are some little handy tricks that you should try - these parents guarantee that they work!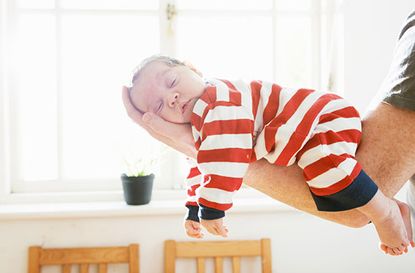 GoodTo newsletter
Sign up to the GoodTo Newsletter. You can unsubscribe at any time. For more information about how to do this, and how we hold your data, please see our privacy policy
Thank you for signing up to . You will receive a verification email shortly.
There was a problem. Please refresh the page and try again.
Getting a baby to sleep (opens in new tab) is a challenge for every new parent - and some find it more of a struggle than others.
No matter how many leaflets or books you read, sometimes your little one just. won't. sleep.
Help is at hand! The Internet is awash with little tricks that sleep-deprived parents swear actually work and most of them are actually pretty easy. Why not give them a go?
The Head Rub sleep trick
http://www.youtube.com/watch?v=Mnhg-mbPUiI
Now while we are fully convinced this woman is a magical sleep wizard and her baby has been trained to cooperate, this trick seems too good to not at least give it a try.
Promising to get your baby to sleep within 60 seconds - even when they are fully awake in a room full of adults watching and videoing their every move - this massage technique seems to work a treat.
The video, which was originally posted to the French mummy Facebook page - Pous nous les Femmes - back in November, has now had over 3,000,000 views.
Titled 'How to make a baby sleep in less than a minute', it's no wonder it's had so many people watching to discover the secret to every parent's dreams.
The woman simply begins by gently stroking the baby's back with her finger tips, moving up to the neck and then on to the scalp. As she notices the baby is relaxing, she starts stroking its face and then gradually reclines it on to her chest. From awake to asleep in less than 60 seconds.
We only wish someone would come and rub our head to send us to sleep.
The iPhone swipe sleep trick
The swipe motion is something everyone is familiar with these days - who doesn't have some kind of device that needs swiping? But have you ever thought that maybe it could work on a baby?! Now, we're not suggesting that your cherished baby is similar to an iPhone but it looks like the soothing gesture could help them tip over into the land of nod. These videos make it look pretty convincing!
Side to side
http://www.youtube.com/watch?v=clxWq3CpVk8
Up and down
http://www.youtube.com/watch?v=rdZ8QjQdi-M
The Full Face sleep trick
If the single swipe isn't working - why not try the whole face? It certainly works with this little fella!
http://www.youtube.com/watch?v=MwswPblrfv8
The Tissue Paper sleep trick
Bare hands not working? This tired father swears by his simple tissue trick - and it's been viewed over 8million times on YouTube!
The Oompa Loompa sleep trick
Feeling musical? Maybe a tune will get them to sleep? This Oompa Loompa sleep trick comes with a gentle dance move which is said to send the baby straight to sleep - we're sold!
This 'magic' book is taking the internet by storm! Some parents swear that its sends their kids to sleep in mins while some say it makes them more agitated - what do you think? (opens in new tab)
Have you tried any of these sleep tricks? Have they worked? Or do you have another trick you'd like to share with us tired mums? Tell us in the comments section below