Personalized baby gifts - 25 of the best buys, including Tonies, Etsy and My 1st Years
Personalized baby gifts are the best, they last the test of time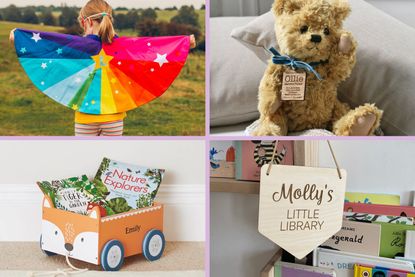 (Image credit: Not on The High Street/Etsy/Great Little Trading Company)
Personalized baby gifts are perfect for parents who love a custom memento and would freeze time if they could keep their little one little for a bit longer.
Giving birth is no easy feat, so it's no surprise that personalized baby gifts to commemorate a little one are among the top gifted (and wish-listed) items for new parents. While the parents still have a way to go before they need to worry about best toys anything you can buy that they can claim as a keepsake is a winner.
Goodto.com Family Editor, Stephanie Lowe tells us; "I have kept all of Ted's personalized baby gifts from birth, in a cute personalized (obvs.) keepsake box, there's something about them that is that little bit more special, I think."
Babies are an expensive business - whether it's you giving birth to them or not - from buying the baby shower gifts and best gifts for new mums to the best toys for 6 months olds, it's all spend spend spend. So, here's what to direct your hard-earned money to for ultimate parent-friend brownie points.
Best personalized baby gifts
Where to find the best personalized baby gifts
Personalized Tooth Fairy Gift Set
RRP: £40.00 | Delivery: £3.99 | Refundable: Free within 30 days if there's a mistake
As personalized baby gifts go this adorable set from My 1st Years celebrates little ones losing their milk teeth in style. Included in the pastel gift box is a wall hanging that reads "Tooth Fairy, please stop here!", along with a dainty tooth fairy doll. Both the wall hanging and the doll can be personalized with a name, up to 14 and 12 characters long, respectively, and you can pick even from brunette or blonde hair on the doll. The gift set also comes with a free My 1st Tooth Fairy Visit Certificate to pop in a memory box when the time comes. A truly unique gift you can be sure no one else will have thought of.
Grace, a mom-of-one, said "This gift set was even more stunning in real life… the photos just don't do it justice. The wall-hanging is even bigger than I expected, made from a sturdy, cream canvas and with real glitter lettering. The textured glitter also appears on the doll, who has beautiful golden wings and a crown to match the personalization along the bottom of her netted dress. I loved that her darker hair and skin tone matches my daughters, and I will definitely buy this for my friends little ones in the future, without any hesitation."
Personalized Pyjamas
RRP: £19.99 | Delivery: £4.95 | Refundable: No
You can't go wrong when gifting a snuggly pair of Pyjamas, especially not with a little one's name delicately embroidered on them. Not only is this Mamas and Papas set available in a range of colours (White, Grey Check and both Blue and Pink Gingham), size options range from 6 months through to 4 years. Perfect for the super-prepared parents who are all set for newborn clothes! The long sleeves make them wearable in both colder and warmer seasons, and with an elasticate waistband on the trousers and just three buttons to do up on the shirt, change time will be easy. Well, easier.
Grace, a mom-of-one, said "Pyjamas feel like one of those gifts that will always be well used and appreaciated no matter the age of the baby or toddler you're buying for. I also happen to think that little people wearing pyjamas like a grown up is one of the cutest things in the world. These personalized ones from Mamas and Papas come in pink, blue, grey and white are the perfect choice; soft and well-made, I can tell they'll stand the test of time (and washing machines!)."
Personalized Bunting
RRP: From £8.00 | Delivery: Free | Refundable: No
A simple but sweet personalised baby gift from Etsy, this bunting comes in a pennant flag shape design. You can create your own rainbow effect with felt letters in Red, Jaffa, Sunflower, Apple, Crystal, Royal, Lavender on a Natural background. For the personalized element, you can request a name of up to 20 characters long; a five letter name like Sophia will cost £20. Bunting is always a safe bet gift, as it can be strung up in nurseries and bedrooms but also used for parties and other celebrations. Rave customer reviews compliment the quality of the material and a quick delivery time.
Personalizable Rocking Horse
RRP: £99.00 | Delivery: Free | Refundable: Non-refundable if personalized
A rocking horse is always going to be a well-received personalized baby gift and investment piece, and this is a lovely option if you're looking for something extra-special for a new arrival or toddler. JoJo Maman Bébé's horse is called Biscuit, and can be dressed as a Sheriff or a Gymkhana horse with the included accessory pack. Biscuit's sturdy wooden rocking base can be personalized with a name for an extra £10, and his neutral brown colouring will make him a suitable addition to any nursery color or theme.
Grace, a mom-of-one, said "This beautifully made, friendly-faced rocking horse had my daughter beaming, waving and offering a cuddle and a biscuit the moment they met. A fantastic size for those at both ends of the toddler spectrum, I especially love that the two included accessory packs allow you to change the horses 'outfit'. The personalized engraving on the wooden rockers makes for an extra-special touch, and I know my daughter will get years of use and enjoyment from this."
Personalized Treasury of Nursery Rhymes
RRP: From £24.99| Delivery: Free | Refundable: Yes, if delivered late or faulty
Transform the little one you're buying for into the hero of the story with this Treasury of Nursery Rhymes complete with personalization. Wonderbly allow you to choose from one of four book cover colours, write a special dedication on page one, and add a child's name and character. They'll then appear almost 100 times over 30 classic stories and songs, which are suitable from newborn right through to three years old. This is a lovely gift not just for the child but for the parents and loved ones they'll enjoy it with, and if that's not enough, it's educational too; a great all-rounder!
Personalized Clementine Shoes
RRP: From £22.00 | Delivery: Free | Refundable: Not when personalized
Inch Blue creates children's shoes to make you swoon, and this adorable Clementine design is no exception. This is a gift that works for a newborn (pram shoes that will one day be tucked in a keepsake box), or an older child who is walking and will benefit from some proper support. Inch Blue's shoes (of which there are over 250 other designs!) feature elasticated collars and breathable leather, with non-slip suede soles for pre-walkers and natural rubber soles to offer grip to walkers. The personalization is printed along a leather collar, and includes both shoes, giving you the option of a first and middle name or perhaps a first name and the year. It may also stop them getting lost at playgroups or nursery; the parents can thank you later!
Grace, a mom-of-one, said "I've coveted Inch Blue's unique and colorful designs for a while, and love that they make a goregous gift options for both a newborns first pram shoes right through to toddler shoes. The Clementine design is brilliantly unusual, and having my daughter's first and middle name printed neatly along the orange color is such a special touch. The leather material is soft and pliable, so these will be fantastic when my daughter is confidently walking and doesn't need support around her ankles. While the foot is entirely covered by these shoes, the lightweight material means they'll be great in all seasons, and thanks to the personalization there is hope that if they go to nursery, they'll come back home again!"
Personalized Book Plaque
RRP: From £16.50 | Delivery: Free | Refundable: Yes, if damaged or faulty
Everybody knows how well-received books are by both little ones and their parents, but with this gift idea you can step a little outside of the box. This wooden plaque can not only be personalized with a name, but you can also pick your preferred shape, cord color and phrasing. Choose from a tan, light grey or black cord, a scalloped or flag shape, and finally your favourite phrase; *Name's* Little Library, Little Book Book, Reading Corner or Bedtime Books. At 15 cm by 16 cm it's a decent size to hang on any shelf or wall, and you can rest assured it will be enjoyed for years to come.
Personalized Quilted Blanket
RRP: From £140 | Delivery: £5 or free over £150 | Refundable: Yes, within 14 days
For a personalized gift that will last for years, be used every night and hopefully even be passed down through generations, the 318 count organic cotton satin quilted blankets from Forivor are a stunning, luxury option. Their Space Above The Ground design is available in two sizes, and is double-sided; one side, in soft pastel colors, displays a peaceful, daytime scene, while the other, darker side reveals a star lit cosmos. The blanket can be used as bedding in the long-term, but can be used from birth as a play mat or rocking chair throw. You can make you gift a bundle by choosing to present it in a soft little suitcase complete with a storybook that brings the creatures on the blanket to life. For an extra charge, all Forivor bedding can be personalized with a name and motif by artist Kate Kato at her studio in Wales.
Grace, a mom-of-one, said "The Forivor range of blankets, each with it's own hand-drawn design and roots in the importance of both nature and storytelling, are truly drop-dead gorgeous. The quality and longevity a blanket offers and promises, along with just how often and for how many years it can be used, go a long way to justify the premium cost, as does knowing you're supporting a woman-run independent business. My daughter crawled onto hers instantly and began studying the intricate details. I already know how treasured this blanket will be, and the option to personalize is just an added bonus."
Personalized Rainy Day Gift Set
RRP: From £70 | Delivery: From £.99 | Refundable: Yes, if faulty
Sunshine in a box! With both wellies and a raincoat, this generous gift set from My 1st Years is sure to make even the greyest days brighter. The vibrant yellow rain mac is both waterproof and lined, with a rainbow motif on the pocket and multicoloured buttons, and the rubber welly boots feature a grippy sole and a front toggle to adjust the fit. Sizing begins at 6 months and goes right up to 5 years. Add personalization of up to ten characters and it will feature on both the rain mac and the trim of both boots.
Grace, a mom-of-one, said "This set put a smile on my face the moment I opened the box. The vibrant, sunshine yellow color of the coat and wellies is just adorable, and I love the added bonus that it will keep my girl easy to see even on dark and rainy days! The design has been really carefully thought out, from the cloud print lining of the coat through the rainbow stripes along the coat cuff and the bottom of the boots. The toggle pull on the boots isn't just there for show, either; it works effectively to tighten the cuff around my daughter's legs and keep water out. The quality is excellent and I can tell both the coat and the boots will stand the test of time; a key factor!"
Personalized Book Cart
RRP: £39.00 | Delivery: £3.95 | Refundable: Not if personalized
This super-cute fox book cart from the Great Little Trading Company comes complete with sturdy wheels and a rope handle to double as both storage and a toy. While younger babies will enjoy lifting in and out the book stashed inside (over and over and over again), those heading towards toddlerhood who will love taking it with them on their wobbly travels around the home. It's also available in a pale grey and pink cat design, and can be personalized with their name as no extra cost.
Personalized Tonies Box
RRP: From £80.00| Delivery: From £3.99 | Refundable: Yes, if faulty
You may have heard of the ever-popular Tonies box by now, but you might not have know that you can have a box personalized with a name and message. Order from My 1st Years and you can add 22 characters over two lines for an additional £10. It's safe for children to play with from the age of 3, but before that, parents can use it to entertain their little one with music, audiobooks, stories and other narration. It's a brilliant option if you're looking for something that will grow with a child, as there are a whopping 140 figures (and counting) to pop on top of the box for brand-new entertainment at home or on the road for years to come.
Mum-of-one, Grace tells us; "Colourful and chunky (so very much toddler-approved and toddler-proof) the Tonies box has been a huge hit in our house. We were so suprised at how quickly our daughter learned to put the little figures on top of the box to make it play stories or music, and love that it gives her independent playtime free from screens. We sometimes hear it start playing in the next room and spy on her listening intently or bopping her head along, which is adorable. I love that it will grow with her and that we can ask loved ones to gift her new figures for future birthdays and Christmas, plus the box can be personalised if you purchase from My First Years."
Personalized Sleepsuit and Comforter Gift Set
RRP: From £45.95| Delivery: From £.4.95 or free over £50.00| Refundable: Not if personalized
Mori are well-known for their super-soft fabrics, and Jelly cat for the ever-popular soft toys, so this sleepsuit and bunny gift set really is a match made in heaven. Inside the gift box you'll find a 30% organic cotton and 70% bamboo fabric sleepsuit with concealed, two-way zip, and a snuggly bunny snuggled alongside. In the sleepsuit, there are a variety of colors to pick from - the black and white stripe is a firm favourite- while sizes range from Newborn right up to two years and personalization of the sleepsuit is included in the price.
Grace, a mom-of-one, said "I've heard for some time about the fabled softness of Mori's material, and I wasn't disappointed with what arrived at all. The sizing is just right, I like that the 18-24 month option is footless, and the two-way zipper will definitely save time and effort. I think that these little details add up to make a really lovely gift, and the gift set option means there is something for the parents and something for the child! My daughter's face lit up when she lifted the super-soft Jellycat bunny out of the box and she didn't let go of it again!"
Personalized Hero Cape
RRP: From £27.00 | Delivery: Free| Refundable: Yes, if faulty
Fun, colorful and unique; this personalized gift ticks all the boxes. This superhero cape with matching mask comes in rainbow colors for a gender-neutral gift that can be hung on a nursery wall and worn when the toddler years arrive. If you'd like to upgrade to a bigger bundle of goodies, you can add a matching cuff for the little one, matching adult capes for their superhero parents, and even a matching bandana for the family dog! This cape is also available in other designs, including a Magician cape and a Tropical Bird cape.
Personalized Duck Embroidered Baby Sleepsuit
RRP: From £21.00 | Delivery: £4.95 | Refundable: Not if personalized
If you're looking for a gift you can guarantee will be used (and used lots!), an extra-soft sleepsuit in easy-to-wash white fits the bill. This 100% cotton JoJo Maman Bebe offering starts in 'Tiny' size and goes up to 12 months; fold over scratch mitts are included up to 9 months, while there are grips on the soles of the 9-12 month size. The dainty yellow ducks embroidered onto the sleepsuit can be joined by a name embroidered in a yellow thread. Make a bundle with the matching hat and bib, also available from JoJo Maman Bebe, and you've got a gorgeous coming home from hospital outfit for both genders.
Personalized Daily Planner
RRP: From £31.00 | Delivery: From £3.95 | Refundable: Not if personalized
For a gift built to last, this wooden daily planner from the Great Little Trading Company will transition from nursery decor through to a toy used daily. With personalisation along the bottom ledge, toddlers can do what they love best and take control of the day ahead. With the days of the week, the weather, the temperature and a dedicated section for what they'll wear and what they've got in the diary, this planner covers all bases. Not only is it great for encouraging independence, it's fantastic for starting and encouraging conversation. One for the future chatterboxes!
Personalized Affirmation Print
RRP: £14.00| Delivery: Free | Refundable: Yes, if faulty
Abel and The Label prints never fail to dazzle, and their collection of personalizable designs is brilliantly varied. This uber-colorful 'We Can Be Anything' affirmation print features a diverse range of faces, genders and job roles, and can be personalized with a child's name to remind them of their huge potential and worth. There is space for up to 10 characters, and you can choose from either A4 or A3 size.
Personalized Ella Ragdoll
RRP: £21.00 | Delivery: From £4.95| Refundable: Not if personalized
If you're buying for a child who is more into their dolls than their teddies, this ragdoll from JoJo Maman Bebe is a great all-rounder. The Ella doll has a medium brown skin tone, brown hair; other dolls with different skin and hair colors are also available. Whether you go for Ella or one of her pals, they all measure around 45-48 cm and have no hard plastic, making them suitable for bedtime as well as playtime. An embroidered name on the girls' corduroy dungarees (Ella's are green) is available for £5 extra, and there is space for up to 11 characters.
Grace, a mom-of-one, said "The ragdoll range from JoJo Maman Bebe are a really decent size; not too small to get discarded in favour of other toys, but not too big to make taking them out and about a pain. I love that there are a range of hair types and skin colors to choose from, and that I was able to pick a doll with my daughter's skin tone."
Personalized Washable Beanbag
RRP: £80.00 | Delivery: £3.95| Refundable: Not if personalized
If you're looking to splurge on something that will last right through to childhood, these personalized bean bags could be ideal. Available from the Great Little Trading Company, there are six designs to choose from, including pastel flowers and green dinosaurs, and a retro black and a white zig zig design; a safe bet for all nursery themes and color schemes! Made in the UK, they conform to fire safety standards, the cover is machine washable and personalization is included in the price.
Personalized Alphabet Height Chart
RRP: £34.00 | Delivery: Free | Refundable: Yes, if faulty
This gender-neutral height chart would make a gorgeous addition to any nursery or child's room, with the added bonus of taking up no precious floor space at all. With a tearproof, canvas background and wooden hanger, it is scattered with alphabet illustrations and can be personalised along the top. The measurements start at 60cm (2ft) and go to 160cm (or 5ft 3inches!). It will be delivered in a drawstring cotton bag, making giving it as a gift even easier, and if you're buying for siblings or twins, this chart can also fit two different names.
Personalized Keepsake/Memory Box
RRP: £19.00| Delivery: From £3.75| Refundable: Yes, if faulty
What begins as a little collection of keepsakes quickly grows in a toppling pile for many parents, so gifting a personalized memory box will help them keep things a little more organized. This engraved pine version from Not On The High Street doesn't just come personalized with a name, but with a birth date, weight and height, and you can add a message on the base of the box too if you so wish. You can pick from three different box interiors, and all come with a secure metal latch to keep locks of hair, first teeth and treasured teddies as safe as can be.
Personalized New Baby Teddy Bear
RRP: £26.00| Delivery: From £2.75| Refundable: Yes, if faulty
No matter the age, gender or personality you're buying for, you really can't go wrong with a plush teddy bear. This little guy (or girl!) comes with a thin velvet bow in a color of your choosing (pick from teal, navy, purple or pink) and a wooden tag engraved with details and a message. Ted, who has honey-toned fur and is 30cms, comes snuggled in a gift box, and the bow and tag can be removed and stored safely away before giving to the lucky baby or toddler you're buying for.
Personalized Cardi
RRP: £28.00| Delivery: £3.50 | Refundable: Yes, if damaged or not as described
If you like the idea of gifting a cardigan but feel a little overwhelmed with all the color and design options, we've found a safe bet. These cream cardigans with personalized embroidery along the back from Etsy range in size from 4 months through to four years. All you have to decide is what color you'd like the embroidery to be in; you can pick from green, blue, black, off-white and two shades of pink.
Personalized Name Puzzle
RRP: From £29.18 | Delivery: Free| Refundable: Yes, within 14 days
If you're a fan of cute but educational wooden toys, this name puzzle from Etsy should hit the mark. Made from lightweight linden wood and non-toxic paints, it's safe for inquisitive little ones, while all the pieces are large enough to avoid being potential choking hazards if you choose the no-peg option. Choose a name to feature along the top line of the puzzle, and then pick four animals for just underneath; there are 20 friendly faces to choose from. If you're buying for a newborn, it can be propped up on a nursery bookshelf until they're ready to play.
Personalized Denim Jacket
RRP: From £43.00 | Delivery: £3.50 | Refundable: Yes, if damaged or not as described
From highly-rated Etsy sellers Rose and Moo, this Over The Rainbow denim jacket can be personalized with vibrant patches to spell out a name or nickname and make it truly one-of-a-kind. The jacket comes in mid-wash blue from a high street seller, and is then personalized to your liking: you can decide if you'd like the name on the back of the jacket to appear along the top or across the middle. There is also a wide variety of sizes available, starting at 3 months and running right up to 14 years.
Related Features:
Video of the week:
Grace Holliday is a freelance journalist specialising in pregnancy, parenting, and motherhood. She has written for a broad variety of newspapers and magazines, including the Guardian, the Independent, the Telegraph, Glamour, and Stylist. She is also a proud northerner and mum-of-one.