Celebrities with twins
There are more celebrities with twins than you think! Have a peek at which A-list parents are dealing with double trouble (or twice the fun!)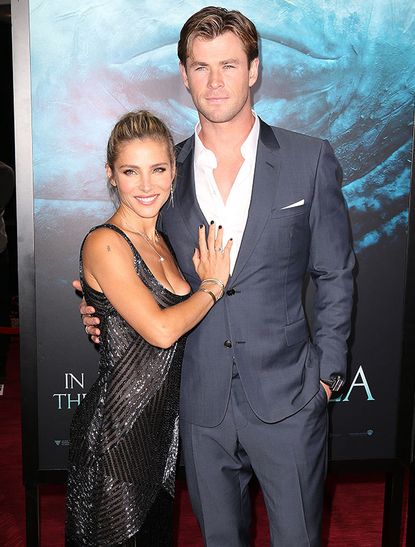 There are more celebrities with twins than you think! Have a peek at which A-list parents are dealing with double trouble (or twice the fun!)
Is it just us, or do a surprising amount of celebrity parents have twins in their families? From Julia Roberts to Celine Dion, Puff Daddy to Robert De Niro and of course, Brangelina, these famous faces have all welcomed twins at some point - and in the very rare case of tennis star Roger Federer, more than one set!
Some of these celebs even had multiples before they were famous (or in the early stages of their careers), so you might not even know them as a parent of twins. However, like all mums of dads of twins, behind the scenes they've got their hands full with double the joy - or should that be double the trouble?
One of our favourite things to do when we hear of the arrival of twins is to see which twin names the parents have chosen, and see just how well they fit together. There are some lovely examples in this collection, from Ricky Martin's sons Matteo and Valentino to more unusual choices like Julia Bradbury's girls Xanthe and Zena. And boy-girl duos can be even more interesting - who could forget Mariah Carey's little cuties, Moroccan and Monroe, or Tilda Swinton's pair, Xavier and Honor?
Some of these children were born after having IVF or via a surrogate whilst others were naturally conceived, and some are identical and others are fraternal, but they all have one thing in common - their mothers and fathers are certainly being kept on their toes by their sizeable broods!
Whether you're a parent of twins yourself or just curious about nepo babies and which stars have had multiple babies, have a flick through our round up of celebs with twins to find out who's got twice the fun in their families?
Chris Hemsworth: Tristan and Sasha
Actor Chris Hemsworth (that's Thor: Love and Thunder star to superhero movie fans) and his wife
Elsa Pataky welcomed their baby boys Tristan and Sasha into the world
on March 18th 2014. At the time, Elsa described her son's arrival as 'complete happiness'.
Chris and Elsa keep their children's lives
private and choose not to show their faces - but with genes like their
mum and dads we can only imagine these two are going to grow up to be
heartbreakers...
Kellie Shirley: Pearl and Louie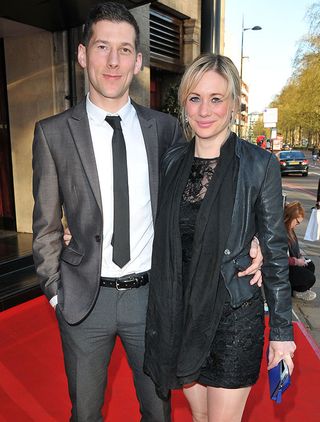 You may recognise Kellie from her time playing Carly Wicks in EastEnders, but she's got another role behind the scenes, as a mum of twins!
The soap actress and her husband Phil announced the birth of daughter Pearl and son Louie in September 2015. She told HELLO! magazine that the birth, via emergency C-section, was 'emotional' - but by the age of six weeks, she was already referring to the tots as 'little divas!'
Jennifer Lopez: Max and Emme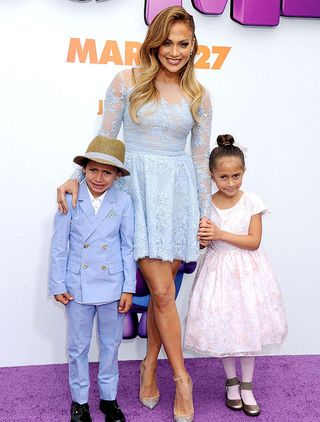 J.Lo and now ex-husband Marc Anthony welcomed adorable twin children Emme and Maximilian into the world in February 2008.
Speaking to PEOPLE magazine, she's since said: 'My kids gave me a new direction. I started asking more questions of myself, of love, of what was right, of what was wrong, all because I wanted their life to be great too'.
Mariah Carey: Moroccan and Monroe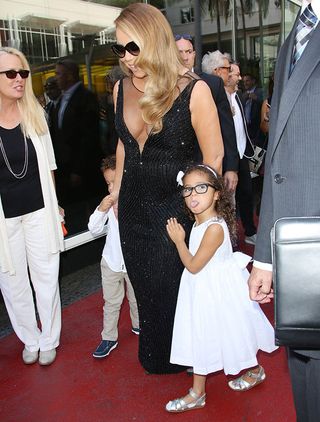 The Queen of Christmas Mariah and ex-husband Nick Cannon had 'Roc' and 'Roe', as they call them, in April 2011.
The name Monroe is said to be named after film star Marilyn Monroe, while Moroccan's name was taken from the Eastern-inspired room in which Nick proposed.
Although the couple separated in 2014, they remain close friends and are still pictured doing things with the kids as a family.
Julia Bradbury: Xanthe and Zena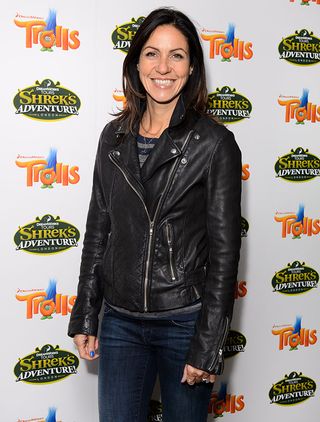 Lovely former Countryfile presenter, Julia Bradbury, gave birth to twin girls, Xanthe and Zena, in March 2015.
Already
a mum to son Zephyrus, born 2011, the presenter talked openly about her
difficulties falling pregnant after being treated for endometriosis
years earlier. The twins were conceived via IVF when Julia was 44 - good
on her!
Sarah Jessica Parker: Tabitha and Marion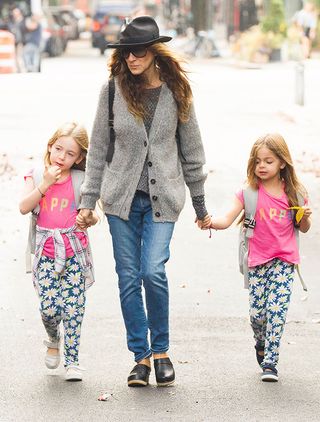 This
non-identical pair, whose full names are Marion Loretta Elwell and
Tabitha Hodge, were born via a surrogate mother to Sarah Jessica Parker and husband Matthew Broderick in June 2009.
Sarah and Matthew also have an elder son called James, and
the family can often be spotted out and about together around New York.
Jenny Frost: Nico and Blake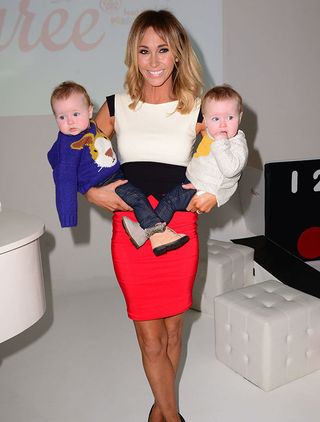 Former Atomic Kitten Jenny gave birth to twin daughters Nico and Blake in January 2013, after a difficult pregnancy and going into labour early.
She told Mother & Baby magazine that the best thing about having twins is how her girls interact with each other.
'Sometimes they'll be sitting together, just look at each other and burst out laughing!' she said.
Zoe Saldana: Cy and Bowie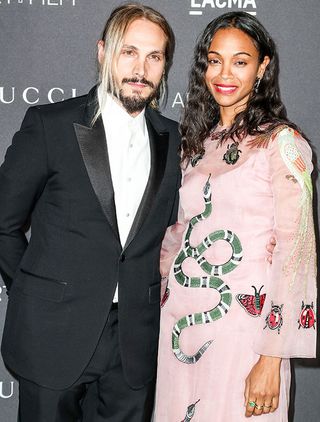 Avatar actress Zoe Saldana had two baby boys on 27 November 2014 with her husband Marco Perego, and the couple picked some pretty unusual baby names for their twin boys; Cy Aridio and Bowie Ezio.
The actress added via Twitter: 'Happy #2015 ! Starting our #NewYear with a fullhouse. Our boys are finally here! Thank U 4 all the beautiful wishes!'
Roger Federer: Charlene and Myla and Leo and Lenny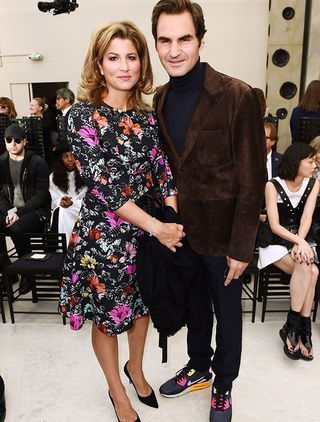 Yes that's right, tennis ace Roger Federer has his hands full with two sets of twins!
The Wimbledon champ and his wife Mirka welcomed the arrival of twin girls
in July 2009, who they named Charlene and Myla, and the cheeky twosome
can often be seen at Roger's tennis matches.
On 6 May 2014, the couple announced their double joy again, as they welcomed the
arrival of twin boys. Roger wrote on his Twitter account: 'Mirka and I
are so incredibly happy to share that Leo and Lenny were born this
evening! #TwinsAgain #Miracle.'
Celine Dion: Nelson and Eddy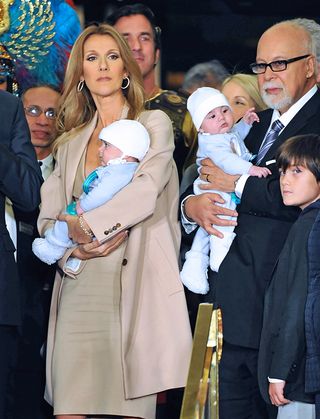 Celine Dion had six rounds of IVF treatment before becoming pregnant with twins Eddy and Nelson.
She gave birth to the miracle babies in 2009, who joined Celine and husband René Angélil's son René-Charles as part of the Dion clan.
Charlie Sheen: Max and Bob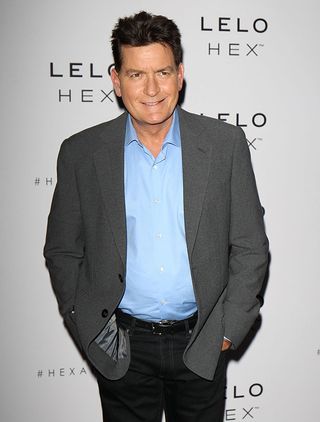 Actor Charlie Sheen had twin boys with his then wife Brooke Mueller on March 14, 2009.
Less
than a year after Bob and Max were born, Charlie was accused of
assaulting Brooke and in March 2011, he lost custody of his two sons.
Julia Roberts: Hazel and Phinnaeus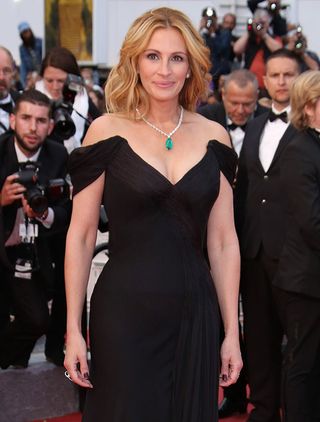 Julia Roberts met cameraman Daniel Moder while filming The Mexican in 2000 and they married in 2002.
The
couple then started a family in 2004 with the arrival of their twins,
Hazel Patricia and Phinnaeus "Finn" Walter. In 2007, the twins' younger
brother Henry Daniel was born.
Angelina Jolie: Knox and Vivienne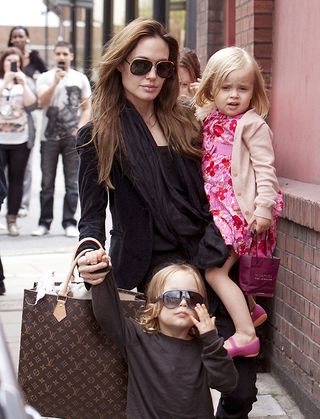 Who could miss Angelina and Brad's twins, Knox and Vivenne off a round-up of celebs with twins?
The twins were born on July 12, 2008 and the pictures were sold to People and Hello! exclusively for $14 million - the most expensive celebrity baby pictures to date. Brad and Angelina donated the proceeds to the Jolie-Pitt Foundation.
Ricky Martin: Matteo and Valentino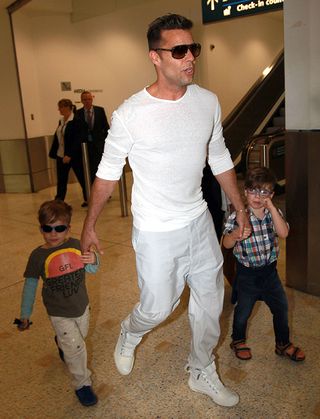 Ricky Martin welcomed twin boys into his family in August 2008, when a surrogate mother gave birth to the babies.
After splitting from his partner at the time, Ricky raised the babies alone, saying: 'The first year as a single father with twins was insanity. I had eye bags down to my knees but it was the most beautiful year of my life.'
Mo Farah: Amani and Aisha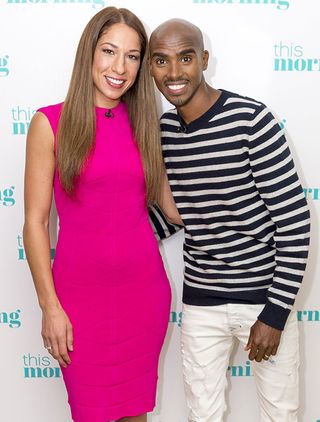 Olympic champion Mo Farah is both a twin himself and has twin daughters with his wife Tania Nell. The athlete revealed in a recent documentary how he was taken away from his family and trafficked to the UK, but reunited with them more than ten years later.
His daughters, Amani and Aisha, were born in August 2012, just after the London 2012 Olympics. Mo also has a step-daughter Rihanna from Tania's previous relationship.
Michael J Fox: Aquinnah and Schuyler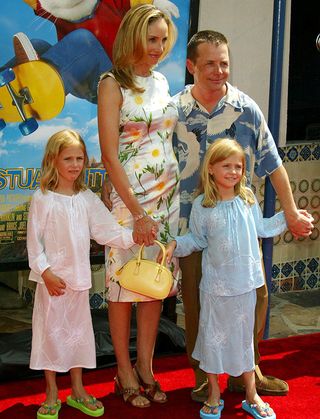 Veteran actor Michael J Fox and his wife Tracy Pollan have four children together, including twins Aquinnah Kathleen and Schuyler Frances.
The two girls were born on February 15, 1995 and have an older brother, Sam, and younger sister, Esmé Annabelle.
Lisa Marie Presley: Finley and Harper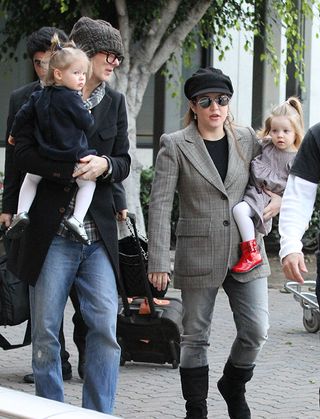 It would seem twins run strongly in the Presley family. Elvis himself was a twin, although his brother was stillborn, and his wife Priscilla had twin brothers.
It wasn't surprising then, when Lisa Marie Presley gave birth to twins on October 7, 2008 via Caesarean. Harper Vivienne Ann and Finley Aaron Love weighed 5lbs 2oz and 5lb 15oz respectively.
Denzel Washington: Olivia and Malcolm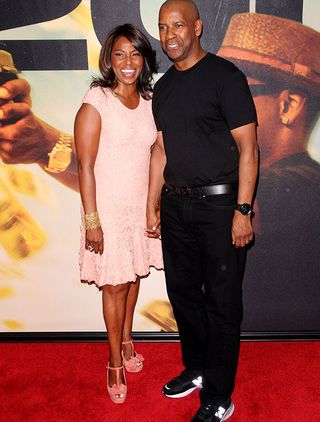 Denzel Washington has mixed sex twins, Olivia and Malcolm.
The actor has two other children with his wife of more than 30 years Pauletta Pearson - John David and Katia, both of whom are older than the twins.
Tilda Swinton: Xavier and Honor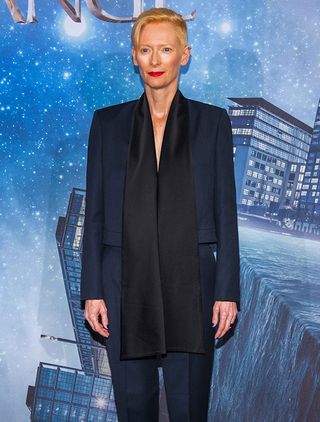 Actress Tilda gave birth to twins in 1997. Honor and Xavier live with their mother and her partner Sandro Kopp in the Scottish Highlands.
The twins have had an 'art-based education', with Tilda telling The Telegraph: 'There's no grading, not testing at all. They will go through this school without any tests at any time, so it's incredibly art-based, practical learning.'
John Terry: Georgie and Summer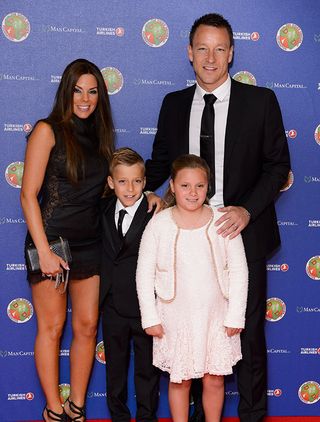 Chelsea supremo John Terry and his wife Toni had twins in 2006.
John celebrated the birth of Georgie John and Summer Rose after scoring a goal against Hungary with a baby-rocking dance!
Sean Coombs: D'Lila and Jessie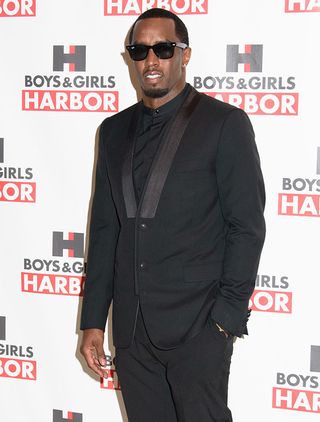 Sean Combes, AKA Puff Daddy/P Diddy is daddy to twins D'Lila and Jessie.
At the age of seven, the pair were already setting foot into the spotlight
after modelling at the Swarovski Children's fashion collection runway
show - we wonder if they'll follow their father's footsteps into the world of fame as they grow up...
Robert De Niro: Julian and Aaron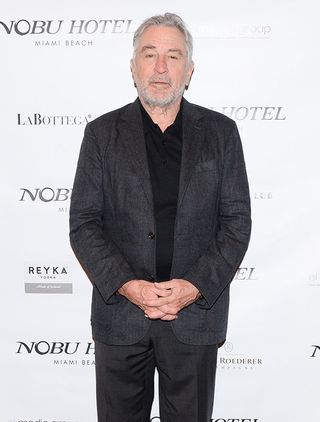 Director and actor Robert De Niro also went down the IVF route in 1995 with his ex-partner, former model Toukie Smith.
Twins, Julian and Aaron were delivered by a surrogate mother and are two of De Niro's six children.
Parenting advice, hot topics, best buys and family finance tips deliver