Circus party ideas
A circus party is perfect if your little one loves to clown around...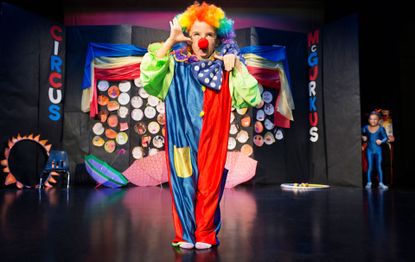 (Image credit: Hill Street Studios/Getty Images)
Kids love to clown around and get dressed up, so why not magic up a circus party that your little one will love. We've got everything you need to plan a top notch day, so roll up for the best circus party in town.
From turning your venue into a Big Top, to clown crafts to keep them entertained - follow our step-by-step guide to create a circus party the birthday boy or girl child won't forget. Following our guide should eliminate any party planning questions you have.
Theme
A circus party is great for all children to get dressed up and feel part of the circus for a day. Our guide includes do-it-yourself invites, easy-to-make recipes and costume ideas. If a circus theme doesn't sound like something your little one would love we also have lots of other themed-birthday ideas too.
Circus party: Invitations
Save money on pre-made invitations by making your own. It gives them a personal touch and is a great craft activity for the kids to do to keep them busy in the run-up. Here are some of our ideas to get you started...
Circus ticket invite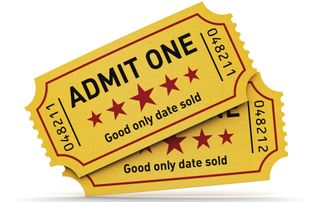 To get a feel of a traditional circus, make your own admission tickets. Still keep A5 size or chances are they'll get lost if they're too small. Cut out a 'rip apart' style ticket in yellow or gold card in a rectangular shape. At the corners, cut in half a semi-circle. In black permanent marker draw a border around the edges. On one side write in large letters 'ADMIT ONE' and on the other side write the rest of your info.If you're setting up a ticket-booth at your party entrance, state on the invites 'Bring me along to enter the Big Top.
Glitter Big Top invites
Draw out a template of a big top on A5 card, leaving space at the front for the entrance - keep it blank as this is where you'll write all the info. Draw lines on the Big Top to make it striped. Colour them in red and yellow and then glue on some scattered red and gold glitter to give them that extra sparkle.
Magic balloon invites
To put a bit of magic into your invites, blow up a large balloon but don't tie it at the bottom. Using permanent marker write the details of the party on the balloon, let it dry then deflate it. Put the balloons in an envelope (you could even add confetti) and let the invitee blow up the invite themselves.
Tightrope walker invites
If you're good on the computer, this is a great idea. Cut out cards size A5 and keep them horizontal. Stick a thin bit of string about 1 inch up from the bottom - this will be your tightrope. The birthday child could draw themselves walking along the tightrope or if you're feeling more adventurous, you could take a picture of them standing on one leg against a white wall then print and cut them out to stick on.
Juggling invites
On A5 card, draw/print off a clown juggling balls in the air. Draw the juggling balls in a semi-circle shape over his head. In each ball, write the important details, such as your address and the start and end times in another. At the top of the card write a large heading such as 'Roll up, roll up you're invited to Matthew's birthday'.
Wording inspiration for the invites:
*'Roll up, roll up, it's Matthew's 7th birthday circus party!'
*'Come one, come all! The show is about to start!'
*'Ladies and gentlemen, boys and girls, the circus is in town for Matthew's birthday!'
*'Step right up for the best circus in town with games, magic and prizes to be won'
*'Come clown around as we celebrate Matthew's 7th birthday!'
*'Calling all clowns! Get your red nose ready for Matthew's circus party!"
*'Matthew's birthday circus, appearing one day only (date)'
*'To be held at the Big Top (your address)'
*'The circus is in town at (your address)'
*'Show time (start time), show finishes (end time)'
If you want your guests to RSVP, say at the bottom:
* 'Don't clown around, let us know if you'll be in town- RSVP to us at (your details)'
* 'RSVP to the ringmaster at (your details)'
GoodtoKnow tip: Give invites out on the school run, it saves on the postage and another parent may even offer to help you out on the day if numbers are big.
Circus party: Food
With all the juggling they'll be doing, the circus-goers will be getting hungry. From finger food to the birthday cake, here's our guide to the range of circus fare you can conjure up.
Birthday cakes
You could follow our Victoria sponge or chocolate cake recipes then customise the top by using icing pens to draw a clown's face, or Big Top. To include the birthday child's name, you could ice a clown juggling and spell out their name in a letter on each juggling ball.
Cupcakes are also a great addition to the party platter and are sometimes much easier to give to children than slices of cake. We've got a whole host of cupcake recipes you could try. Why not use icing pens to draw balloons on them or a number for the age of your child. Or, if you know the children who are coming, you could ice each of their names on one. Have some cupcakes spare and the icing pen at hand for any unexpected arrivals. If you need some more inspiration, check out our gallery of kids' birthday cake ideas.
Party food: Savoury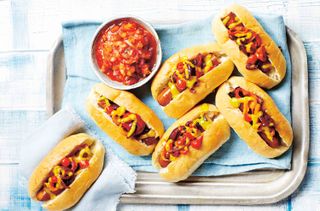 Sandwiches - guaranteed to go down well, create a variety of fillings including classic favourites such as tuna and egg, or try our children's club sandwich.
Rolls - stripy picnic rolls and turkey munchkin rolls are only the start of your long list of options. You might want to make some basic fillings such as plain ham for the fussy eaters.
Sausage rolls - a kids' favourite and must-have for any buffet.
Funny-face pizza - great to tempt the fussiest of eaters. Arrange the topping to make a clown face. You could put a cherry tomato for the red nose and add extra cheese for the hair.
Annabel Karmel's chicken dippers - to save yourself time you could cook these first and serve cold.
Potato sailboats - a nice change from serving plain chips.
Hot dogs - an easy, fuss-free way to feed lots of little ones! This recipe is vegan but you could use regular hotdogs.
Party food: Sweet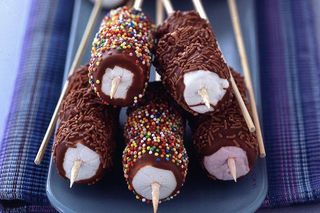 Jelly and ice cream - a party classic and perfect if you have less time to prepare a dessert. If you add an upside cone, sweets and sauce for smile, you could make clown faces.
Malteser popcorn - great to go with the theme.
Buttery-moo biscuits - instead of a cow shape, go for circus animals instead such as lions and elephants.
Lemon biscuits - these delicious biscuits can be made into a balloon shape. If you have a number cutter you could also make them into your child's age.
Marshmallow swizzle sticks - these look so tasty, there definitely won't be any left overs at the end of the day.
Peppermint creams - these are so simple to make and a traditional favourite. If you can get your hands on some candy floss, this would also be a great addition to the he circus party theme.
GoodtoKnow tip: The night before the party, make ice cubes and add some food colouring to the ice cube tray. Use bright circus colours like red, yellow and blue. They'll look great in fizzy drinks particularly lemonade.
Circus party: Decorations
You might not have an authentic Big Top but your decorations inside can still scream circus. Whether you're having the party at home or not, there are little ways to transform a room into your very own big top.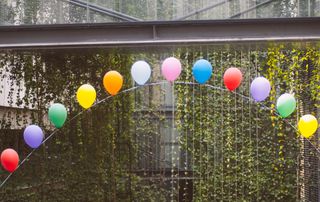 Welcome the kids
An effective entrance is to create a balloon archway, tall enough for kids and adults to walk under. On the day you could buy a number of helium balloons from a card store, or for a cheaper option, buy some string, blow up some normal balloons and peg them to the string - it will look just as good. Create a sign on yellow card, mounted onto red card saying 'Circus this way', shaped as an arrow pointing to the party direction. You could also make a fun ticket stand for the partygoers to give their invites before entering.
Transform your home and garden
Bunting looks great and can instantly transform a room. You could buy it in numerous colours from party stores and it's simple to put up. You could hang one end from a corner of the room, with the other end meeting in the centre of the ceiling to create a Big Top effect. Around the room, put up posters of classic circus characters - a ringmaster, strongman, trapeze artist, lion tamer. Print them out in black and white to look effective and you could even tea stain them. We recommend dissolving three teaspoons of coffee in half a mug of hot water then using a sponge or paintbrush, lightly coat the paper with the thick solution and leave to dry.
Cover the tables in red and white striped table covers or you could get some cheaper balloon-patterned ones from supermarkets that would work just as well. If you have small booths around the room, such as a face paint booth and game booths, remember to cover these tables too. Think about what you already have at home. Stuffed animals such as elephants and lions would look good scattered around the room to help set the scene.
Music can also really help to create the circus mood - have a look on eBay for a cheap circus themed soundtrack.
GoodtoKnow tip: A nice touch would be to create a 'photo booth' area. Get the kids to take their own pictures by buying a few disposable cameras for them to use.
Circus party: Games
There's an endless amount of circus fun you can create which could save you hiring a clown entertainer. Here are some of our favourite circus party games to play.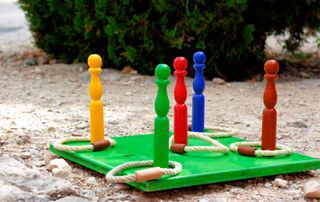 Pin the red nose on the clown
A twist on the classic 'pin the tail on the donkey' game. Each child gets a chance to pin their red nose onto the clown poster whilst blindfolded - with the closest nose winning. You could also try 'pin the tail on the lion' or 'pin the trunk on the elephant'.
Circus tricks
Let all the children get a sense of feeling like a true clown by teaching them some simple circus tricks. You could teach them juggling, using tennis balls if you don't have juggling balls and you could teach them how to spin plates using plastic plates and a broomstick. Cheap circus trick kits are also available from toy stores. Keep a tally of who can spin the plate for longest and they win a prize.
Musical clown noses
Similar to musical chairs, the children walk/skip around the room whilst the music is playing and when the music stops they have to find a clown nose each. Make sure there's one clown nose less than the number of players so the person who doesn't find a nose is out. Make it harder for older children by putting them in harder to see places.
Circus hoopla
Hoopla is a circus classic. Using a hoop such a hula-hoop, let the children have a go at trying to throw it over some plastic bottles scattered a distance away from them. Paint a number on each bottle, which corresponds to a prize.
Clown face painting competition
Face painting can be a lot of fun. Why not get the kids to paint their own faces. Set up some mirrors and let them all have a go at making themselves look like clowns!
Circus party: Crafts
Instead of exhausting the kids out all day with party games, you could get them to create some fun circus crafts to take home as a momentum of the party. Here are some of your ideas to get you started.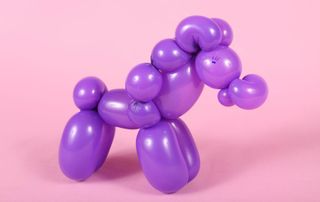 Balloon animals
Balloon animals are fun and so cheap to make. You can pick up packs of 50 long balloons at supermarkets for just over a pound. You don't have to be a trained expert either, search for free video tutorials online to create the illusion that you are.
Circus finger puppets
Finger puppets are an easy, cheap but cute craft the younger ones will love. Look online for some cartoon circus characters, such as a ringmaster, strong man and a clown. Print them out and if they're black and white, get the kids to colour them in on the page then cut them out. For each finger puppet cut out a 2cm wide strip of paper that's long enough to go round the middle of the child's finger. Glue or celotape it into a circle then attach the character onto the front. Ta-dah! The kids can now make their own puppet show.
Clown hats
Just like a red nose, no clown is complete without its own hat and they're so simple to make. Cut out bright thick card and make it into a cone shape - secure it using strong sellotape on the inside so it's hidden. Cut out small circles of thin paper in an assortment of colours for the children to glue on. At the top of the hat point, glue on a pompom which you can buy in bulk from craft stores. Then to keep the hat on the clowns head, hole-punch two holes either side, thread thin elastic through each hole, then tie to secure. Do this whilst it's on the child's head so it's not too tight or too loose.
Circus party: Costumes
Kids love fancy dress and for a circus party, it'll give them the perfect excuse to clown around. If you don't fancy hiring a costume, follow our guide on how to make your own.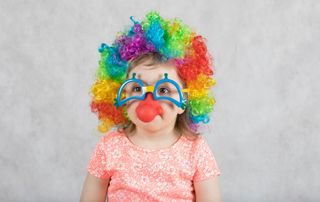 Face paint really makes a clown costume. You can have a face paint stand set up at the party but remember to ask parents if their child is allergic when they arrive. The main colours you'll need are white, red and blue. Start off by painting the whole face white. Then paint a big red mouth, red nose and red circle cheeks. Use a bright colour like blue to create big eyelids. If you're stuck for a design look online for a free video tutorial - there are loads.
If your child fancies it they can wear a bright coloured curly wig, but most will be irritated by it after a while so have a clown hat at the ready. You can buy one in party stores, or why not choose the cheaper option and make one.
A big bow tie will look great. You could make your own by buying some cheap elastic, available from supermarkets and safety pinning on a large card bow, or a material one if you're good at sewing. For their top, take an old plain T-shirt they no longer use and attach 3 large buttons in a vertical line down the front. If you can get hold of some kids bright coloured braces too these would also look great.
When it comes to the trousers, the baggier the better. You could buy some jazzy cheap pyjama bottoms, or if you're more creative buy a cheap pair of plain baggy trousers and sew on some felt shapes.
Of course, they don't have to be a clown as there's loads of other circus characters to choose from. A tightrope walker could wear their ballet leotard and tutu. Or a ringmaster could wear a cheap velvet blazer, top hat (hunt on eBay for cheap versions of them), a school shirt and black trousers.
GoodtoKnow tip: Remember, a clown is meant to look a bit mish-mash so even if you pick out some old, mix-matched clothes from their wardrobe, they'll still look the part!
Circus party: For hire
If you don't want to have the party at your home, you can have more space and save on the clearing up with a variety of other options.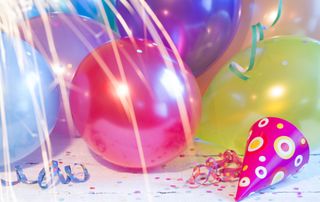 Local village/school hall:
This is a great option if you're expecting a lot of guests as it gives the children a lot of space to run around in and for big play games. They come with toilets, a stage if you're planning to have a DJ or music set-up and a kitchen to store and prepare any last-minute food you want hot. If it's in your budget, you could also hire out a clown entertainer for a couple of hours. They'll usually create balloon animals for each child and teach them simple magic tricks. You'd be able to put up simple decorations like bunting and banners to turn the hall into a Big Top.
Indoor play centre:
Children love indoor play areas and it will save you on hiring any extra entertainment. Plus, they often come with party hosts who will keep the kids busy the entire time. To save on cooking you could also get them to supply the food, which is available at most soft play centres.
Restaurants:
To save stressing over what food to make and the mess after, why not go to a restaurant instead? Most chains of restaurants are child-party friendly and if you mention in advance it's for a child's birthday party, they'll tend to supply balloons and other fun little gifts to keep them entertained. To save on dessert costs, take along the birthday cake to give to children instead.
Adventure playground:
This is probably your cheapest option but it is weather and size dependent. You could pack a picnic if there's not too many guests and with the adventure playground and open green space, you'll save on entertainment costs too.
Garden/Marquee:
If your garden isn't big enough, see if a close family member or friend will help out by letting you have it in theirs instead. You could hire out a marquee and add streamers and banners to it so it resembles a Big Top.
GoodtoKnow tip: Think about how many children you plan to invite to your circus party. Other mums will understand how expensive parties can be per head, so why not make it an all girls or all boys party. Or, get your child to invite just their closest friends. If you decide to only invite half the class you're already saving 50% on costs. Check out cheap kids party ideas.
Circus party: Party bags
There's no doubt your circus party will be the talk of the class for weeks. Keep the smiles on the little clowns faces by giving them a party bag as they leave - and they don't even have to cost that much.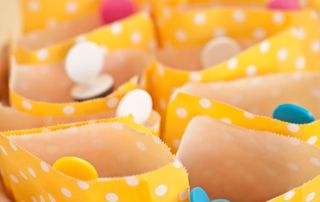 The bags don't necessarily have to be circus themed - however you can pick up cheap birthday themed ones from nearly all supermarkets which are usually covered in balloons so would still fit the theme perfectly. Include cheap toys you can buy in bulk such as whistles and small packs of crayons To keep with the circus party theme you could include yo-yos, spinning tops and bubbles.Then you could add all the treats children love - lollipops, chocolate bars, penny sweets and chocolate coins.Slicing up the main cake may be a problem if there's not enough to go round, so you could always give each child a cupcake to take home instead.For some more inspiration, look through our party bag gallery.
Let us know how you got on planning your circus themed party and share any other tips you have on our Facebook page!
Parenting advice, hot topics, best buys and family finance tips delivered straight to your inbox.