Cowboy party ideas
It's time to round up all the little cowboys and cowgurls for a good 'ol time they won't forget. Create your own perfect cowboy- themed party with a little inspiration...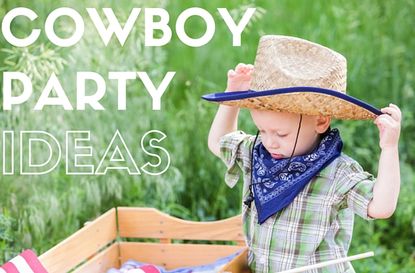 Goodto Newsletter
Parenting advice, hot topics, best buys and family finance tips delivered straight to your inbox.
Thank you for signing up to GoodTo. You will receive a verification email shortly.
There was a problem. Please refresh the page and try again.
Everyone loves a birthday party, so why not add a touch of the Wild West to your child's celebrations by throwing a cowboy party the kids will love? We've got everything you need to turn your party into the best rodeo in town.
From creating cowboy boot invites to serving up the best western grub - follow our step-by-step guide to ensure it's a birthday your little sheriff won't forget!
A cowboy party is great for all children who want to be their own Woody or Jessie. Our guide involves creative invites, easy-to-make tasty recipes and decorations to set the scene.
Cowboy party ideas
Cowboy party invites Cowboy party food recipes Cowboy party decorations Fun cowboy party games Cowboy party crafts Cowboy party costumes What you can hire for a cowboy party Cowboy party bags
Cowboy party invites
Making your own invitations not only adds a personal touch, but it also gives the kids something to do on a rainy day. Use our FREE ready-made cowboy party wanted poster invites (just click and print) or get creative with some of our ideas below to make sure you've got the best invitations for your hoedown...
Wanted posters Make the birthday girl/boy the centre of attention by creating Wild West-style WANTED posters with his or her face on it. Get your child to wear a cowboy hat in the picture and use a font such as 'Woody' on Word for a western effect.
Save on ink by printing in black and white, which adds to the appeal, or get your child to draw themselves and photocopy. You could even stain it with tea or coffee. We recommend dissolving three teaspoons of coffee in half a mug of hot water then using a sponge or paintbrush, lightly coat the paper with the thick solution and leave to dry. Rip the poster slightly around the edges, or draw on a scroll design at the top and bottom to make it look more authentic. You could also tie the scroll together with string.
If you want to save on time and materials, you could download one of our ready-made wanted poster party invites.
Cowboy boot Every cowboy needs a good pair of cowboy boots. Cut out a boot shape on card around half a page of A4 and let the kids decorate them how they like. You could include glitter for the girls' invitations or use a lighter colour card. You could also do the same for a cowboy hat, cactus or horseshoe shape.
Sheriff badges Cut out a large sheriff-badge - a six point star with small circles on the points - big enough to write all your information on. To make it look more authentic, use gold or silver paints/marker pens to create a metal effect. On the badge, state that 'Sheriff Matthew wants you at his 7th birthday'. If you put just the child's name on the other side, for example 'Deputy Ben', they could wear them to the party if you tape a safety pin to the other side on the day.
Lasso invites If you have time to be a bit more creative, cut bits of card, roughly A5 size, and stick some light string in a lasoo shape on the card. Inside the circled lasoo, write down the child's name and details you want to include.
Wording inspiration for the invites 'Howdy partner! Join your fellow townspeople in celebrating Sheriff Matthew's party!' 'Yee haw cowboys and cowgirls! Get your trusty hat and cowboy boots at the ready, it's time for some boot stompin' fun for Matthew's 7th birthday!' 'WANTED! Sheriff Matthew needs you, Deputy (invitee's name), to join the round up for his birthday party showdown.' Cowboy Matthew is turnin' seven and wants you to join him for a rootin' tootin' time! 'So jump on your horse and head to the hoedown at the cowboy's favourite hang-out, (your address) Ranch.' Get on down to the saloon at (date and time details) Saddle up in your best cowboy shirt and hat, not forgetting your bandana. The barn dance starts at high noon (start time) and ends at sundown (end time)
If you want guests to RSVP, say at the bottom 'RSVP with a yay or nay to (your phone number)' 'Give us a yee haw at (your phone number)' 'To join our posse, give us a holla at (contact details)' 'Holla back to the sheriff at (contact details)'
Cowboy party food
With all the fun they'll be having, the cowboys and girls will be getting hungry, so here's our guide to make sure you've covered everything to fill all their tummies. From finger buffet food to the birthday cake, our recipes will give you all the inspiration you need.
Birthday cakes In keeping with the cowboy party theme, we've got a great recipe to make cowboy cupcakes. They look fab and taste delicious so every cowboy will definitely be wanting one. However, you could also try out your own personal design with a cake. You could follow our Victoria sponge recipe then customise the top by creating a sheriff badge with your child's name on in icing.
Cupcakes are also a great addition to the party platter and are sometimes much easier to give to children than slices of cake. We've got a whole host of cupcake recipes you could try. Why not ice the top of them with a red, yellow and black bullseye target effect.
If you need some more inspiration, check out our gallery of kids' birthday cake ideas.
Party food savoury
Sandwiches - guaranteed to go down well, create a variety of fillings including classic favourites such as tuna and egg.
Rolls - stripy picnic rolls and turkey munchkin rolls are only the start of your long list of options. You might want to make some basic fillings such as plain ham for the fussy eaters.
Sausage rolls - a kids' favourite and a must-have for any buffet.
Funny-face pizzas - great to tempt even the fussiest of eaters. Arrange the toppings to make a face and cowboy hat.
Hotdogs - these and chilli-dogs will go great with the theme. Offer mustard, ketchup and fried onions to go on top.
Annabel Karmel's chicken dippers - to save yourself some time you could cook these first and serve cold.
Honeyed chicken wings - follow this recipe to make succulent chicken wiht a sweet twist.
Potato sailboats - a nice change from serving plain chips.
Corn on the cob - to really get into the Wild West mood, try grilling some corn on the cob.
Party food sweet
Jelly and ice cream - a party classic and perfect if you have less time to prepare a dessert.
Lemon biscuits - these delicious biscuits can be made into star shapes like a sheriff's badge. Or you could make them into a horse shape if you have a cutter, then decorate with icing.
Marshmallow swizzle sticks - these look so tasty, there definitely won't be any left-overs at the end of the day.
Peppermint creams - these are so simple to make, you could even do them in a horshoe shape.
Party drinks Kiwi and ginger cocktail - this pineapple and vanilla drink is a great treat. You could also call it cactus juice!
Cowboy party decorations
You've decided on the theme and sent the invites, but on the day it's important you've decorated to help set the scene of a real saloon. It will get the kids (and adults!) more into the Wild West mood.
Ideally, you'd have stacks of hay and a wooden saloon door to set the perfect scene, but there are much more interesting, cheaper (and cleaner) ways of decorating that'll leave the party being the talk of the town.
Welcome the kids At the front entrance have a large WANTED sign of the birthday boy or girl's face and a large 'Howdy partners' sign (you could cheaply make this with letters drawn/printed on A4 bits of paper, threaded together by string). You could also set up some arrows leading to the party, with staggered signs such as 'Welcome Buckaroos', 'Park your horse here' and 'No bandits allowed.' Tea stain the signs to look wooden.
When the children arrive at the party, you could give each of them a sheriff badge, which you can usually get from pound stores, or a bandana if you can get hold of some cheap material. Market stalls selling material are usually much cheaper than haberdashery stores.
Transform your home or garden If you're aware of which children are coming, you could decorate the walls with WANTED posters, with a picture or cartoon drawing of each of them on it. Give them western nicknames such as 'One Eyed Oliver' and 'Cunning Cowboy Christopher'. If you're using separate toilets, create 'cowboy' and 'cowgirl' signs for each door. If you have more than one room, you could create a 'jail' or 'ranch store', or even just put the signs up for fun.
On the doors, place a saloon-style door. You can buy fake versions from party stores to hang up over the door, or if you'd prefer to make your own, brown thick card and some strong tape will work just as well.
Cover your tables in cheap gingham material to make an authentic look - red and white usually looks best. Use an upside down cowboy hat as a bowl for sweets.
Think of what toys you already have, such as stuffed horses and toy snakes - these will be great additions to set the scene without costing a penny!
Little extras To add that extra something to the cowboy party, you could buy cheap blow-up cacti from pound or party stores and scatter them around the room. You could also hang up some cowboy hats around the room, which could then be used as prizes later on in the party. Or, if you want less fuss, you can buy 'scene setters' from party stores which you hang up on the walls, which are themed and transform your room immediately.
Cowboy party games
There are an endless amount of games you could play to keep the kids entertained during the party. You can add a cowboy twist to many classic party games, whilst also trying out some new games to keep them on their toes. Here are some of our ideas to get you started.
Pin the hat on the cowboy A twist on the classic 'pin the tail on the donkey' game. Each child gets a chance to try and pin their hat onto the cowboy poster whilst blindfolded - with the closest hat winning. For fun, make the cowboy on the poster the birthday child, or use a cartoon image of Woody from Toy Story. You could also try 'pin the tail on the horse.'
Snake in my boots Get the children to stand in a straight line and place a cowboy boot a couple of metres away from the child at the front of the line (vary the distance for difficulty). Give each child a cheap plastic snake and they can take turns trying to throw it into the boot. You could also use a cowboy hat to make the target easier.
Showdown at High Noon For this, you'll need a small water pistol for each child, which you can usually get in bulk at cheap pound stores. Split the group into two and have each group stand in line back to back with a member of the opposite group. The sheriff (referee) will count from 1-10. When '10' is shouted each cowboy must turn around and point at a member of an opposing team shouting 'draw!' - remember to tell them they can choose anyone on the opposite team. If two people are 'shooting' at each other, they are both out. Everyone else goes through to the next round and the game continues until two are left and they are both the winners.
Pass the rattlesnake Just like the classic game of 'pass the parcel', pass a present wrapped in several layers around the circle to music and get the child to rip off a layer of newspaper if they are holding the present when the music stops. If the children are a little older, make it more exciting by getting them to stand in a circle and throw the present underarm to anyone they want to in the circle quickly, like the game 'hot potato'.
Round up the herd For this game, you need two brooms and six balloons, three of one colour and three of another. Set two chairs at the other end of the room/hall. Split into two teams, each team member has to use the broom to sweep the 'herd' of balloons to the other end of the room, round the chair and back to the next team member. Have a few spare balloons handy in case some pop!
Gold rush Scatter enough gold coins for every child to find one each around the party area in hard-to-see places. Tell the kids they have a couple of minutes to go on a gold hunt to find the cowboy coins.
Squirt-gun shooting range Get some empty, small plastic bottles and place them on a wall/ledge. Each cowboy and cowgirl gets an allotted amount of time to try and squirt all the bottles off the wall using his or her water gun. You could also use empty aluminium cans.
Cowboys and sheriffs Similar to 'hide and seek', select a few members of the party to be 'sheriffs' and get the 'cowboys' to hide. After two minutes, get the sheriffs to find them, with the overall winner being the cowboy who hides for the longest without being caught.
Wink 'cowboy' murder One to play with older children. Similar to 'wink murder', sit everyone in a circle and choose a 'cowboy'. They're sent out of the room whilst you pick a dangerous 'wanted' cowboy who is then the 'murderer'. The cowboy returns to the room and stands in the middle of the circle. He must continuously turn around slowly trying to detect the 'murderer' - who winks at people who make eye contact with him and act out a dramatic 'death'. The detective cowboy must try and guess who the 'murderer' is before all the townspeople are 'killed'.
Cowboy party crafts
To give the kids a break from running around, why not have some craft materials at the ready so they create and take home a momento of the cowboy party? Here's some of our ideas to get you started.
Tipi crafts Each child can easily make its own tipi to take home. Take three straws and tie them with a rubber band at the top. Pull out the straws into a pyramid shape so it stands unaided. Then place tissue paper or coloured card around the straws to form the tipi cover. Cut out space for a small door where the paper joins. Let the children decorate them how they like. Glued on feathers and felt tip designs drawn on would look great.
Sheriff badges Sheriff badges will go great with any cowboy fancy dress costume. Before the party, cut out stars from thick card and spray silver. Attach a safety pin to the back using masking tape. Let the children decorate how they wish - have felt tips, glitter and glue at the ready.
Clothes-peg horse Let the cowboys and cowgirls take home their very own horse. Have a side-view template of a horse cut out in brown card ready to give to each child, however don't include the legs. Give them brown, black or cream string to glue to the horse for hair and a tail. Also, give them two googley eyes each. Then finally, to make the horse stand unaided, attach two clothes pegs to each horse, acting as legs.
Cowboy party costumes
Fancy dress is the best way to get the western party into full swing, and kids love playing dress up.
Everybody's favourite cowboy and cowgirl, Woody and Jessie from Toy Story, are a great place to start if you're looking for initial ideas.
Instead of hiring a costume, you can easily make your own - and many of the items you'll probably already have. A cheap, checkered shirt is essential, and you could buy some cheap red material to make a bandana for them to wear around their neck. If you have spare material left over, more bandanas could be given away as prizes at the party. Jeans also add to the authentic cowboy style (or denim shorts/skirt for girls) with a leather belt.
Cowboy boots also look great, but don't fork out on an expensive pair if your child isn't likely to wear them again. Look on eBay for a cheap second-hand pair. However, if there's lots of running around planned for the party, maybe it's best to go without, or wear more comfortable boots instead.
A cowboy or cowgirl wouldn't be complete without his or her trusty hat - you can usually find these for a reasonable price at pound stores or fancy dress stores. You could add glitter or sequins for girls. Toy stores should stock cheap toy gun holsters, which most cowboys will want.
If you want to go the extra mile, you could add some fringing material to seams of shirts and jeans to get the complete look.
Check out our gallery of your kids in fancy dress for more inspiration, or see how the stars throw a birthday party with celebrity kids in fancy dress.
Don't forget, you can also send us pictures of your kids in cowboy fancy dress after the party and we'll publish the best.
What you can hire for a cowboy party
If you don't want to have the party at your home, you can have more space and save on the clearing up with a variety of other options.
Local village/school hall This is a great option if you're expecting a lot of guests, as it gives the children a lot of space to run around and partcipate in big play games. They come with toilets, a stage if you're planning for a DJ or music set-up and a kitchen to store and prepare any last-minute food you want hot.
Indoor play centre Children love indoor play areas, and it will save you on hiring any extra entertainment. Plus, they often come with party hosts who will keep the kids busy the entire time. To save on cooking, you could also get them to supply the food, which is available at most soft play centres.
Restaurants To save stressing over food and the mess after, why not go to a restaurant instead? Most chains of restaurants are child-party friendly, and if you mention in advance it's for a child's birthday party, they'll tend to supply balloons and other fun little gifts to keep them entertained. To save on dessert costs, take along the birthday cake to give to children instead.
Adventure playground This is probably your cheapest option, but it is weather and size dependent. You could pack a picnic if there's not too many guests, and with the adventure playground and open green space, you'll save on entertainment costs too.
Cowboy party bags
Despite the fun being over, you can put a lasting smile on each cowboy and cowgirl's face with a party bag - and they don't even have to cost that much.
The bags don't necessarily have to be cowboy-themed - you can pick up cheap birthday-themed ones from nearly all supermarkets. Include cheap toys you can buy in bulk such as yoyo's, whistles and small packs of crayons.
To keep with the cowboy party theme you could include plastic snakes, harmonicas and strawberry liquorice laces for lassos. You could get creative and send each child home with a neck bandanna if you can get hold of cheap material.
Then you could add all the treats children love - lollipops, chocolate bars, penny sweets and chocolate coins.
Slicing up the main cake may be an issue if there's not enough to go round, so you could always give each child a cupcake to take home instead.
For some more inspiration, look through our party bag gallery.
Where to next?
Save money on children's parties: Entertainment
Parenting advice, hot topics, best buys and family finance tips delivered straight to your inbox.
Trusted, informative, and empathetic – GoodTo is the ultimate online destination for mums. Established in 2007, our 15-year-strong archive of content includes more than 18,000 articles, 1,500 how-to videos, and 7,000 recipes.