ENDS TODAY Pandora Black Friday 2022: All the best LIVE deals
The Pandora Black Friday deals end today so get in there fast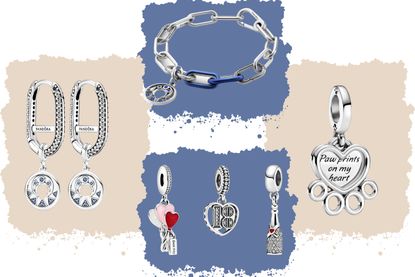 (Image credit: Pandora)
Pandora Black Friday sales end tonight so get in fast to make savings of up to £25 off their charms, stacking rings and bracelets - and there's already discounts of up to 30% off to be found this year.
In 2021 Pandora unveiled whopping discounts across their entre brand offering, with 20% off in the UK. And we predict there will be similar discounts this year too. Black Friday 2022 (opens in new tab) will take place on 25 November, and discounts are set to stretch to Monday 28 November.
This year the brand has given us some gorgeous gems, from the recent collaboration with celebrated artist Keith Haring (opens in new tab) and the adorable Winnie the Pooh (opens in new tab) offering nestled nicely between Pandora's consistent and classic Signature (opens in new tab) collection.
It's worth remembering that Pandora love a mega-event and their offers tend to last for longer than the Black Friday Weekend, giving us all much-needed browsingtime. In 2021, the sale launched on Thursday 25th November and ran until the Monday, so be sure to keep checking for updates on 2022's deals.
Pandora Black Friday deals 2022 - best places to look
Pandora jewellery - from bracelets and charms to pendants and earrings - is utterly timeless and classic. And we don't want you to miss out. Simply sign up to the Pandora Club and you can shop their amazing sale early. See below for some of their 10% off Pandora member-only deals.
In addition, as a member of the Pandora Club you can create and share a wish list. Save and share your jewellery sizes, view your order history, save addresses for faster checkout and be the first to receive information about new sales and products.
The best Pandora Black Friday deals 2022: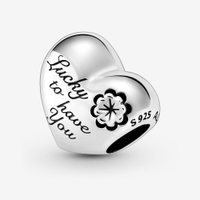 (opens in new tab)
Heart and Clover charm: WAS £25, NOW £20 | Pandora (opens in new tab)
A lovely message to share with your mum and bag a bargain at the same time. Hand-finished in sterling silver, this rounded heart design includes a cut-out area with a raised 3D clover on the upper right-hand side. The motif is decorated with lines to emphasise the leaflets. On the front, the engraving reads "Lucky to have you" while "Mum" features on the back with a raised sterling silver heart in the centre.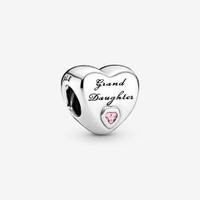 (opens in new tab)
Granddaughter heart charm: WAS £35, NOW £28 | Pandora (opens in new tab)
Simple gesture that means a lot, this touching charm celebrates grandparents and granddaughters with sweet details: an engraving and a heart-shaped pink stone.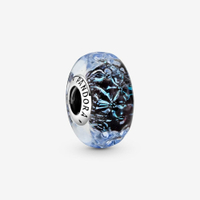 (opens in new tab)
Wavy Dark Blue Murano Glass Ocean Charm: WAS £25, NOW £17.50 | Pandora (opens in new tab)
A beautiful and intricately detailed charm, inspired by the ocean. The blue charm finished with a wavy surface inspired by the waves of the ocean. Wear the wave charm to stay connected to the power of the ocean, no matter where in the world you are.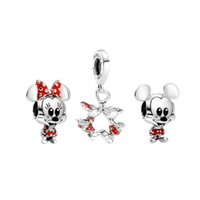 (opens in new tab)
Disney Mickey and Minnie Charm Gift Set: WAS £150, NOW £115, SAVE £35 | Amazon (opens in new tab)
Two huge Disney icons on one beautiful sterling silver charm - the best buy for any Disney fan in your life, it features the most famous couple kissing.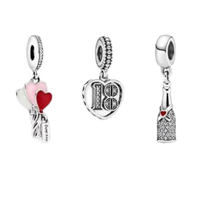 (opens in new tab)
Pandora 18th birthday gift set: WAS £135, NOW £105, SAVE £30 | Pandora (opens in new tab)
This trio of sterling silver charms is a milestone celebration for the teen in your life. The number 18 is framed by a delicate heart and glittering stone accents. The set also features a sparkling wine bottle charm and a happy birthday balloon dangle charm for a gift she will cherish forever.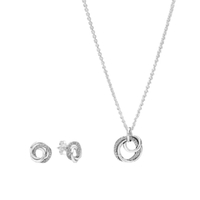 (opens in new tab)
Family Always Encircled Necklace and Earrings Gift Set: WAS £105, NOW £89, SAVE £16 | Pandora (opens in new tab)
Sterling silver and symbolic of everlasting ties., with three entwined circles in pendant. Worth noting that the extended returns is available on this item - until January 15th.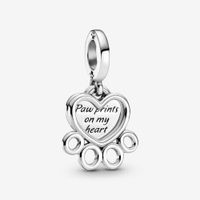 (opens in new tab)
Hearts and Paw print dangle charm: WAS £35, NOW £28 | Pandora (opens in new tab)
Wear a tribute to your favourite furry partner in crime. Hand-finished in sterling silver, this paw print charm features a dangling open paw silhouette with a heart-shaped centre and four toes, as well as a solid heart-shaped disc with a 'Paw prints on my heart' engraving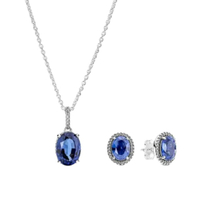 (opens in new tab)
Sparkling Statement Halo Gift Set: WAS £160, NOW £125, SAVE £35 | Pandora (opens in new tab)
Save a whopping £35 on this stunning set at Pandora. Coming complete with a pair of earrings and a pendant necklace, the Sparkling Statement Halo set has been made with sterling silver, and stunning man-made blue crystals. A favourite to find in a stocking this Christmas.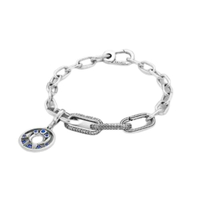 (opens in new tab)
Pandora ME Moon power set: WAS £110, NOW £79, SAVE £31 | Pandora (opens in new tab)
£31 is a great saving for this beautiful sterling silver statement bracelet. This set includes the Pandora Me Link Chain Bracelet, Pandora Me Styling Pavé Double Link and Pandora Me Moon Power Medallion.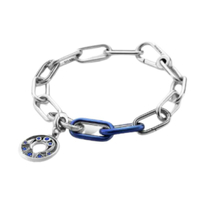 (opens in new tab)
Pandora ME electric blue set: WAS £115, NOW £95, SAVE £20 | Pandora (opens in new tab)
The hint of electric blue on this sterling silver bracelet is stunning. The set comes complete with the Pandora Me Link Chain Bracelet, Pandora Me Moon Power Medallion and Pandora Me Styling Electric Blue Double Link.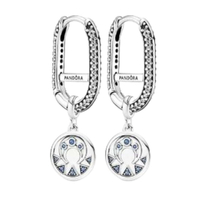 (opens in new tab)
Pandora ME Moon Power Earring Set: WAS £100, NOW £75, SAVE £25 | Pandora (opens in new tab)
As Pandora Black Friday deals go this is a double whammy! Save a brilliant £25 on this sterling silver earring set, which includes two Pandora ME Pavé Link Earrings and two of our Pandora ME Moon Power Medallions, this set will provide endless celestial energy.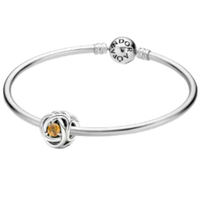 (opens in new tab)
Birthstone Eternity Circle Bangle Gift Set: WAS £90, NOW £70, SAVE £20 | Pandora (opens in new tab)
Treat the Scorpios in your life to this beautiful sterling silver bracelet, a timeless classic with a burnt yellow stone.
Which Pandora pieces are the most popular?
The brand is best-known for its charms and charm bracelets, with their simple Moments Chain Bracelet and their Moments Bangle hailed two of the most popular items, along with a huge amount of charms - from Disney and Marvel to their Daughter Heart Charm, the 18th Celebration Dangle Charm, and their Happy Birthday Hot Air Balloon charm. For many the Copenhagen-based brand are one of the most popular jewellery brands around, with their products making for some of the best gifts. Pandora jewellery is a brilliant option if looking for a gift for a milestone celebration.
Can you shower wearing Pandora jewellery?
It's not recommended, no. That goes for any other water-based activities, including showering, bathing, swimming and during any sporting activities.
This is because the majority of Pandora's jewellery is made of sterling silver, and will naturally tarnish over time. This will happen sooner if it comes into contact with water, chlorine, or skin products like body lotions and perfume.
How much is Pandora's delivery on Black Friday and can I return?
Pandora charges £2.99 for standard delivery but it's speedy: with your order arriving within 2-4 days. If you need it sooner, opt for the Next Day Delivery priced at £5.99.
And returns? Check the fine print on what product you're ordering but on most items there is an extended deliver period until January 15th 2023, for free. Find out more on Pandora customer service page. (opens in new tab)
Most people do their Black Friday shopping online, so delivery is an important consideration. We recommend drawing up a wishlist now so you don't do multiple orders on the big day – it's not great for your carbon footprint, ppl.
When is Black Friday 2022?
This year Black Friday (opens in new tab)(opens in new tab) is on 25th November. Black Friday always falls on the day after the Thanksgiving celebrations in the USA, which is the fourth Thursday in November. But, what was once a US-only event has evolved into a global event, with most brands and retailers offering deals and money off.
When is Cyber Monday 2022?
Cyber Monday is the online-only version of Black Friday, and it's on 28th November. It's the first Monday after Black Friday and it caps off a weekend of price cuts. It's always worth checking out as retailers usually save last-minute offers for this.
Related features:
Video of the Week:
Stephanie Lowe is Family Editor at GoodTo covering all things parenting, pregnancy and more. She has over 13 years' experience as a digital journalist with a wealth of knowledge and experience when it comes to all things family and lifestyle. Stephanie lives in Kent with her husband and son, Ted. With his love of choo-choos, Hey Duggee and finger painting he keeps her on her toes.