Pregnant Stacey Solomon shares her kids' reaction to cute gender reveal with fans
Stacey Solomon is 8-months pregnant with baby no 5.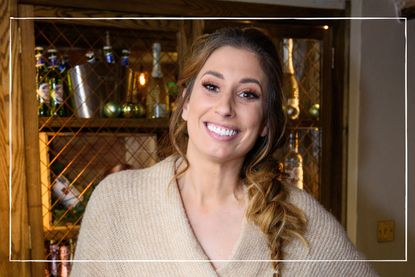 (Image credit: Getty Images / Future)
Stacey Solomon takes to Instagram to share a sweet gender reveal - and her kids' reactions - with her fans.
Before Stacey went silent on social media and fans started wondering has Stacey Solomon had her baby (opens in new tab), one fan on Instagram asked: 'Do you know if you're having a boy or girl?' Stacey replied on an Insta story: 'Soooooo many of you asking this. So...' and posted a story linking to the below grid post. Stacey said in a caption on her Instagram that "the boys are so excited".
The presenter of Sort Your Life Out (opens in new tab) and Loose Women panellist revealed she was pregnant (opens in new tab) with baby no 5 over Christmas. Stacey, who is already a proud mum to sons Zachary ,14, Leighton, 10, and Rex, three, and daughter Rose (opens in new tab), aged 14 months, announced on 28th December that she was pregnant with her fifth child - and third child with husband Joe Swash (opens in new tab).
Taking to Instagram the 33-year old, who is already 8 months pregnant, shared the reveal with her 5.5million followers, the caption under an image of Stacey holding her youngest read; "When Rose Found Out She's Going To Have A… Sister. So excited to share with you that we are going to be saying hello to another darling daughter soon. Sisters. The boys are so excited. And the thought of Rose having a little sister as well as all of her amazing big brothers has filled our hearts."
In the caption - which has had over 5k likes, the former X-Factor star included a sweet quote by Isadora James, "A sister is a gift to the heart, a friend to the spirit, a golden thread to the meaning of life". She then added "I have the most incredible sisters in the world. They are my everything. I'm so excited for the boys, Rose and our newest little girl."
And the congratulations came pouring in. Friend and 'sister' Sophie Hinchcliffe AKA Mrs Hinch wrote: "💞 Solomon Swash Sisters 💞 just perfect and a beautiful bond for life 💝 love you all xxx"
Stacey's sister Jemma, joked: "Just like busses 😂😂😂😂 I'm joking I love her so much already can't wait to meet you baby girl ❤️❤️❤️❤️"
Pregnant presenter and DJ Ashley James added; "Ahhhh so excited for you!! Congratulations. And we'll be baby girl twins! 💕💕💕"
While one fan took the opportunity to suggest baby names for the impending arrival: "Can i suggest a name? Beautiful, old fashioned, but pretty....,Constance, Connie for short."
Stacey spoke recently about keeping the house in order with four kids and the unusual request she made of friends and family when it came to gifting presents to her kids. (opens in new tab)
Related Features:
Video of the week:
Stephanie Lowe is Family Editor at GoodTo covering all things parenting, pregnancy and more. She has over 13 years' experience as a digital journalist with a wealth of knowledge and experience when it comes to all things family and lifestyle. Stephanie lives in Kent with her husband and son, Ted. With his love of choo-choos, Hey Duggee and finger painting he keeps her on her toes.