"I don't want cr*p in the house" - Stacey Solomon says what most parents think when it comes to kids' presents
Mum-of-four shares great reason why she says no thanks to presents for her kids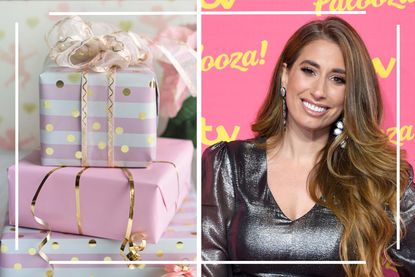 (Image credit: Getty / Future)
Stacey Solomon has put her foot down when it comes to people buying her four - soon to be five - kids presents, and the reason may well resonate.
The pregnant mum-of-four who recently married Joe Swash (opens in new tab) is due to give birth (opens in new tab) this year to her fifth child, the craft-loving (opens in new tab) Loose Women star is renowned for her beautifully neutral and tidy home on Instagram, which leaves fans wondering how she does it - where's the stuff, the Lego, the magna tiles, the kid clutter.
While Stacey does share 'real life' on her Insta (opens in new tab) one reason we may see less clutter in her home - Pickle Cottage - could be that she has asked friends and family to not buy her kids presents.
Speaking to Huffington Post (opens in new tab) Stacey mum to Rose, 15 months, and Rex, three – as well as two other children from previous relationships: Leighton, 10 and Zachery, 14 said: "I don't want cr*p. I don't want it in the house. I don't want [my kids] being bombarded by loads of stuff that doesn't make them feel good about themselves, that they don't appreciate."
Stacey goes on to explain how one Christmas was a 'turning point' for her. "The kids were opening toys and just moving that toy to the side, and then opening the next one – and there was not even a reaction to what they were seeing and getting. I was like: they don't even know what they're getting. I've never opened a present and not been like: 'Oh my god, this is amazing,' and been really excited.
"I just remember saying from then on, 'Please I don't want presents for them. Take them out, take them for an experience, put money in their bank accounts, whatever.'
Mum-of-twins, Dionne tells us: "I agree... I know my friends mean well but what they buy is tat. It's plastic cr*p that is unused within three days but clutters up my home. I would much rather they give a card with a 'trip to the park' promise in or similar."
Parenting expert Kirsty Ketley (opens in new tab) tells us; "Stacey isn't the only parent who has opted for this approach, many parents are doing the same, however many choose to allow gifts from other people and they (the parents) give experiences instead.
I think experiences can cost more than a physical present, so might not suit everyone's budget. As a family we always share two ideas. They are never expensive gifts, just things that we know the kids would love. This has really reduced the amount of physical presents they get and also means that when they open them, they are excited and grateful as it's something that they genuinely love.
If we say no to presents or they don't want to buy what we have suggested, they end up with money instead, which means the kids get to choose something or put it towards saving for something they have their eye on. I think it's fine to ask people not buy your kids presents though, as long as they get something."
Parents know that in life generally it can be tricky keeping on top of everything, with clutter, toys, laundry quickly amassing. Not to mention the post-Christmas sort out that's always needed to make space for new toys. Stacey reveals two game changers; "The first thing you have to do as a parent is have a proper system with your in-laws, and your parents, and your family, about – when it's Christmas or birthdays – what they get your child.
Mum-of-two, Jas tells us; "My sister in law did this... the other way round though. She has no children but told all her sisters 'I'm not buying toys anymore. My presence is my present.' There were a few huffs, but she stayed strong. And now the kids bake with her or go to the park with just her and they love it."
Stacey goes on to tell the Huffington Post; "It's very British of us to be like: oh no, I can't tell someone what to get my child for their birthday or Christmas, and I can't say I don't want that garish, giant tent they're going to bring round or whatever. But you absolutely can."
And that is half the battle, being honest and transparent as to what kids want and need, to make sure their money isn't wasted on a gift not wanted, and your home doesn't house unused toys.
Goodto.com thoughts
Goodto.com Consumer Editor, Heidi Scrimgeour (opens in new tab), mum to three agrees with Stacey; "Normally, I think telling people what to buy for your children is a bit rude. If someone spots something they think you're child will love let them buy it. Also, as a gift-giver, there's no fun in clicking on a link to buy something that the recipient could just have ordered for themselves. Gift-giving is a personal thing, I don't think we should presume the right to tell people what to give us. Their money, their choice. And if you don't like it, that's what regifting is for."
"HOWEVER... I can see Stacey's point. No one wants to waste money, especially these days, on things that won't get worn or played with. And a houseful of unwanted toys is overwhelming as well as wasteful, especially if you're short on space. So if you feel like following Stacey's approach, do it tactfully. Give multiple ideas for gift experiences so there's still an element of choice for the person buying. And above all, make it clear you want to help them choose something that will create memories that last a lifetime."
Related features:
Video of the Week:
Stephanie Lowe is Family Editor at GoodTo covering all things parenting, pregnancy and more. She has over 13 years' experience as a digital journalist with a wealth of knowledge and experience when it comes to all things family and lifestyle. Stephanie lives in Kent with her husband and son, Ted. With his love of choo-choos, Hey Duggee and finger painting he keeps her on her toes.