Has Stacey Solomon had her baby and when is her due date?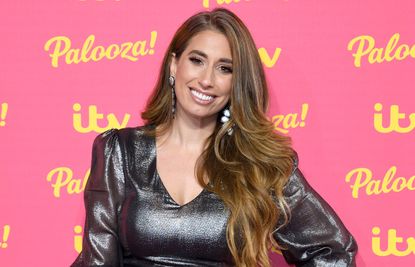 (Image credit: Photo by Karwai Tang/WireImage via Getty)
GoodTo newsletter
Sign up to the GoodTo Newsletter. You can unsubscribe at any time. For more information about how to do this, and how we hold your data, please see our privacy policy
Thank you for signing up to . You will receive a verification email shortly.
There was a problem. Please refresh the page and try again.
Since Stacey Solomon announced her pregnancy earlier this year, fans of the Loose Women panellist have wanted to know whether she's had her baby yet and if not, when the baby is due.
For the past several months, Stacey Solomon has been juggling house renovations with her role on ITV's Loose Women (opens in new tab) and looking after her three children, all while awaiting the arrival of her new baby. Stacey, who is already a proud mum to Zachary (13), Leighton (9) and Rex (2), announced back in July that she was pregnant with her fourth child (opens in new tab). She also revealed that she and her fiancé Joe Swash, who also has son Harry (14) from a previous relationship, are set to welcome a little girl. This is the couple's second child together and as Stacey and Joe prepare to welcome a new family member, fans can't help wondering when to expect a major announcement.
But has Stacey Solomon had her baby and when is her due date? We reveal all you need to know about the ITV star's fourth pregnancy.
Has Stacey Solomon had her baby yet?
Yes, Stacey Solomon and Joe Swash welcomed a baby girl (opens in new tab) on October 5 2021.
Coincidentally this is also Stacey's birthday, meaning the two will now share the special day.
Stacey wrote on Instagram, "🤍 She's Here 🤍 Born at Pickle Cottage on mummy's birthday. Our little girl… Happy birthday my darling daughter… We all love you more than you could ever imagine. Your brothers, your daddy and I are so in love. Thank you for the most incredible 9 months. Now we cannot wait for the rest of our lives with you…🖤".
Joe commented underneath the post, "My darling girls. I love you more than you'll ever know" before cheekily adding, "October 4th is going to be an expensive day for daddy xxxx".
Fans wondered if the star had given birth as she didn't post anything on social media yesterday. Many speculated about whether it was social media going down (opens in new tab) or Stacey going into labour that was the reason for her absence.
Once Stacey announced that she'd given birth, friends of the couple were quick to offer their congratulations.
Former Loose Women panellist Saira Khan said, "Congratulations, so happy for you all ❤️" while Spice Girl Emma Bunton wrote, "Amazing, congratulations to you all. Sending so much love. Xxx".
GMB host Susanna Reid commented, "How can she look so like you already!!! 👏👏👏❤️❤️❤️."
Has Stacey Solomon gone into labour?
Yes, Stacey Solomon went into labour on Monday, October 5.
Stacey has recently opened up about her hopes for a relatively easy labour (opens in new tab) this time around.
Throughout her pregnancy, she has shared regular updates with fans and took to Instagram Stories to share a very personal video.
As reported by The Mirror (opens in new tab), Stacey spoke about a previous pregnancy. "I was just laying here thinking. And firstly, I was thinking that I can't believe I'm still pregnant. I thought I would have had her by now. But actually, this is the first time I've been pregnant and I haven't wished for the end of my pregnancy," she said.
She went on to add, "I was also thinking that I actually have to get her here now – into the world. I've got to push her out. I've been in denial about it for the last nine months, I think.
"It's number four, so hopefully I'll just sneeze her out. But to be honest, I know it's going to be horrendous. I know it's not that bad for everyone, but I really don't love labour. I think it really b***** hurts".
Though Stacey might not be looking forward to the stages of labour (opens in new tab), she definitely seems excited to meet her little girl in the not-too-distant future and introduce her to her loving family.
When is Stacey Solomon due to give birth?
Stacey Solomon's due date (opens in new tab) isn't known but she has now given birth.
On announcing her pregnancy, she said, 'We are growing another pickle. We've never felt so grateful... I have no words. We didn't think we would get the chance. We love you all to the moon and back. Lots of love From Me, Joe, Harry, Zach, Leighton, Rex, and our little pickle.'
She also revealed the exciting news at the time that she was having a baby girl (opens in new tab), and with nine months being the full-term pregnancy, the new arrival expected at the end of this year.
According to The Mirror (opens in new tab), back in August Stacey took once more to Instagram Stories as she apologised for being not quite so active on social media as she usually is.
She said, "I feel like I'm really just rubbish at the moment. I remember when I used to be really good at Instagram and I used to have really good days whereas now I feel like I'm constantly chasing my tail and trying to get my work commitments in and be with the boys as much as possible."
Stacey also went on to express her belief that she needs to "sort the house out", reportedly adding, "and I know she's going to be here in eight or nine weeks so I just think, oh no, I've got to get so much done! But hopefully when she comes I'll just be able to chill and be myself."
The video was posted on 2nd August, meaning that eight to nine weeks later would place her baby's arrival in late September or early October. If this rough due date does turn out to be true, then Stacey Solomon might soon be making a very special announcement.
When is Stacey Solomon getting married to Joe Swash?
Stacey Solomon and Joe Swash have decided to delay getting married until after they welcome their new baby. The couple, who have been dating for six years, got engaged on Christmas Eve (opens in new tab) last year. And although Joe had previously let slip on Loose Women that he was due to tie the knot in July, their nuptials have since been postponed.
Asked about the date, Joe announced, "The date is going to be the last Sunday in July." Joe also revealed he wants "multiple" stag dos including a fishing one, and a trip to Alton Towers with his children. This might not have come as a surprise to fans, after he posted about enjoying a fishing trip with his son Harry earlier this year.
Meanwhile, Stacey celebrated her Hen weekend at a cottage in Lincoln with her sister and her closest friends. According to The Mirror (opens in new tab), the Loose Women star hinted on Instagram Stories that their new wedding date could potentially be July 2022.
Appearing in a pair of bride-to-be slippers with the words "I do" on them, the star thanked everyone for giving her such a lovely day and wrote, "I'll be living in these slippers every day until next July I'm in love."
It's not confirmed whether this meant anything to do with the wedding date, though this would be a year after they originally were going to tie the knot.
Stacey had previously discussed her plan to get married in the garden at their new family home. She stated, "Now we're here, we'd actually like to get married in the garden. We're trying to see if we can do that. We don't know if we'll be able to get a licence and stuff."
She continued, "The wedding planning is a bit on halt at the moment. It's all just come at once, so many of these things have been in the planning for years. I feel so lucky, privileged, and grateful and I just think you have to take any opportunity when it comes."
https://www.youtube.com/watch?v=Vu4UPfnLaDY
When asked for an update on her wedding plans, Stacey confirmed, "I think we're just going to move it back a few months because both of us said we'd be gutted if we were looking back at the pictures and all of our children weren't there."