We earn a commission for products purchased through some links in this article.
Swivel car seats are becoming more and more popular, but are they worth the money?
The main appeal of these seats is obviously the 360 function, which allows you to spin your child around for easy access, but often they also benefit from a sleek design and all of the high spec car seat safety features you could wish for.
However, parents often worry that these swivel car seats can be heavy and bulky, and debate whether or not they're worth the cost, which tends to be significantly higher than a standard seat.
We asked members of our BISS panel to put two different makes of rotating car seat to the test: the Maxi-Cosi AxissFix Plus, and the Britax Dualfix.
Here's what they thought, and what you need to know if you're considering investing in one too…
Maxi-Cosi AxissFix Plus review
Tested by Alan Chan The Maxi-Cosi AxissFix Plus has a 360 degree swivelling seat, catering for newborns to four year olds (size and weight dependant, of course) with the ability to be used for both rear- and forward-facing travel, all within the safety and convenience of ISOFIX connections and the comfort of different reclining positions. To fully test the performance and range of settings of the Maxi-Cosi AxissFix Plus, I trialled it with both our 10 month old and our two year old.
Installation
I was pleasantly surprised to unpack a car seat which didn't look that much larger than any other car seat I have had when an ISOFIX base is attached. In fact, my initial impression was that it was relatively compact given its spec.
The car seat felt sturdy and very well made. The padding in the seat cushioning felt supportive and comfortable with the headrest being made from what felt like a firm memory foam. The mechanisms also felt smooth and simple to operate. So, my first impression was very positive.
Installing the seat into my car was straight forward, it literally took me less than a minute to do. A simple lining up of the ISOFIX bars to click in with the ISOFIX anchor points in the car, plus connecting a latch to the top tether located behind the car's seat and it was ready to go. Unlike other car seats I have had, there is no 'leg' bar that you need to extract and place on to the car floor as the top tether cord is the equivalent, meaning it takes up less room and the floor area is unobstructed.
Functionality
Carrying the car seat isn't something you would want to do regularly as the AxissFix Plus isn't particularly light at circa 14kg (although we do not tend to rearrange our car seats once they are installed, so this was not an issue for us.) It's actually not that heavy, but if you do need to constantly disconnect and carry the AxissFix Plus it may detract from the convenience it is meant to offer in the first place.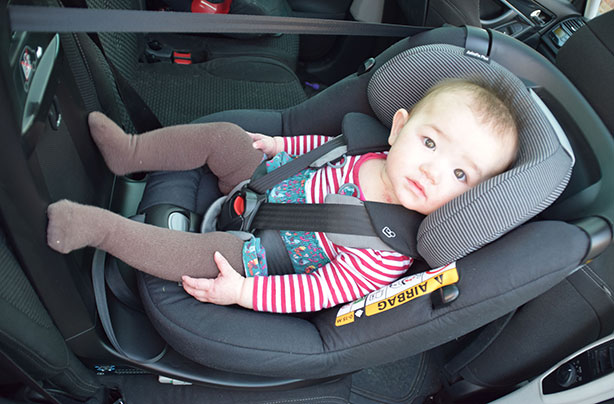 As a parent of three children of different ages (10 months, two years and four years), we have used a range of car seats which do not spin, including the Maxi-Cosi Pebble and the Maxi-Cosi Pearl. As any parent will know, trying to lift and wedge a child into a car seat sideways, then trying to buckle them in whilst they are trying to imitate a dancing octopus isn't particularly practical – so the spinning seat was a revelation. Being able to slot your child facing you into the seat and buckle them in with full leverage, rather than doing the 'side-jig' was a huge improvement. After our child was safely buckled in, being able to simply spin them into a forward or backward facing position effortlessly with a smooth swivel of the seat (resulting in a satisfying click) was fantastic.
The AxissFix Plus also benefits from some nice design details for additional convenience. Simple but neat ideas include having velcro under the buckle so that the long tightening cord can be kept shorter and including latches at each side of the seat to help hold the harness open to assist in buckling your child in. Even the well-placed summary of instructions on the sides of the seat act as a helpful reminder, but, as the mechanism and settings are genuinely intuitive, you really do get used to the way the AxissFix Plus works almost immediately.
The adjustable headrest and seat recline function are all as you would expect – each functional in any rotation of the seat and easy to adjust by a simple squeeze of a lever. Within seconds you can cater for a different sized child. The angle of the recline was without issue (e.g. when backwards-facing, the angle did not create any head lolling).
The five point harness is also easy to connect, adjust and release and was secure when in place. Due to the well designed placement of the strap pads, the fit around our children looked comfortable and safe. The non-slip material on the back of the main pads was also a nice touch.
For added convenience, the covers of the seat can be removed for washing which is useful given the inevitable messiness of little ones.
Any problems?
An issue that we did encounter with the AxissFix Plus was that it was not compatible if there was a high back child seat next to it. For example, we have two Maxi-Cosi Rodi AirProtect seats side-by-side filling the left-hand side and middle car seats. When I installed the AxissFix Plus in the remaining seat, it fitted perfectly, but when trying to utilise the spinning function, would catch on the middle child seat preventing it from spinning. We trialled this in a Citroen Grand Picasso as well as a Ford Mondeo and the same issue remained in both, so it would be worth checking the set up of your specific car. Effectively, in trialling the AxissFix Plus we had to leave the middle seat empty meaning I could only use the car to transport two children not three.
Another thing I did notice was the loss of the ability to carry our baby in an infant carrier (e.g. like the Maxi-Cosi Pebble), which you can disconnect from the ISOFIX base, carry with you and/or click on to compatible adaptors on a pushchair or leave in a quiet room (e.g. if your baby is asleep). You do have to fully remove your baby from the car seat, which may disturb a sleeping child so you would forego the convenience of a quick 'click and go' of a car to pushchair transfer.
Verdict
As at the date of this review, the price tag for the AxissFix Plus can be found at around £395. I would say the AxissFix Plus is worth the cost. The ability of one seat to cater for a newborn to four year old is fantastic and the additional functionality of the spinning seat really is worth the additional price, especially given how well made and designed the AxissFix Plus is.
SCORE: 8/10 Buy the MaxiCosi AxissFix Plus, £395
Britax Dualfix review
Tested by Bryony Johnson
I am reviewing the Britax Dualfix car seat in my 2014 Nissan Juke with my son who is 14 months old and weighs 10kg. The seat can apparently be used from birth but my little boy has been in his Silver Cross Simplicity until now, and to be honest I wouldn't use a fixed seat from birth as I like the carry option. As such I have not used the infant insert and took that out straight away.
Installation
The Dualfix was easy enough to fit to the Isofix bars in my car, I managed to do it on my own in about 10 minutes, once I'd read the instructions. The seat itself feels very sturdy and has a good weight to it, I wouldn't want to have to keep swapping it between cars but as we don't have to do that the weight was more of a reassurance than hindrance.
Functionality
I am only 5'2″ and so the seat fits easily behind the driver seat but my boyfriend is 5'7″ and it is a bit of a squeeze with the seat rear facing. I think that for someone taller then it would be a bit difficult in a car like mine that doesn't have huge amounts of space in the back. I have tried the seat in a forward-facing position and this gives more room behind the driver's seat but I plan on keeping my son rear facing for a lot longer yet due to safety.
The different recline positions are useful and I do prefer to have my son in a slight decline when travelling as when in the upright position his head flops forward if he falls asleep. I think this may be down to him still being quite young for seat as yet but too big to keep the newborn insert in. I particularly like that the seat has a spin feature as my car has quite a narrow opening in the back so this is really useful for getting my little boy in and out. I would have a spinning seat in the future as it makes getting my son in and out so much easier, particularly when parent and child parking spaces are unavailable.
The straps are really easy to fix and fasten and then can be tightened with the strap at the base of the seat. The comfort covers sit nicely on my son's shoulders and chest. I would say though that they need checking to ensure they are tight enough as a couple of times my son could wriggle his arms free, this was just a case of trial and error and now that I know I can secure him properly. I think as he gets older this won't be an issue but as he is still quite little he just needs that extra tightening to secure him. I think because of this I wouldn't want my son to be in the seat if he was much younger as I feel that the straps do need a lot of tightening to secure him.
Any problems?
I have found though that the safety button that needs to be depressed prior to reclining or spinning the seat is not always easy to do and sometimes takes a couple of presses to get the seat to move. This is only annoying at most really but worth noting as this has happened more with use. It also took me a couple of tries to realise that the seat must be in the most upright position before spinning. This is likely user error on my part but I'm sure I'm not the only mum with baby brain! The spin itself is very smooth and does not wake my son if he is asleep.
Verdict
The seat is at a high price point but I do feel that the price is justified. I think the seat feels very comfortable and the quality is very good. I've been very impressed and I think I will be more and more impressed as my son gets older.
SCORE: 8/10 Buy the Britax Dualfix car seat, £440
Are you convinced to give a swivel car seat a go, or will you be sticking with the styles you've bought before? Let us know your thoughts in the comment box below!