3 ingredients and 8 minutes to make cinnamon doughnuts in your air fryer - and they cost less than £2!
The easiest (and tastiest) air fryer hack out there!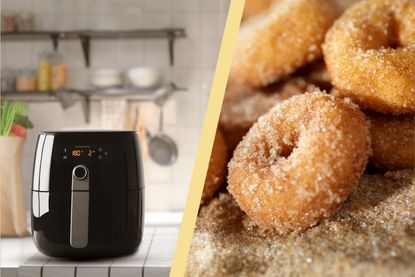 (Image credit: Getty Images)
One TikTok star has shared an air fryer cinnamon doughnuts hack - and you won't believe how easy they are to make.
If you've recently jumped on the air fryer bandwagon and have treated yourself to one of the best air fryers around, then you're probably wondering what foods you can cook in an air fryer and searching for the best air fryer recipes. Well, the good news is that you can cook pretty much anything in an air fryer, and TikTok influencers are on a mission to prove it, with a new air fryer hack appearing on our For You Page every day.
The latest comes from one internet star named Mel - who goes by @melmelbourne_ on TikTok - who shared a genius hack for making doughnuts in an air fryer. They're cheap to make - at less than £2 a go - take 8 minutes to cook and you only need to use three ingredients. What more could you ask for?
In the viral video, Mel - who has built up a following of over 44,000 for her easy everyday recipes - makes the delicious doughnuts by putting shop bought pancake mix into a silicone cupcake tray, and cooking inside her air fryer.
With pancake mix costing as little as £1 from Tesco, Sainsbury's, Asda, and other supermarkets too, this hack makes for a budget-friendly treat, as the only other ingredients you need are caster sugar and cinnamon - both of which you may well already have in the kitchen cupboard.
In the video, Mel adds, "I served them with fresh strawberries and Nutella, and they are so good."
How to make air fryer cinnamon doughnuts
Ingredients
One pack of pancake mix (or you could make your own batter using our American pancakes recipe)
2 tbsp caster sugar
1 and 1/2 tsp cinnamon
Optional: Nutella and fresh strawberries to serve
Method
Make your batter according to the packet's instructions
Spray a silicone cupcake tray with oil and pour the mix into each cupcake mould, filling halfway
Place the mould into the air fryer for 8 minutes at 180°C
While the doughnuts cook, mix together the caster sugar and cinnamon
Take the doughnuts out of the air fryer and remove them from the mould, before coating in the cinnamon sugar
Serve as they are, or with fresh strawberries and Nutella
Mel's followers were impressed with the hack, with one user writing underneath the video, "This looks ssooooo good! Definitely trying this!" while another said, "Omg I love donuts, I need to do this".
Others were quick to suggest ways they would put a spin on Mel's recipe, with one commenting, "Put a layer of Nutella in there in the middle, then when you bite into it gooey Nutella comes out". Another wrote, "I wonder if a slice of banana in the middle would be good".
Another user pointed out that these are a great quick treat to make for kids, saying, "GF [gluten free] pancake mixes are good so I'll definitely be trying this way of serving to give celiac grandkids a 'donut' treat".
Others were curious about whether it's safe to use a silicone mould in an air fryer, but don't worry, it's safe up to a temperature of around 250°C. Just make sure you don't place it directly on the heating element or leave it in the appliance for extended periods of time.
Here on Goodto, we've got plenty more doughnut recipes to try, including apple doughnuts, chocolate doughnuts and Weight Watchers jam doughnuts too.
Looking for more recipe hacks? Check out these air fryer Nutella pastries too and this air fryer soup recipe too.
Parenting advice, hot topics, best buys and family finance tips delivered straight to your inbox.