3 ingredients, 8 minutes and an air fryer to make the easiest Nutella pastries
Make delicious pastries in minutes with this three-ingredient TikTok hack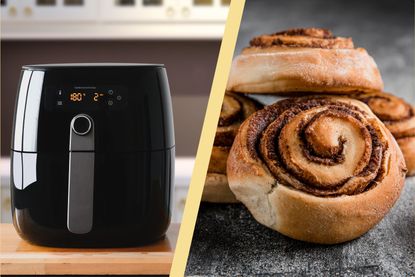 (Image credit: Getty Images)
Looking for some breakfast inspiration? These air fryer Nutella pastries are as easy as they are tasty.
There seems to be no limit to the foods you can cook in an air fryer, with new air fryer TikTok recipes surfacing on social media every day. From one-pot meals to healthy snacks and indulgent treats, there's all sorts to choose from - but something these recipes have in common is they often require little effort and only a handful of ingredients.
That's certainly the case with these air fryer Nutella pastries anyway, which take just eight minutes to make. You only need three ingredients and one of the best air fryers for this recipe too, so it really couldn't be easier. If you fancy treating yourself to a simple but tasty snack, or you're looking for an easy breakfast recipe that will keep the kids happy, we think this recipe is worth a try.
It was shared on TikTok by Lorraine - aka @healthyfitbella - who's grown a following of over 358,000 for her simple, family-friendly recipes. And as well as healthy main courses, Lorraine also has some great recipes for easy sweet treats that are sure to please the kids.
For her air fryer Nutella pastries, she tops ready-made puff pastry with a thick layer of Nutella, before rolling the pastry up and cutting into even slices. After just eight minutes in the air fryer, these three-ingredient snacks come out looking just like something you'd see in a bakery window. Here's how to try it for yourself...
How to make Nutella swirls in an air fryer
Ingredients
1 pack ready-made puff pastry
Nutella
Icing sugar
Method
Unroll your sheet of ready-made puff pastry
Spread a layer of Nutella on top of the pastry
Roll up the pastry and cut into even slices
Place the pastries on a sheet of baking parchment
Air fry at 200°C for 8-10 minutes or until golden
Dust with icing sugar
Of course, you don't have to have an air fryer to make these tasty pastries. They work just as well in an oven, but take a little longer to cook - you'll probably find they need around 20 minutes when using this cooking method.
And if you're feeling inspired to invest in an air fryer so you can try out this simple hack - along with plenty of other time-saving recipes - Goodto Food Editor, Jessica Dady, recommends the Lakeland Digital Crisp Air Fryer.
At just £79.99, it's one of the cheaper air fryers on offer, but Jess still gave it 4.5 out of five stars. Plus, its 3L capacity means this particular model won't take up much space on your kitchen counter.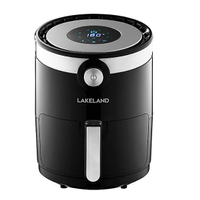 Lakeland Digital Crisp Air Fryer 3L - £79.99
Choose from eight different preset functions with this 3L air fryer's easy-to-use LED touchscreen. Jess said of the Lakeland air fryer: "Despite being a smaller capacity machine, it ticked all the boxes for us and catered to our family's cooking needs. It's a great machine for cooking sides, reheating foods, and baking - which I just love to do with the kids at the weekends."
Looking for more easy air fryer hacks? Check out this three-ingredient recipe for s'mores dip, and this easy cinnamon doughnuts recipe. For something savoury instead, you only need three ingredients to make sausage rolls in your air fryer, and find out how we got on when we tried making bagels in our air fryer too.