13 air fryer TikTok recipes - easy, family-friendly treats ready in under 30 minutes
TikTok recipes in an air fryer? Yes, please! Think pizza rolls, garlic bread, and more...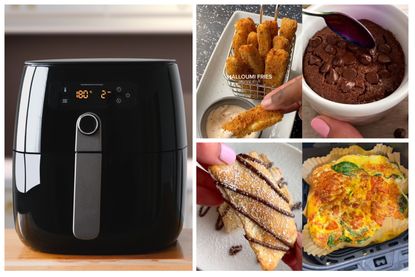 (Image credit: Getty: Air fryer / TikTok - Nutella toast pies; @fitwaffle, Halloumi fries; @theefoodvibe, Frittata; @bigmommakimbo7, Brownie cups; @fitwaffle)
We've rounded up some of the best TikTok recipes you can easily make in your family air fryer, from mouthwatering Nutella toast pies to simple halloumi fries.
If you've not heard of TikTok by now, where have you been?! TikTok is a social media platform that is full of viral, trending inspiration - from hacks to DIY tips, to beauty buys, and our favourite - air fryer recipes. Air fryers are still one of the most sought-after kitchen appliances and people just can't seem to get enough of them which is why more and more influencers are jumping onto TikTok to share their must-make food hacks. And if you've bagged yourself one of the best air fryers, you'll certainly want to give one (or more!) of these delicious TikTok recipes a whirl.
"As someone who loves to get creative in the kitchen, TikTok is my go-to space for quick and easy recipes - or sometimes full-on dinners," says Features Editor, Ellie Hutchings, who certainly knows a thing or two about the latest food hacks and trends. "I'm always amazed at the things you can make with a few storecupboard ingredients. And now that I've firmly jumped on the air fryer bandwagon, I love trying to impress my friends and family with the latest trending recipes."
With that being said, here are some of our favourites - think pizza rolls, garlic bread, bagels, doughnuts, and much more.
TikTok recipes for an air fryer
1. Air fryer pizza rolls
Total time: 10 mins (5 mins prep, 4-5 mins cooking)
How many ingredients: 4 (but could be more if you add more fillings)
These pizza rolls are a super quick, super delicious option for those looking for a new lunch box filler, picnic food, or snack option for the kids. Lorraine - aka healthyfitbella - has made these rolls using four ingredients including bread, cheese, pizza sauce, and filling of your choice.
Top tip: Lorraine has opted for white bread, however, you could use brown bread instead if you want it to be a tad healthier.
Ingredients
Sliced bread
Pizza sauce or tomato puree
Grated mozzarella
Optional: pepperoni, ham or other fillings of choice
Method
Cut the crusts off each slice of bread and roll it out with a rolling pin.
Top with pizza sauce or tomato puree, mozzarella and pepperoni, ham, or your choice of topping.
Roll up each slice of bread and top with more pizza sauce and mozzarella.
Air fry at 200C for 3-4 minutes.
2. Air fryer Nutella toast pies
Total time: 10 mins (5 mins prep, 5 mins cooking)
How many ingredients: 4 (plus optional icing sugar for dusting)
A sweet treat by TikTok influencer fitwaffle, this recipe sees popular chocolate spread Nutella sandwiched in bread and baked in the air fryer. The addition of baking it in the air fryer means that the Nutella goes gooey and warm and oozes out of the bread once cooked. It's a really simple recipe that should take a maximum of 10 minutes to prepare and cook.
Top tip: This recipe would work just as well with other branded chocolate spreads too - or you could even try with Biscoff if you're a fan.
Ingredients
Slice of bread
Nutella
1 small egg
1tsp milk
Icing sugar
Method
Cut the crusts off a slice of bread, lay it flat and gently press the bread down with your fingers to make a slight dip in the centre. Fill it with Nutella.
Make an egg wash using one small egg and one teaspoon of milk and brush this over the edges of the bread so the bread can stick together when folded.
Folded the bread and then seal the edges by pressing down around the closed edges with a fork.
Brush the top with the rest of the egg wash and then bake in the air fryer for 5 minutes and 180C.
Drizzle with Nutella and dust with icing sugar before serving.
3. Air fryer garlic bread
Total time: 10 mins (5 mins prep, 4-5 mins cooking)
How many ingredients: 5
Cheesy garlic bread with a twist. Mini wraps make the base of this garlic bread alongside a generous spread or two of butter of your choice, a dusting of garlic granules, and dried basil. The mozzarella adds indulgence to this garlic bread with stringy, mouthwatering results.
Top tip: You could try this recipe using fresh crushed garlic and freshly chopped basil leaves too.
Ingredients
2 mini wraps
Butter
Garlic granules
Basil
Grated mozzarella
Method
Spread a generous amount of butter over each wrap. Dust with garlic granules and basil.
Top each with grated mozzarella and then carefully slide one of the wraps on top of the other.
Cook in the air fryer for 4 minutes.
4. Air fryer halloumi fries
Total time: 10-12 mins (5 mins prep, 5-7 mins cooking)
How many ingredients: 8
If you love halloumi you really must try this mouthwatering halloumi fries recipe by TikTok user theefoodievibe. Each halloumi strip is covered in a mixture of breadcrumbs, garlic, and paprika and is cooked to perfection. The perfect starter or side dish that even the kids would enjoy.
Top tip: You could try this recipe using mozzarella.
Ingredients
Halloumi
1 egg
Golden breadcrumbs
Parmesan
Garlic powder
Hot paprika
Black pepper
Method
Cut the halloumi into strips.
Whisk one egg in a bowl.
In a Tupperware (with a lid preferably) add golden breadcrumbs, Parmesan, garlic powder, hot paprika, Aromat and Black pepper.
Coat each strip of halloumi in egg and then add to the breadcrumb mixture. Repeat.
Put the lid on the Tupperware and shake coating all the halloumi strips in the breadcrumb mix.
Add to the air fryer and cook until golden brown on the outside and soft in the inside.
5. Air fryer cinnamon doughnuts
Total time: 13 mins (5 mins prep and 8 mins cooking)
How many ingredients: 3 (plus serving suggestions)
It takes just three ingredients to make these mouthwatering cinnamon doughnuts. The secret ingredient? Pancake mixture! The pancake mixture is the doughnut batter. A couple of sprinkles of sugar, dusting of cinnamon and you've got one mouthwatering dessert cooked in just minutes in the air fryer. Serve with drizzled chocolate and fresh berries and enjoy!
Top tip: This recipe uses readymade pancake mixture, however, you could make your own pancake mixture using our American pancakes recipe.
Ingredients
One pack of pancake mix
2 tbsp caster sugar
1 and 1/2 tsp cinnamon
Optional: Nutella and fresh strawberries to serve
Method
Make your batter according to the packet's instructions.
Spray a silicone cupcake tray with oil and pour the mix into each cupcake mould, filling halfway .
Place the mould into the air fryer for 8 minutes at 180°C.
While the doughnuts cook, mix together the caster sugar and cinnamon.
Take the doughnuts out of the air fryer and remove them from the mould, before coating in the cinnamon sugar.
Serve as they are, or with fresh strawberries and Nutella.
6. Air fryer bagels
Total time: 15 mins (5 mins prep and 10 mins cooking)
How many ingredients: 3 (plus optional extra)
These air fryer bagels have been tried and tested by Features Editor, Ellie, who said they were her new favourite lunch; "I'll be making these again, and plan to try a few twists on it too - with cinnamon and raisins, or cheese and mixed herbs - and I can't wait to make freshly-made bagels a regular part of my day." Follow just five simple steps to make your own.
Top tip: If you don't want to make eight bagels in one go, you could easily half or quarter the recipe to make a couple at a time.
Ingredients
1 3/4 cups self rising flour
1 cup Greek yogurt
1 tablespoon butter melted
Optional: 1 tablespoon sesame seeds
Method
Mix the flour and yogurt in a large bowl to form a dough, adjusting the quantities as needed.
Transfer the dough to a lightly floured surface and knead several times.
Separate the dough into eight equal portions and roll them into a long, sausage shape. Connect the two ends to form a bagel.
Line your air fryer with parchment paper and place the bagels in the air fryer basket. Brush the top of each bagel with the melted butter and sprinkle sesame seeds on top.
Air fry the bagels at 180C/350F for 10 minutes, or until golden on top.
7. Air fryer brownie cups
Total time: 25 mins (5 mins prep and maximum of 20 mins cooking)
How many ingredients: 6
A super sweet pudding option for two, these chocolate brownie cups are so simple to make using just six ingredients and taking just six steps. The dark chocolate gives these puds a rich, luxurious taste and finish. Drizzle with a generous helping of cream or top with ice cream before serving.
Top tip: You could try this recipe with milk chocolate too if you don't want the puds to be too rich.
Ingredients
80g dark chocolate
55g salted butter
1 med egg (room temperature)
55g caster sugar
30g plain flour
25g chocolate chips
Method
Add the dark chocolate and butter into a microwave-safe bowl and melt on medium (500W) in one minute bursts, stirring each time to ensure the chocolate doesn't burn.
Stir the chocolate and butter until completely melted and combined. Allow to cool for 10 minutes.
Add the egg and sugar to the mixture and whisk until combined.
Add the plain flour and fold until combined.
Add the chocolate chips, stir and then scoop the mixture into two ramekins leveling the mixture and topping with a sprinkle of chocolate chips.
Bake in the air fryer at 160C for 15-18 minutes.
8. Cheesy air fryer potatoes
Total time: 20 mins (5 mins prep and 15 mins cooking)
How many ingredients: 8
These indulgent cheesy potatoes are comfort food at their finest. Topped with masses of grated cheese, these potatoes are coated in warming paprika, garlic powder, seasoning, and more. A delicious side dish made in the air fryer in just 15 minutes. We can't wait to try it!
Top tip: This recipe would work just as well with sweet potato too.
Ingredients
4 potatoes, skin on
Extra virgin olive oil
Paprika
Black pepper
Garlic powder
All purpose seasoning
Salt
Grated cheese
Method
First rinse the potatoes and then cut them into small pieces. Add to strainer and rinse again.
Put the potatoes into a bowl and drizzle with extra virgin olive oil and add various seasonings. Mix well.
Put a layer of tin foil into your air fryer drawer and add the potatoes.
Roast for 12 minutes and 400F/200C. Check the potatoes to make sure they are browning and add grated cheese.
Heat again for 3 minutes and serve warm.
9. Air fryer frittata
Total time: 25 mins (5 mins prep and 20 mins cooking)
How many ingredients: 6
If you're looking for a speedy lunch option that even the kids can get involved in, this frittata made with six eggs, fresh spinach, tomatoes, and plenty of cheese, is a great option. Recipe creator, Kim Pauckner says it's a 'quick, easy and delicious' recipe - and we couldn't agree more.
Top tip: Swap the spinach and tomato for other veggies instead or meat like chopped ham, shredded chicken, etc.
Ingredients
Olive oil
6 eggs
Spinach
Tomatoes
Grated cheese
Salt and pepper
Method
Line your air fryer with an air fryer baking case and drizzle with olive oil. Spread the oil around the baking case using a brush.
Crack six eggs into the baking case and whisk carefully not to break the casing.
Add a handful of spinach, a pot of chopped tomatoes and a pot of grated cheese. Season with salt and pepper.
Bake for 20 minutes at 375F/190C.
Remove the frittata carefully from the air fryer in the baking case and cut into pieces and serve.
10. Air fryer lava cake
Total time: 20 mins (10 mins prep + cooling and 10 mins cooking)
How many ingredients: 10
Chocolate cake lovers this one is for you. These gooey, oozing lava cakes are the ultimate treat that you could easily whip up for the family straight after the classic Sunday roast. A combination of chocolate, cocoa powder, and peanut butter makes these puds incredibly moreish.
Top tip: Serve with a lashing of cream, whipped cream, or ice cream - any kind of cream. And you might as well through in some berries to make it feel less guilty.
Ingredients
110g butter, cubed (plus extra for greasing)
175g chocolate chips
75g icing sugar
25g unsweetened cocoa powder
25g all-purpose flour
2 large whole eggs
2 egg yolks
4 tbsp peanut butter
1 tsp vanilla extract
Pinch of salt
Method
Grease 4 ramekins with butter.
Add the butter and chocolate chips to a bowl and melt in the microwave for 30-second intervals.
Once fully melted, add the icing sugar, eggs and egg yolks, and the vanilla extract and whisk until smooth.
Then fold in the cocoa powder, flour, and a pinch of salt.
Fill each ramekin halfway with the mixture, then top each with 1 tbsp peanut butter (or you could use Nutella) and a few chocolate chips.
Top up each ramekin with the remaining batter and air fry for 10-12 mins at 190°C.
Leave to stand for 5 minutes before serving.
11. Air fryer sausage rolls
Total time: 20 mins (5 mins prep and 15 mins cooking)
How many ingredients: 3
It takes just three ingredients and six steps to make these sausage rolls, which TikTok star Becky Excell, says are better than Greggs; "I must admit, I love a big sausage roll, but Greggs just isn't for me. So I make my own." Crisp golden pastry, tender sausage meat, and whatever you choose as the dip. A great picnic food choice that the kids are going to devour.
Top tip: Swap the meat sausages for vegetarian-friendly sausages instead.
Ingredients
400g sausages
1 pack of JusRoll puff pasty (Becky uses the gluten-free version)
1 egg, beaten
Method
Remove the skin from the sausages.
Unroll the pack of pastry and cut it in half lengthways.
Add the sausage meat down the centre of each section of pastry - you could optionally add mustard at this point too.
Brush one edge of the pastry with the egg and fold over the top of the sausage meat.
Crimp the edges with a fork and brush the top with egg, before cutting small slashes down the centre of each roll.
Cut each roll to fit in your air fryer basket, and air fry at 200ºC for 12-14 minutes.
12. Budget pasta sauce
Total time: 15 mins (3 mins prep + stirring and 12 mins cooking)
How many ingredients: 3
If you're on a budget and you're looking for a really quick lunch or dinner option that doesn't skip on flavour, this three-ingredient recipe is a great shout using garlic cheese, cherry tomatoes, and pre-cooked pasta. The budgetingmum commented; "This recipe needed three ingredients, all of which cost less than £5 and it was so yummy!"
Top tip: This sauce would work with any shaped pasta you have - try penne, fusilli, spaghetti, tagliatelle - you name it.
Ingredients
Boursin garlic and herb cheese
Cherry tomatoes
Pre-cooked pasta
Method
Put the garlic and herb cheese, along with the tomatoes into your air fryer. Drizzle with oil, and a pinch of salt.
Cook for 12 minutes at 200C.
Stir the melted cheese and soft tomatoes together to make the pasta sauce. Pour over precooked pasta and stir. Serve.
13. Air fryer bread and butter pudding
Total time: 20 mins (5 mins prep and 15 mins cooking)
How many ingredients: 4
You can't beat a British classic and this air fryer bread and butter pudding is up there. Perfect for sharing with the whole family, this pudding uses just four ingredients and takes just 15 minutes to cook in your air fryer. It's one of our favourite TikTok recipes which is certainly on our list to try this weekend.
Top tip: This recipe would work with other breads too - even hot cross buns or brioche if you wanted an even sweeter version.
Ingredients
2 eggs
300ml milk
2tbsp sugar
3 slices of white bread
Method
Mix the eggs, milk and 1tbsp of sugar together in a heat-proof dish
Tear up the bread and soak the pieces in the milk mixture
Add 1tbsp of sugar on top
Air fry at 180°C for 15 minutes