20 of the best autumn cakes with seasonal ingredients
We love a good cake recipe here at goodtoknow and this round-up of must-make cakes for September has some of our seasonal favourites. Choose from heavenly chocolate cake bejeweled with pears or how about Stacie Stewart's skinny carrot meringue cake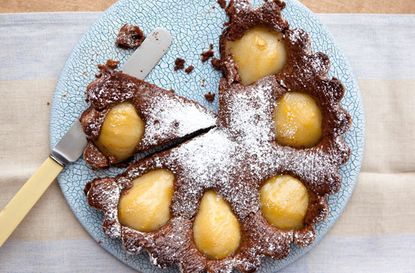 As the nights start to draw in, indulge in these must-make cakes for Autumn - all of which feature seasonal ingredients that are at their best - and least expensive - from September.
Think heavenly chocolate cake bejeweled with pears, easy apple cake or Stacie Stewart's skinny carrot meringue cake - perfect for those of you baking for Macmillan Coffee Morning. As the weather turns cooler, it's the perfect excuse to spend more time in the kitchen and we've got easy tray bakes and basic cupcakes that are easy to make with the kids over the weekend.
Our plum and coconut cake (opens in new tab) (pictured above) is one of our favourites. Use up the plums in your fruit bowl by making this super simple plum and coconut cake. This cake will last for a couple of days in an airtight container, giving you plenty of time to try out different ways to serve it - drizzled with cream or topped with custard.
Pear and chocolate cake
This delicious pear and chocolate cake is perfect for baking on a Sunday afternoon ready to enjoy after a roast dinner. As far as we're concerned, pear and dark chocolate is a match made in heaven.
Gizzi Erskine's blackberry Bakewell cake
With blackberries coming into season, it's time to grab a basket, put on your wellies and get foraging! This delicious autumn cake is a classic with a blackberry twist. A light almond sponge, flaked almonds on top and the sharpness of the blackberries work wonders together.
Gizzi Erskine's blackberry Bakewell cake
Apple cake
With the season starting to change, you'll lots of English apples in the supermarket and they're at their very best at this time. There is no better way to cook with them than by making a delicious apple cake. Spiced with cinnamon with a tangy hit of lemon, this apple cake recipe is one of our favourites.
Mary Berry's chocolate cake
It's all about chocolate in October when Halloween arrives - and you can't go wrong with Mary Berry's chocolate cake. A chocolate lover's dream, this light and fluffy layer cake is smothered with chocolate icing and serves six people.
Sticky Jaffa loaf
Give your loaf cake a serious makeover with this next recipe. Topped in a sticky, sweet orange and marmalade coating, this mouth-watering sticky Jaffa loaf is a chocolate wonder. This tasty loaf has been triple tested in the Woman's Weekly kitchen, which means it will come out perfectly every time.
Stacie Stewart's skinny carrot meringue cake
This is top of our list to make for Macmillan Coffee Morning in autumn. Not only is this cake a classic carrot cake, it's also covered in a thick, sweet meringue.
Save this recipe: Stacie Stewart's skinny carrot meringue cake
Cherry and pistachio bake
Baked in just 45 mins, this cherry and pistachio bake is the ideal treat with a cuppa. The cherries add a sweet burst of flavour in each bite and the pistachios add a well needed crunch. Each square of this delightful bake works out at only 332 calories per portion.
Sugar-free carrot cake bites
There are two things we love about this next cake. It's bite-sized and it's sugar-free! Make a batch of these golden treats and watch them disappear in seconds. Apple puree is used in this bake instead of sugar, which means it's that little bit healthier for you, with no refined sugar.
Slimming World's chocolate and apricot brownies
Fancy some guilt-free brownies? Meet our new favourite brownie recipe curtesy of Slimming World. These easy brownies are packed with apricots and made with chocolate powder (clever!), so they are better for you (and the Slimming World plan!).
Slimming World's chocolate and apricot brownies
Spiced squash ring cake
We're sorry to say, but winter is well and truly on it's way. Celebrate what autumn has to offer by making this seasonal butternut squash vegetable cake. Spiced with ginger and cinnamon, this autumn cake is a warming treat. The caramel cream cheese frosting is moreish!
Mary Berry's lemon and lime cheesecake
You've been going crazy for Mary Berry's latest treat - a no-bake lemon and lime cheesecake. This impressive cheesecake is made with a digestive biscuit base and a light and zesty filling, topped with fresh lime slivers. We just love it!
Mary Berry's lemon and lime cheesecake
Hummingbird Bakery raspberry cheesecake brownie
The Hummingbird Bakery sure knows how to make good brownies. This raspberry cheesecake brownie has a rich brownie base and a light and creamy raspberry cheesecake topping. Raspberries are still in season so make this while you still can.
Hummingbird Bakery raspberry cheesecake brownie
Fiona Cairns' liquorice toffee cupcakes
This one is for liquorice fiends! This easy autumnal recipe by Fiona Cairns shows how to make 12 liquorice-flavoured cupcakes as well as a liquorice caramel sauce. Baked in 20 mins.
Save this recipe: Fiona Cairns liquorice toffee cupcakes
Spiced fudge cake
If you love rich, dark chocolate cakes, you'll adore this flourless fudge cake, wihch has a rich, brownie-like texture. Serve with a generous dollop of cream or creme fraiche.
Save this recipe: Flourless fudge cake
Banana and chocolate cake
About to throw away those brown bananas left in your fruit bowl? Turn them into a cake instead. This banana and chocolate cake uses up 4 small or 3 medium bananas. Add some dark chocolate chunks and you've got an afternoon treat.
Basic cupcakes
The kids are going to love making and baking these classic cupcakes and they can be decorated with whatever takes your little ones' fancy. Try chocolate buttercream, writing icing or sweets.
Apple and berry crumble cake
This is what you get if you cross a classic crumble dessert with a classic cake - an apple and berry crumble cake, with a sweet apple and berry filling and a crunchy, golden crumble topping. Serve warm with ice cream or custard and enjoy every mouthful.
Gluten-free Victoria sponge
On a gluten-free diet? Cake doesn't have to be off the menu, especially not with this classic. This springy sponge is a real winner, sandwiched together with whipped cream and strawberry jam and dusted with icing sugar. We're sold! No one will even know it's gluten free.
Jessica Dady is Senior Content Editor at Goodto.com and has over 10 years of experience as a digital journalist, specialising in all things food, recipes, and SEO. From the best food hampers to cookbooks, from the best cake stands to baking sets, Jessica has a wealth of knowledge when it comes to must-have food products. A passionate baker, she spends much of her time creating celebration cakes for friends and family - particularly for her two lucky children.