What food to bulk buy
Want to save money and waste in your household? You should try bulk buying. Not only is bulk buying a great way to save money it can also cut down the amount of times you have to pop to the shops too - result!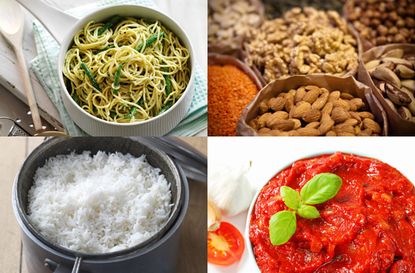 GoodTo newsletter
Sign up to the GoodTo Newsletter. You can unsubscribe at any time. For more information about how to do this, and how we hold your data, please see our privacy policy
Thank you for signing up to . You will receive a verification email shortly.
There was a problem. Please refresh the page and try again.
If you're looking for a way to save some money in the kitchen then bulk buying could be the answer. When certain items are on sale, you spot a bargain or if your family always eats certain foods, buying the food in builk can mean that you don't have to keep spending out.
We're here to help you make the right choices when it comes to bulk buying so make sure you read this handy guide before you get to the shops or click on that 'checkout' button online.
READ MORE: Batch cooking recipes and ideas
There are plenty of ingredients that you can buy in bulk and store in your kitchen for months and months. There are, however, some ingredients that it's probably best not to buy in bulk and we'll show you what you can do instead to save yourself some money...
Why bulk buy?
Bag a bargain
If there's a deal on in your local supermarket or an online food bargain that you don't want to miss out on then bulk buying is the answer.
Save money over time
If you often buy the same things on your weekly shop then you should bulk buy instead - not only will you save money, you won't have to visit the shops as often for those regulars.
Less shopping
Bulk buying means less shopping and more food in the cupboards so you'll never go hungry. Your cupboards will be well and truly stocked meaning you'll be able to create meals in a rush.
Things you need to consider before bulk buying
Space
Do you actually have enough space in the cupboards or freezer to store all your bulk buys? If not, it's time to make some room. Go through your kitchen cupboards, pantry, fridge and freezer before you bulk buy, removing any out of date ingredients or unnecessary packaging - repackage items so they take up less room e.g. empty your cereal boxes into tall Tupperware boxes instead.
Money
Do you have enough money to buy your ingredients in bulk? Buying in bulk is much cheaper than buying small portions over a series of weeks but just remember that the initial cost of everything in bulk on your shopping list might be rather frightening - don't worry, you will be saving money in the long run.
Another question to ask yourself is: Are you getting the best deal for your money or should you shop around first? Make sure you shop around before settling for what you think is a good deal, a different supermarket might do the same deal but at a lower price so get supermarket savvy before you buy. Check out our weekly round-up supermarket offers for see what's on offer at major supermarkets before you go.
Waste
Do you really need all this food? Before you buy in bulk make sure you write out a shopping list of what you actually need and will use. You can do this by working out your meals for the next few weeks using a meal planner (check out our £40 weekly meal planner for inspiration). You don't want to buy lots of food and then realise you probably don't need it.
Your freezer
Do you know what food you can and can't freeze? Before you bag a bargain or load a massive bag of rice into your shopping trolley, make sure you know how your freezer works. Your freezer can play a big role in storing all your food when you consider bulk buying so it's best that you become freezer savvy before you start your shop. Use our how to freeze food: goodtoknow's money-saving freezer guide to get planning.
Things to buy in bulk
Red meat and poultry
Look both online and in store before you decide on which meat to bulk buy. Chicken and beef mince are two of the most popular meats to buy in bulk - this is because they are usually on offer as part of a deal. You can store your meat in the freezer until it's needed.
Tip: Always shop around before making a purchase - meat can be very expensive, find the best deal and quality of meat to make sure you get your money's worth.
Pasta and rice
If you've got the cupboard space you really can't go wrong buying pasta and rice in bulk. They will last for months and months and can easily be stored in Tupperware boxes in the cupboards so they take up less room. All the small bags of pasta or rice that you buy throughout the year can really add up - so buying one big bag will workout cheaper in the long run.
Tip: Make sure you bring the car when you go shopping or get the delivery man to help with an online order - large bags of both can be extremely heavy.
Dried goods
Nuts, seeds and cereal are much more expensive to buy in smaller portions. A few bags of mixed nuts here and there can cost you more than you think. The same is true with cereal, larger boxes will last longer and cost less than small boxes over a shorter period of time.
If you're an avid baker, flour and sugar can be an expensive purchase. Buy larger portions and store in airtight jars to save room - they will look nice too!
Tip: Buying nuts and seeds can actually be cheaper online from smaller companies rather than large supermarket brands so shop around before you buy.
Canned goods
Having chopped tomatoes, beans and other tinned good in the cupboard will mean that you can always whip up dinner in a flashl. Buying canned goods in bulk is a great idea - they last for ages, sometimes even years. Check the dates before you buy and always keep your eye out for a deal. Canned fish is great for buying in bulk too - especially tuna, salmon and mackerel as they can be used for lunches, like sandwiches, and dinners like fishcakes.
Tip: Remember to note what you've got in your cupboards before you start buying. You never know, you might already have a few tins of soup leftover from the beginning of the year which are still in date.
Things not to over buy
Fresh fruit and vegetables
Fresh fruit and veg is not ideal to bulk buy. It has a very short shelf life and needs to be stored in the fridge which can take up lots of space.
Tip: If you decide to bulk buy your fruit and vegetables they are best stored in the freezer as soon as you buy them or bought ready-frozen instead. Read our money-saving freezer guide to find out exactly how to prepare and freeze them properly.
Fresh fish
Fish is best served and stored fresh. To save money, look out for a good deal before purchasing your fish and plan your dinners before you buy so you know exactly which date to use it by.
Tip: If you decide to buy in bulk, frozen fish is your best bet - it will be much cheaper than fresh fish and can just be popped into the freezer without concern or if you do buy fresh fish, freeze it as soon as you buy it.
Dairy
Milk, eggs, butter... the fresher they are, the better they will be - in both quality and taste. It's no good buying mounds and mounds of butter and not having enough room in the fridge or time to use it up before its Use By date.
Tip: If you want to buy dairy in bulk we'd recommend super-sizing your dairy products instead. You usually get more for your money. Just remember to check the date before you buy to make sure you have enough time to use it all or if there's enough room in the freezer - freeze them!
If you're planning on buying milk in bulk you should consider UHT milk - this long-lasting milk can be stored in the cupboard and is ideal for baking and using in sauces.
Definite no-no's
Brown rice
We mentioned above that you can bulk buy rice as it's a non-perishable food but this rule is a little bit different for brown rice. Brown rice will only really last up to 6 months and is recommended you keep it in the fridge to make it last even longer.
Cooking oil
You'd think cooking oil would last a lifetime but it really doesn't. The average olive oil should last about 6 months but will start to go bad 1-3 months after being opened. Kept away from the heat and sunlight it will last a little bit longer, but opened olive oil can start to lose its quality and can begin to taste funny the longer it's opened.
Lunchbox goodies
You know they will always need crisps and sweet treats for their lunchboxes but it's best not to buy them in bulk. Having those tempting treats in the house will mean they will get eaten much quicker than if you only buy them when you need for - so for example, for a week's shop, only buy a week's worth of goodies or you could make your own lunchbox treats instead.
Recipes to make in bulk
If all this talk of bulk buying has got you in the mood for giving it a go we've got plenty of delicious recipes that are perfect for making in bulk. From casseroles to pies, browse through our recipes to make in bulk and plan this week's dinner in advance. Save money, time and waste too - happy bulk buying!
Where to next?
- How to freeze food: our money-saving freezer guide
- Things you didn't know that you could freeze