What is Aldi's new Price Lock and what does it mean for your Xmas food shop? (Trust us, it's good news)
With some families planning to invite fewer people for Christmas or cut back on Xmas lunch staples, Aldi's new initiative could lend a festive helping hand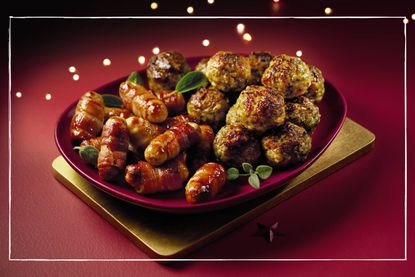 (Image credit: Aldi UK)
With Christmas fast approaching and the cost of living still high, it's no wonder that some families are planning less lavish celebrations to keep a handle on their household budgets.
Insight from one of the cheapest supermarkets, Aldi, found that 35% of families are planning to scale back on Christmas in general, while 40% plan to spend less on Christmas food due to high prices.
While swapping to a less expensive supermarket can help reduce food costs, if you're already shopping at the cheapest, it can be hard to make further savings. (If you're not sure if Aldi or Lidl is cheaper, we did the same shop at each to find out).
To help cash-strapped families enjoy Christmas to the fullest this year, Aldi has announced a Christmas Price Lock, which will see prices of key food staples locked in at 2022 prices.
Items included in the price lock include:
a range of whole turkey crowns
pigs in blankets
Christmas puddings
a selection of festive vegetables.
The price lock, which will be available in stores nationwide, could see a family of four enjoying their Christmas meal for less than £15.
But in some cases, 2023 prices will be even cheaper than 2022 - Aldi will be selling three varieties of fresh turkey at just £3.75/kg, which is cheaper than last Christmas.
Richard Thornton, Communications Director at Aldi UK comments: "At Aldi we believe that everyone should get to enjoy an amazing Christmas, which is why we're introducing the Aldi Christmas Price Lock. Our research shows cost is a major factor when it comes to choosing food options and by locking the prices of key staples at the level they were in 2022, it will help our customers up and down the country enjoy the Christmas dinner they deserve with the ones they love."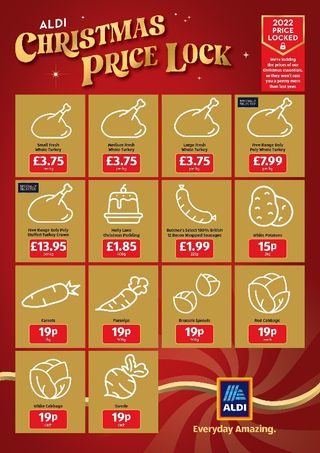 Aldi's research also showed that nearly 1 in 5 were planning to invite fewer people to the Christmas meal. Aunts and uncles topped the list of those most likely to be uninvited, closely followed by the in-laws. A selfless 16% were planning on uninviting themselves from Christmas with their loved ones to help their wider family save money.
But it's not just the Christmas dinner where families can save money. Knowing when Amazon Black Friday is and in the Black Friday vs Cyber Monday debate, which has the better deals, is crucial to bag your Christmas pressies for less. If you want to star shopping early, we've got the best Black Friday toy deals that you can shop right now.
Parenting advice, hot topics, best buys and family finance tips delivered straight to your inbox.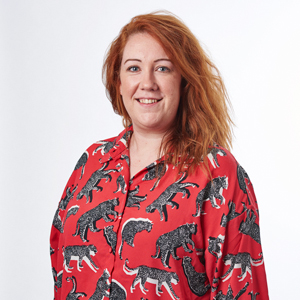 Sarah is Goodto.com's Money Editor, covering various aspects of family finance - everything from energy price cap, cost of living payments and food prices to major sales, money saving tips and how to get more for less. A writer, journalist and editor with more than 15 years' experience, Sarah is allergic to confusing jargon and hates money-saving hacks that don't actually save you money. As well as putting a spotlight on the money news that will actually impact your family life, Sarah is also the Goodto team's guru on how to tell a good deal from a dud and the best way to dodge price hikes. When not writing about money, or picking the brains of leading personal finance experts, Sarah can be found hanging out with her rockstar dog Pepsi, getting opinionated about a movie or learning British Sign Language.