Instant Vortex Plus 6-in-1 air fryer with ClearCook review
Can whip up six portions and you can see food as it cooks, but is it really worth the money? Let's find out...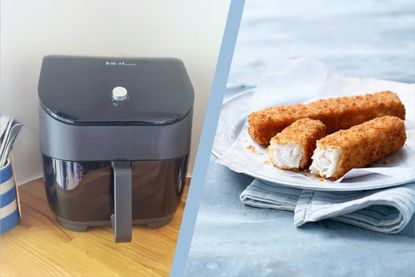 (Image credit: Getty / Future)
This large-capacity - it can roast a 1.8kg chicken - air fryer is great for families, and fits perfectly in a kitchen as it only needs 13cm countertop space. Each function comes with a pre-heating time, and it beeps to remind you to do important things like shake your chips or turn your sausages - though if you don't do this like I didn't, it's no big deal - the food is still delicious. The only thing I feel that lets it down is its lack of a food divider, meaning you can only do one element of a meal for lots of people.
Reasons to buy
+

Large 5.7L capacity

+

Viewing window and light to check food

+

Looks good on the countertop, sleek

+

6 pre-set (with time and temp) modes

+

Only needs 13cm of counter top space

+

Dishwasher safe
Reasons to avoid
-

Can only cook one type of food at once, no divider

-

No quick-use buttons for everyday food (like sausages or chips)

-

A very short lead has to be right near a plug socket

-

More guidance on the box than in the instruction manual

-

Shows 'cooking fingerprints' easily
Our family editor, Stephanie Lowe reviews the Instant Vortex Plus 6-in-1 air fryer with ClearCook. Spoiler: "It's sleek modern and very good at its job - air frying... but it also grills, roasts, bakes, reheats, and dehydrates."
Air fryers are everywhere. It seems the world and her wife have bought one or are at least talking about buying one. Probably because they're energy-efficient, quick to cook, and really easy to use. And, when it comes to wondering what you can cook in an air fryer, this model has six modes to choose from, and cooks recipes - including air fryer prawn skewers or air fryer salmon pesto recipes to perfection. Though as a parent I mainly tested it with sausages and fish fingers, hey no judgment here.
The Instant Vortex Plus 6-in-1 air fryer ticks a number of boxes when it comes to the perfect air fryer, and is a great option for those who have several people to cook for. It's easy to see why Instant is a big brand when it comes to air fryers, it scales new heights with its performance and design - we loved the viewing window and light.
We test it out so you can see if it's worth your money. Our review sees us putting the Instant Vortex Plus 6-in-1 with ClearCook to the test, to prove to you that it's worth buying. We'll look at unboxing, ease of use, ease of cleaning, and the most important thing - cooking. So you can see why we've given it space in our roundup of the best air fryers for families.
Design
Capacity: 5.7L | Dimensions: 37.9D × 30W × 33H cm | Wattage: 1450-1700W | Colour: Black | Settings: Air fry, roast, bake, reheat, dehydrate, and grill
The basics: The box came with an easy-to-carry handle, when opened the air fryer was packaged with polystyrene wedged around the sides. Once out of the box, the only 'assembly' required was inserting the tray into the basket. Before using you are advised to wipe the basket and insert it down and then follow 'test run' instructions.
Once switched on, the controls illuminate, and the cooking modes are displayed. After selecting a cooking mode, it's just a case of pressing the time/temp button and spinning the dial for quick adjustment of these settings. Plus, it remembers the last time and temperature settings you used, which is handy if you regularly cook the same foods.
When you tap to start the air fryer automatically kicks into preheat mode and then the display tells you to 'add food' once it's hot enough. However, I was impatient and had a 5-year-old after my attention so I just chucked the fish fingers in from the moment I pressed start and they turned out okay. Another feature is the reminder to turn food part way through cooking, again I never did this and it didn't cause any harm to my delightful dish.
NOTE: The outside of the box is more informative cooking-wise than the instruction manual that comes inside, so it's worth taking a picture of the sides if you're planning to get rid of the box.
Comfort and features
What I liked: The air fryer itself impressed me with its sleek and matt finish, it was relatively light and easy to move around the kitchen - to find the right space for it.
The touch-screen control panel remains completely black when switched off, so the only visible control is the silver dial. It's easy to wipe clean, which is a bonus because the shiny exterior isn't very forgiving on sticky fingerprints.
Every function pre-heats before starting, and the machine beeps when it's up to temperature - You can turn this off if the beeps become tiresome. I liked that the time remaining and cooking temperature are displayed onscreen. Helpful reminders and error messages are also displayed, for example, when chips need shaking. At this point, the machine auto-pauses when you remove the drawer, but auto-starts when it's replaced.
The basket has a chunky handle that glides out with ease. The cooking tray slots into the basket and is held in place with grippy rubber corners, which stop it from falling out when tipping food out of the basket. Not only does it allow air to circulate around your food for great crispy results, but excess oil drips through the tray into the basket underneath, giving you even healthier meals. And the clever OdourErase air filter helps keep strong food smells from escaping into the rest of your home, a win-win.
What I didn't like: It has a really short lead which I found annoying, as it limited where I could put it in my kitchen.
The instruction booklet didn't share any guidance on cooking times or temperatures for common everyday foods. If you're new to air frying this information would provide a useful starting point. Also, you're directed to the Instant Pot website for recipes, which is frustrating as sometimes you just want to get started with a new gadget.
It had one drawer and no divider, meaning you can only cook a lot of one element of the meal. So sausages for six people, no problem but you have to do the chips the old-fashioned way if you want it all done at the same time. Also, of the six modes is set to a default time and temp. I.e. Grill mode is set to 205C and 6 minutes, you need to click in and change this each time. So a bit of a faff initially, but then it does remember the last time you used it, so if you 'grill' the same kind of foods regularly you don't need to change. But it does require that you have knowledge of what time and temp that certain everyday goods need to cook.
Cooking
Fish fingers: I used the air fryer function for this, I set it to 190C and 12 minutes. I completely guessed the time and temp as there's little to no guidance on what's best for fish fingers.
In hindsight,12 minutes was a little too long for this impressively speedy appliance, the fish fingers had dried out a bit, but there was a lovely crisp to them as if they'd been grilled. So next time I'll try just 10 minutes.
Broccoli: I love roasted broccoli but it takes a lot of gas and pre-heating to do it the 'old fashioned way', with the Instant Pot I drizzled a tiny bit of oil (old habits) seasoned it and threw a whole head of broccoli diced into the basket. Tapped 'roast' and set the temp and timer - again blindly - to 200C and 14 minutes. I was literally just guessing.
The great thing about this air fryer is the window and light. I didn't lose any heat opening the basket every five minutes to check progress. Within 9 minutes at that heat, the broccoli had a great charred effect and was ready to do, with a deliciously al dente bite.
Cleaning
Super easy to do. Both the air fryer basket and the removable tray insert can go in the dishwasher. If you don't have a dishwasher the non-stick coating means cleaning by hand is still a breeze.
The shiny touchscreen control panel can mark easily with greasy fingerprints. But it only needed a quick wipe to clean off any marks. I noticed that it dried a little streaky, which didn't bother me, but I checked and you can buff them out with a towel.
Value for money
At the time of writing, the Instant Vortex Plus 6-in-1 air fryer is priced at £119 at Instantbrands.com, not an exorbitant price. And, is worth bearing in mind that the cost of running an air fryer is a pro itself because they use less energy and take less time to cook food than an oven, meaning investing in one of these sought-after kitchen gadgets may save on your energy bills.
This 5.7-liter capacity means it's a cost-effective way of cooking a lot of food - and cooking it quickly too - but if there are only two or even three of you to cook for, a smaller air fryer might be a better option, as it'll likely mean you'll be using less energy too."
Should you buy the Instant Vortex Plus 6-in-1 air fryer with ClearCook?
This air fryer would make a helpful addition to a busy kitchen. It's fuss-free and easy to use, and it requires little to no attention while cooking, so you can confidently leave the appliance to do its thing while you get on with something else.
It's versatile which means you no longer need to switch on the oven to heat and crisp lots of your favorite foods. In my opinion, it's a brilliant air fryer, with a very reasonable price tag. the only thing that lets it down, in my opinion, is that you can only cook one element of your meal at a time.
Related Features:
Video of the Week
Stephanie Lowe is Family Editor at GoodTo covering all things parenting, pregnancy and more. She has over 13 years' experience as a digital journalist with a wealth of knowledge and experience when it comes to all things family and lifestyle. Stephanie lives in Kent with her husband and son, Ted. With his love of choo-choos, Hey Duggee and finger painting he keeps her on her toes.