Prince Harry to release FOUR books as part of £29m deal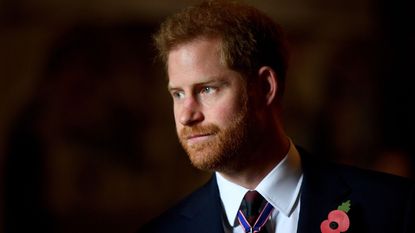 (Image credit: Getty)
Prince Harry has reportedly signed a lucrative deal to release four books about the "lessons that have shaped him".
The Duke of Sussex's memoir announced earlier this week is just the tip of the iceberg, as the book—due out during the Queen's Platinum Jubilee next year—will be one of four.
Prince Harry is said to have led negotiations that ended in a four-part deal with Penguin Random House worth in the region of £29million.
It's not the first multi-million pound deal the couple have secured since stepping down as senior royals, as they're already working with the likes of Netflix and Spotify.
According to the Daily Mail, an insider revealed, "He [Harry] conducted negotiations – he had a very 'take it or leave it' attitude.
"His starting price was $25million (£18million) and the final figure was way north of that, possibly as much as $35-40million (£25-29million)."
Handling negotiations from his Santa Barbara home, Prince Harry "shocked" publishers with his attitude, according to this source.
'Those involved were actually very shocked by his approach, which was to look at them coldly and state his demands – $25million."
The first memoir will be ghost-written by JH Moehringer and will be "the definitive account of the experiences, adventures, losses, and life lessons that have helped shape him".
Harry reportedly described it "wholly truthful first-hand account" of his life.
The insider added, "Meghan will write a wellness-type book and people are unsure what the fourth will be."
https://www.youtube.com/watch?v=fbTAi-C7BTo
This will no doubt come as a blow to palace insiders, who were hopeful that a reconciliation was on the cards following reports Prince Harry and Prince William's rift was starting to thaw after their joint appearance at the unveiling of Princess Diana's statue.
It comes after months of turbulence and tension following Prince Harry and Meghan Markle's tell-all interview with Oprah Winfrey.
Georgia is a Celebrity and Royal Writer working across GoodTo and Woman & Home, and the Director and Founder of communications company Farq Media. Prior to this she was Online Editor at New! Magazine – managing all of their digital content and social media accounts. Where she interviewed all of the hottest reality TV stars and spent far too much time commuting to London. She trained at Nottingham Trent University – where she achieved First Class Honours in Print Journalism whilst juggling copious amounts of work experience, freelance writing, blogging and having far too much fun with the dance society.