How to use facial cleanser - Experts share their do's and don'ts
Master the basics with our step-by-step guide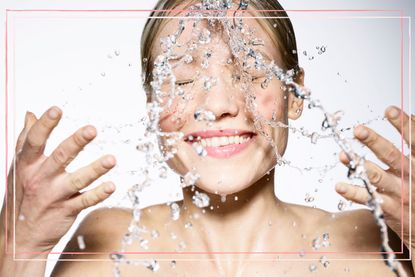 (Image credit: Getty)
Learning how to use facial cleanser is a key step in your beauty routine - if your skin is properly cleansed, it'll help your serums to work harder and ensure makeup will sit better.
We've hear of all the best-sellers - Cerave cleansers, Garner micellar water - but what do they actually do? "A cleanser is the foundation of any skincare routine, and the first step before grabbing for your skin toner" says Dr Ewoma Ukeleghe, medical and cosmetic doctor, as well as Superdrug skincare ambassador. "It's an important step to get rid of grime, dirt, pollution, makeup and sunscreen at the end of the day. If you leave these things on your skin, it could, in the long term, leave your skin inflamed, which leads to redness, breakouts and texture issues."
Understanding how to wash your face properly isn't only important if you're wearing makeup. "You still need to remove other products which your skin comes into contact with, such as daily pollutants, dirt, oils and sweat," explains Dr Alexis Granite, consultant dermatologist at CevaVe. "Cleansing ensures a fresh canvas for the additional products in your skincare routine, allowing them to penetrate more effectively." Think of it as giving your best night cream or best moisturiser a helping hand.
How to use facial cleanser: Step-by-step
Exactly how to use facial cleanser will depend on the specific product you're using. For full instructions, always check the back of the packaging, or on the brand's website. The below is a rough guide to get you started but it may need to be tweaked depending on the cleanser you've gone for.
Step 1: Dampen your skin – or don't
Foaming, gel and cream cleansers are normally best applied to damp skin, as the addition of water will help them to lather and spread.
If you're using an oil or balm cleanser, you won't need to wet your face first. Applying this kind of cleanser to dry skin gives the oils maximum opportunity to break down the makeup, SPF and daily grime on the surface of your skin.
Step 2: Massage in your cleanser
It's tempting to just hap-hazardly smoosh your cleanser around your face when you're in a hurry or first learning how to use facial cleanser, but ideally, you should take around a minute to massage it in.
Not only will that ensure a thorough cleanse (don't forget the crevices at the side of your nose) but it's also a nice opportunity for a moment of calm at the start and end of the day. Focus on areas that hold tension, like your forehead and jaw.
Step 3: Rinse
Cleansers aren't designed to be in contact with your skin for a long period of time, so it's important to rinse them thoroughly. You could use a damp muslin cloth or flannel to remove your cleanser, rinsing and re-wetting it until it's all gone. Or, you could just rinse with water.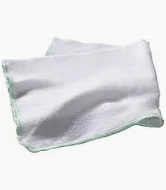 Step 4: Repeat if needed
If you've been wearing makeup or SPF, many experts recommend double cleansing. The idea is that the first cleanse will remove surface-level grime, your makeup and SPF, allowing the second cleanse to really work into your pores.
"With double cleansing, you spend more time on cleansing," says Dr Ewoma. "I highly recommend this if you wear makeup or sunscreen."
You can either repeat the process exactly with the same cleanser or, use an oil-based cleanser first, followed by a water-based one.
When should you use a facial cleanser?
It should always be the first step in your skincare routine, as it's there to cleanse the skin and prep it for the rest of your products. As for the time of day you need to use a facial cleanser, and how often, that's much more down to your skin type and lifestyle.
"The general rule of thumb is twice a day, morning and night," advises Dr Ewoma. "However, this can change depending on your skin type and what your life schedule looks like. If you're someone that has a drier, bordering on eczematous, skin type, then you may find that cleansing your skin say once is more than enough."
If that sounds like you, it's best to prioritise the evening cleanse, as your skin will come into contact with more things during the day than at night, and just rinse your face with water in the morning.
"It's really about adjusting your cleansing to what your skin needs and deserves," Dr Ewoma continues. "Cleansing morning and night doesn't work for everyone. For example, if you have a busy schedule, go to the gym during the day or work in a kitchen, then you may want to cleanse your skin three times a day. It's important to be responsive to your lifestyle and what your skin is telling you."
If you're finding that you're cleanser isn't agreeing with you, maybe it's leaving your skin feeling tetchy and overworked, or not quite clean enough, then you can always adapt your routine or the product you're using.
"I think it's really important to select cleansers that are suitable for your particular skin type," says Dr Alexis. "You may also choose a different cleanser in the morning to in the evening. For example, if you suffer from dry or sensitive skin, select a cream-based, hydrating cleanser for the morning and a more foaming, thorough cleanser in the evening to wash off the day."
Do you wash off a facial cleanser?
Unlike serums and moisturisers which have been formulated to stay on your skin, a cleanser should only be a temporary fixture and always needs to be washed off. It's really important to rinse your cleanser away thoroughly.
"There are a couple of reasons why you should remove your cleanser properly," says Dr Ewoma. "The first reason is that if you move on to the next step of your skincare routine without rinsing well, then your skin is going to start lathering up from any leftover cleanser.
"Also, depending on the type of cleanser and the ingredients within it, it causes irritation."
Surfactants in particular, which are a type of ingredient regularly used in cleansers which "can cause irritation if left on the skin for prolonged periods of time," adds Dr Alexis.
What are the benefits of using a cleanser?
1. Cleansing your skin
You wouldn't wear the same clothes you wore to the gym without washing them, and the same approach needs to be applied to your skin.
"If we are not cleansing, we're essentially allowing build-up on the skin which can open up a whole range of issues," explains Dr Alexis. Understanding how to use facial cleanser daily will ensure nothing outstays it's welcome on your skin long enough to cause problems.
2. Gently exfoliating
Your cleanser may have exfoliating acids (like alpha-hydroxy acids) within the formula, contain fruit enzymes or even include gritty particles – all of which are there to gently exfoliate the skin.
This approach to exfoliation is gentler than using a leave-on exfoliant and allows you to do so more regularly. Just be careful not to overdo it if your skin is sensitive.
3. Improving the efficacy of your skincare
Sitting in traffic when you've got somewhere to be is really annoying, and that's exactly how our skincare feels when applied to skin that hasn't been properly cleansed.
With a cocktail of makeup, sunscreen and daily grime still sitting on the skin, there's nowhere for it to go, so it can't make its way into your skin and get to work. No matter how fancy your best vitamin C serum or retinol product is, it won't be effective if your skin isn't clean.
4. Reducing irritation
As we have already established from Dr Ewoma, not cleansing can "leave your skin inflamed, leading to sensitivity, redness, breakouts and texture issues." The kind of things our skin comes into contact with on a daily basis, like skincare, makeup and pollution, will all start to wreck havoc if not properly removed at the end of the day.
5. Nourishing skin
If you have very dry skin, then your cleanser is a nice opportunity to give your skin some extra TLC. Using a nourishing balm cleanser, packed with oils like those found in the best facial oils, will allow you to gently cleanse without stripping the skin or driving dryness, making for a softer, smoother and more comfortable complexion.
6. Keeping breakouts at bay
Spots form when dead skin cells and oil combine to create a blockage. If you cleanse your skin regularly, you'll at least be washing away the excess oil, and, if you're using an exfoliating cleanser or removing it with a muslin cloth, you'll probably be removing the dead skin cells too.
Not to mention that cleansing also removes other potentially pore-clogging elements. "Build up of things like oils, dirt and sweat can lead to clogged pores, breakouts and even acne," says Dr Alexis.
7. Managing dehydration
When our skin is dry or dehydrated, the rate at which our cells turnover slows right down. This means that there are more old skin cells than normal sitting on the top layers of the skin, which can make it difficult for hydration to make it's way in.
Cleansing regularly will help to dislodge some of these, and a water-based cleanser will deliver a splash of much-needed hydration.
Facial cleansers: Our top 3 picks
1. CeraVe Hydrating Cleanser
Best cleanser for all skin types
Reasons to buy
+
Suitable for everyone
+
Great value
Reasons to avoid
-
Not the most luxe option
This is a crowd-pleasing cleanser that will slot seamlessly into anyone's skincare routine. It's relatively no frills, which you'd probably expect from the price, but works really well. It is cream-textured, hydrating and contains three different types of ceramides.
The ceramides help to restore the mortar that holds our skin cells together, working to reduce water loss and stop external aggressors from making their way into the skin. This cleanser can be used around the eye area too, which is always handy. A great buy for anyone who's new to facial cleanser.
2. La Roche-Posay Effaclar Cleansing Gel
Best cleanser for oily skin
Reasons to buy
+
Cleans skin without stripping
+
Good-sized bottle
Reasons to avoid
-
Not everyone will like the foam
If you have oily skin or are prone to breakouts, there's a tendency to go in all guns blazing when it comes to cleansing. Due to the unhelpful associations between acne and dirt (almost all acne is actually driven by hormones), many people over-wash or opt for something very harsh with the aim of soaking up excess oil or drying out blemishes.
This cleanser is the antidote to all of this. It is satisfyingly foamy enough to leave skin feeling fresh and clean, but without disrupting your skin barrier or zapping moisture.
3. Kate Somerville Goat Milk Moisturising Cleanser
Best cleanser for dry skin
Reasons to buy
+
Feels luxurious
+
Leaves skin feeling soft
This cult cleanser is an absolute joy to use. It has a comforting milky scent that makes you feel instantly relaxed, with a creamy, ever-so-slightly grainy texture. It doesn't foam, which is one of the reasons why it's so great for dry or dehydrated skin, as it doesn't strip your complexion.
Despite this, it still manages to persuade away a day's worth of grime. Unlike some cream cleansers, it doesn't leave any residue on your skin, so although it's best for dry skin, there's absolutely no reason why someone with oily, combination or normal skin wouldn't love this too.
We spoke to the following skincare experts:
Dr Ewoma Ukeleghe is a doctor with a special interest in skin and aesthetics. She is a contributing Editor for Elle UK and a columnist for Women's Health UK.
Dr Alexis Granite is a leading expert in dermatology with more than 14 years of clinical experience within the UK and US.
Video of the Week
Jess Beech is our Beauty Editor, working across Goodto.com, Woman & Home, Woman, Woman's Own, Woman's Weekly and Chat. Joining just after she graduated from the University of East Anglia with a BA in English Literature back in 2013, Jess has been a part of the team for over 8 years. Over that time she's tried her hand at most subjects – covering diet, health, cookery and even a stint on real life crime before settling on beauty and fashion a couple of years ago. Her average day in the office is spent tracking down high-street copies for all your favourite celebrity looks or testing the latest beauty launches to see if they really do live up to the press release. Although she writes across a wide range of topics, when it comes to beauty it's always a new hair product that catches her eye first. Whether it's a new frizz-fighting shampoo or a game-changing gadget, she's first in line to try anything that might help tame her own unruly mane. When Jess isn't at work you're likely to find her busily making plans for her next holiday, trying out yet more beauty products or (reluctantly) heading to the gym. Oh and she's a sucker for reality TV too – just don't call her when Love Island is on.