Is A Spy Among Friends based on a true story or a book? Plus how to watch the Damian Lewis mystery thriller on ITVX
Damian Lewis is back on UK screens to launch a new streamer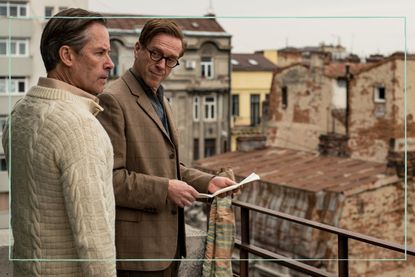 (Image credit: ITVX/Future)
An all-star cast head up a thrilling story where nobody can be trusted. We have the lowdown on the real inspiration behind A Spy Among Friends, and how to watch it.
There has been a buzz building around a mystery thriller landing on new streaming service ITVX (opens in new tab) on December 8. A Spy Among Friends covers espionage in Britain during the Cold War, and anyone could be a double agent - the characters can trust nobody. Damien Lewis and Guy Pearce head up the cast as intelligence officers Nicholas Elliott and Kim Philby, and early reviews report their performances to be off the scale. Lewis's Nicholas Elliott works for MI6 and his world is turned upside down when his colleague and great friend Kim Philby, defects to Russia after secretly working as a double agent for the KGB. Read on as we delve into the source material for the show, and whether it's a true story. We also clear up any confusion on how to watch the series, as it launches on a brand new streamer.
ITVX have plenty of content lined up, and first look images of David Tennant's Litvinenko (opens in new tab) instantly make the show one for the must-see list. Tennant portrays Alexander Litvinenko, the former Russian Federal Security Services and KGB officer, who died from Polonium-210 poisoning in November 2006. For a lighter crime drama, Karen Pirie based on (opens in new tab) some famous source material, is excellent viewing. The show is available to catch up with on ITVX, and for any questions about its conclusion, the Karen Pirie ending explained (opens in new tab) ties up lose ends and answers burning questions.
Is A Spy Among Friends based on a true story or a book?
A Spy Among Friends is based on both a true story and a book. Kim Philby was a real spy who worked as a double agent for MI6 and the KGB. Author Ben Macintyre documented his story in his book A Spy Among Friends: Kim Philby and the Great Betrayal, which is the source material for the series.
Born in British India, Philby was born Harold Adrian Russell "Kim" Philby in 1912. Educated at Westminster School and Trinity College, Cambridge, he was recruited by Soviet intelligence in 1934. In 1940, he began working for MI6, becoming a high ranking member by the end of the Second World War. In 1963 it was revealed he was a member of the "Cambridge Five" - an infamous spy ring who divulged British secrets to Russia during World War II and the Cold War.
Nicholas Elliot and Kim Philby really were spies and lifelong friends, but Philby was double crossing Elliott for the duration of their friendship and working relationship. Of the Cambridge Five, Philby is thought to have been most successful in passing secret information to the Soviets. When his actions were uncovered in 1963, Philby defected to Moscow where he lived out the rest of his days. He died in Russia in 1988, and is buried in Kuntsevo Cemetery, Moscow. He is considered the most notorious British defector and Soviet double agent in history.
First published in 2014, Ben Macintyre's book about Philby's life uses memoirs Philby wrote later in his life and secret British intelligence files, to uncover the real story behind his betrayal. The critically acclaimed book became a bestseller, and one Good Reads (opens in new tab) reviewer wrote about it, saying "I could write pages about this enthralling book but instead, I would recommend that you read it. You will shake your head in amazement at the devious and clever inner workings of such a trusted man who was a traitor to his country. I have the highest praise for this book."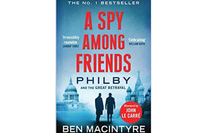 (opens in new tab)
A Spy Among Friends: Philby and the Great Betrayal by Ben Macintyre £9.69 | Amazon (opens in new tab)
Read the book based on the real life of double agent Kim Philby, now a major ITVX series starring Damian Lewis and Guy Pearce
How to watch A Spy Among Friends
A Spy Among Friends is available to watch on ITVX for free - ITVX has replaced the original ITV catch up service, ITV hub. All episodes will land at the same time, as part of a boxset to watch altogether.
Anyone who already has ITV Hub downloaded doesn't need to do anything to switch to ITVX, this will happen automatically. For those who don't have ITVX, the basic platform can be accessed for free by signing up for an account (opens in new tab), in the same way the basic ITV Hub previously worked. Functioning as an entry-level tier, viewers can find an extensive back catalogue of ITV shows, and anything they might've missed on ITV that they'd like to catch up with.
There will be the ability to watch live TV available with the free option, with the only downside being that all shows will include adverts to make up for the service being free. To view the catalogue without ads, ITVX will have a premium subscription service for £5.99 per month or £59.99 per year. International viewers will be able to to watch A Spy Among Friends on Britbox (opens in new tab), and it will be shown on ITV at a later date.
A Spy Among Friends: Cast
Damian Lewis (Homeland, Billions) as Nicholas Elliott
Guy Pearce (The Hurt Locker, The King's Speech) as Kim Philby
Anna Maxwell Martin (Motherland, Line of Duty) as Lily Thomas
Stephen Kunken (Billions, The Handmaids Tale) as James Jesus Angleton
Adrian Edmondson (The Pact, Back To Life) as Sir Roger Hollis
Anastasia Hille (Baptiste, The Ipcress File) as Flora Solomon
Lucy Akhurst (The Land Girls, Shaun of The Dead) as Elizabeth Elliott
Gershwyn Eustache Jnr (Britannia, Fortitude) as Robert Thomas
Damian Lewis also acts as a producer on the show, and spoke about the script coming together. He said "These fabulous scripts by Alex Cary take an up-close look at friendship - a friendship that was blinded by love, class, and membership to the right clubs, and ended in betrayal and the deaths of thousands. It's been a fantastic creative process."
Guy Pearce also spoke about his role as Kim Philby, saying "It's an honour to be a part of this thrilling project. I've always been fascinated by the intriguing MI6 history and getting to go on this journey with Damian makes it all the more brilliant. I'm also very happy to be working again with the wonderful and talented Nick Murphy."
A Spy Among Friends: Reviews
Early reviews from critics are largely positive, indicating A Spy Among Friends is worthy of the buzz its been generating.
Dan Einav from the Financial Times (opens in new tab) offered the show 4 out of 5. He said "For all the intricate plotting and fertile ambiguity, the show doesn't lose sight of the more basic, universal tale it tells about the pain of betrayal. Lewis lowers his character's patrician façade to show glimpses of a spy's wounded pride and a friend's hurt. Pearce meanwhile balances Philby's haughtiness at having duped his 'sentimental, arrogant' colleagues, with snatches of affection and nostalgia."
Jasper Rees from the Daily Telegraph (opens in new tab) also offered 4 out of 5. He said "The densely webbed structure is much suited to a story where truth eludes capture."
Victoria Segal from the Sunday Times (opens in new tab) was also enthusiastic, adding "Based on Ben Macintyre's 2014 book, this drama isn't just about the brainy mechanics of espionage, it also interrogates the multifaceted human beings tangled in its webs."
Related ITV Features:
Video of the Week
Lucy is a multi-award nominated writer and blogger with six years' experience writing about entertainment, parenting and family life. Lucy has contributed content to PopSugar and moms.com. In the last three years, she has transformed her passion for streaming countless hours of television into specialising in entertainment writing. There is now nothing she loves more than watching the best shows on television and telling you why you should watch them.