Dear Child ending explained: Who is the killer in the new Netflix show?
The new Netflix thriller has viewers asking questions about the ending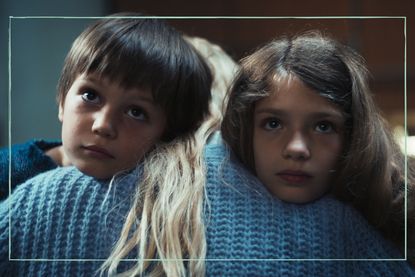 (Image credit: Netflix)
Goodto Newsletter
Parenting advice, hot topics, best buys and family finance tips delivered straight to your inbox.
Thank you for signing up to GoodTo. You will receive a verification email shortly.
There was a problem. Please refresh the page and try again.
The German language thriller has proved popular on Netflix, and viewers now want the Dear Child ending explained.
The harrowing story follows Lena and her two children, who live in an isolated apartment and must obey the strict rules of their 'Papa'. Lena manages to escape, but she is still not safe as the true nature of her kidnapper's crimes are gradually revealed. And though distressing, the new show is gripping - leaving many viewers asking if Dear Child is based on a true story.
Other questions about the series have arisen too, and much like Netflix viewers also want the Who Is Erin Carter? ending explained , many were interested in breaking down the Fatal Seduction ending. Prime Video's Wilderness ending was a wild ride, leaving viewers divided over its morality. Now, thriller fans want their questions about Dear Child answered - we are here to tie up all the show's loose ends...
Dear Child ending explained
At the end of Dear Child, Lena kills her captor using a shard of glass she had kept in a sanitary pad. The later episodes also reveal that her real name is Jasmin, and that she had been kidnapped because of her resemblance to the real Lena, who was the mother of Hannah and Jonathan, the two children she was imprisoned with.
Jasmin had been living in a high-security house with Hannah and Jonathan, who are the children of Lena - a woman who had previously also been held captive but had died. While Hannah and Jonathan seemed happy there, Jasmin briefly managed to escape by hitting her captor over the head with a snow globe. However, after running onto a highway she was hit by a car.
Hannah followed Jasmin and knocked down the man who hit her with a tree branch. When the kidnapper arrives, Hannah - who appears to have been indoctrinated by him - tells him to take the driver back to the house. The kidnapper does as she says and kills the man to make it look like he was the person who has been holding Jasmin and the two children captive.
Hannah and Jasmin are then taken to hospital, where a police officer gets involved. At first, it seems that Jasmin is the missing daughter of an older couple Matthias and Karin Beck, who have been looking for her for 13 years. However, it later transpires that Jasmin is not in fact their daughter, Lena, but bears a striking resemblance to her.
Eventually, after police and doctors become suspicious about her circumstances, Jasmin speaks up and reveals her real name and that she had been held captive for five months. The police conclude that her captor must also be the person who took Lena 13 years ago.
A flashback shows that Jasmin was kidnapped after a job interview and made to look like Lena by her kidnapper.
After questioning Hannah and searching in the area where Jasmine was found, the police find the apartment with Jonathan still inside. The body of the driver is there too, but his face is heavily disfigured and at first the police can't determine his identity. Intitally they presume he is the kidnapper, but after discovering that he had only been in the country for a couple of months he is ruled out.
Meanwhile, Jasmin realises that the real kidnapper is still watching her, and she and Hannah are eventually recaptured and driven to a new home. However, Jasmin manages to kill her captor, after requesting a toilet break and then stabbing him with a shard of glass from the broken snow globe.
Elsewhere, the police have been questioning the employees of a security company based in the area where Jonathan was found. When they go into the owner's office, they see a picture of the owner as a child with his mother, who looks a lot like Lena.
They realise that he must be the kidnapper and after searching the surrounding woods, they find the remains of several women who have gone missing over the years.
Who is the killer in Dear Child?
The killer in Dear Child is a man named Lars Rogner, who is the head of the security company Rogner and Son, which he inherited from his grandfather.
He had been raised by Lars Senior and his grandmother after his own mother, who gave birth to him when she was young, ran away with no warning. He never knew who his biological father was.
Lars held Lena captive because she resembled his mother, and he wanted to create the traditional family unit that he had been deprived of as a child. While Lena was imprisoned, she was raped by Lars.
After giving birth to her third child she contracted an infection, which killed her and her baby. While Lars is the father of Lena's second child, Jonathan, it transpires that Hannah is the child of Lena and a man named Florian and Lena was pregnant with Hannah when she was kidnapped.
It is also revealed that after Lena died, Lars had kidnapped several more women and made them look like Lena, but they had all been killed. Jasmin was the latest victim, and he let her live after the car accident because Hannah had begged him, saying Jasmin reminded her most of her real mother.
What is Dear Child about?
Dear Child is about a woman who is held captive along with two children, and forced to behave as their parent after their real mother died. After she escapes, the further crimes of her kidnapper are revealed - along with the reason why she was taken.
The Netflix synopsis reads: "Lena lives in complete isolation in a highly secured home with the two children Hannah and Jonathan. They eat their meals, go to the toilet and to bed at precisely prescribed times. As soon as he enters the room, they line up to show their hands. They do everything he says. Until the young woman manages to escape. After a near fatal car accident, she is hospitalized, accompanied by Hannah."
The new Netflix show is based on Romy Hausman's novel of the same title, which was released in 2020.
How many episodes of Dear Child are there?
There are six episodes of Dear Child, with each episode lasting between 45 and 50 minutes. The series was released on Netflix on Thursday 7 September, and is a German language series.
Here on Goodto, we've explained the ending of other popular Netflix shows, including the Manifest ending and the Painkiller ending too. And if you're excited about the release of Virgin River season five, we've also explained the Virgin River season four ending and provided a season four recap.