How many children does Alex Jones have and who is her husband?
The One Show presenter has a few little ones keeping her busy at home.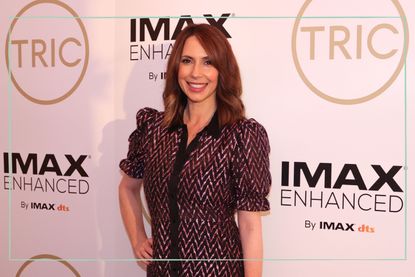 (Image credit: Future/Getty)
Exploring family and fertility in new Alex Jones: Making Babies (opens in new tab), some viewers want to know how many children Alex Jones has and more about who she is married to.
She's the long-serving One Show presenter (opens in new tab) who never fails to bring a smile into our homes during weeknights. Keeping us informed on the topical going ons in the world whilst interviewing a host of exciting celebrity guests. However, January 2023 brings with it the release of a new exciting project for Alex, in the form of Alex Jones: Making Babies - a series that sees the 45-year-old go behind the scenes at one of the country's leading fertility clinics.
Alex has admitted that the show has a personal connection for her, being both a mother and someone who has herself experienced heartbreak during conception (she's been open about a shock miscarriage (opens in new tab) from 2017). Many One Show viewers will remember Alex welcomed a baby girl (opens in new tab) in recent years which saw the star take time off with her new child and family. But how many children does Alex Jone have in total? We reveal all there is to know about her brood and handsome husband Charlie.
How many children does Alex Jones have?
Alex Jones and her husband have three children together - two sons and a daughter. Five-year-old son Teddy is eldest, followed by younger brother Kit aged three. Meanwhile Alex's new daughter turned one in August 2022.
Alex and Charlie's firstborn, named Edward Alun Burrell Thomson, adorably shortened to Teddy, was born in 2017. Eager to share the news with her colleagues, Alex announced during a phone call to The One Show that she'd given birth (opens in new tab) - much to everyone's delight. Their happy family soon grew again as Alex and Charlie welcomed their second child, Kit, in May 2019.
Fast forward to March 2021 and Alex shared the exciting - and somewhat unexpected - news that she was pregnant with her third child. Sharing the news on The One Show, she said: "Lockdown has been anything but predictable and we've had some really unexpected news. Baby number three is on the way.
"We didn't see that one coming but we're delighted," she added, before confirming their newest addition was a baby girl.
Alex officially left The One Show at the beginning of August 2021 for her maternity leave and three weeks later their daughter arrived.
The mum-of-three chooses not to feature her children too often on her social media, but Alex Jone's children have been known to make a rare appearance now and again. In August 2022, Alex shared a sweet video of her young boys Teddy and Kit roaming around in nature during the school summer holidays. It seems the family enjoyed a UK staycation in the Cotswolds this year, soaking up the British sunshine whilst exploring fields and paddling in nearby streams.
What is the name of Alex Jones's baby daughter?
Alex Jones's daughter is called Annie and was born at London's Queen Charlotte hospital on Saturday 21 August 2021. The presenter confirmed her new daughter's name live on The One Show, telling viewers it was a "simple, kind of classic name".
In a social media post, announcing their daughter's arrival, Alex gushed about how in love her two boys are with their little sister: "Watching them with their brand new little sister is just the best and we can't believe how lucky we are to have the three of them and to be a family of five. It still doesn't feel real!!!
Most recently Alex commemorated Annie's first birthday with a sweet picture on her Instagram account in August 2022. "A little walk with my girl after the birthday celebrations ❤️," read the caption.
Whilst we don't know many details on Annie, it seems the daughter takes after her mum in the locks department, with Alex joking on her Instagram stories in September 2021 that it "looks like I have my own little baby chimpanzee!" The photo certainly showcased Annie's full head of dark hair.
The 45-year-old has been open about Annie's arrival being an unplanned but incredibly "welcome surprise", In an interview with The Mirror (opens in new tab), Alex said: "In the back of my mind, and this is a bit of a secret, I always wanted three kids but I thought, 'Oh Alex, don't be silly, you have left it too late'"
"So Annie was the most fantastic and welcome surprise because so many friends and colleagues have been through the mill," she said.
Opening up to Closer before Annie's birth, Alex shared how lucky she and her husband felt at having children of both genders.
"We both said how amazing three boys would be," she said. "Then when we opened the email which told us what sex the baby was, his (husband Charlie) little face was a picture.
"We were too scared to say it, but I think we both felt the same," she added. "We both secretly thought it would be amazing if it was a girl. It'll be really interesting to see the different dynamics."
How old was Alex Jones when she had her last baby?
Alex Jones was 44-years-old when she gave birth to her daughter Annie. The presenter confirmed news of her pregnancy on The One Show - just days after celebrating her 44nd birthday.
Alex has always talked about being an older mother and in 2018 she released her own book about parenting, prompted by her own experiences and what she would have liked to have known before.
"Joining the parenting club in our thirties and beyond means that we are spinning an extraordinary amount of plates, often including a career at its peak," reads the blurb. "Most of us co-parent or fly solo in the true sense of the word, relying solely on our partners and/or friends when more often than not, extended family are too far away to help on a regular basis. Our parents could look to their parents for the usual guidance and extra support, but our situation is new, modern and unique. We are winging it!
"This book isn't a guide or a parenting manual - it's more of a support group for parents who are having their children in their thirties and forties to get together, to celebrate, share experiences, laugh and find joy in what is still the biggest life changing experience any of us will ever go through. It's the book I looked for when I was pregnant, that spoke to me as a working parent and that I couldn't find so I've had a go at writing one myself."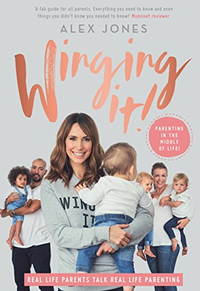 (opens in new tab)
Who is Alex Jones' husband?
Alex Jones' husband is insurance broker Charlie Thomson. The couple is said to have met at a party in 2011 and went on to get engaged in 2015.
Alex and Charlie tied the knot (opens in new tab) that same year in a beautiful private ceremony on New Year's Eve in Cardiff Castle. Whilst Charlie tends to keep out of the limelight, he does often feature in his wife's heartfelt Instagram posts.
Charlie actually comes from New Zealand originally and he was born in Auckland. But he's lived in the UK since he was 20.
According to Alex, Charlie originally had plans to move back to New Zealand. This made their future together at first seem 'tricky'.
"He always thought he'd go home, even though his parents are English," said Alex, in a previous interview on Carol Vorderman's radio show.
"Now he's been here for 20 years but he always thought he might go back and I think that's what made it complicated for us. I'm so close to mum and dad and I'd never want to go to the other side of the world, and I had the job I loved."
Thankfully Charlie decided to stay and settle in London with The One Show star. And he is now a proud dad to three kids.
He's been present at all three of his children's births, including his daughter's most recently. "The importance of a good birthing partner," Alex praised on her Instagram stories whilst in the birthing suite.
She later jokingly added another photo. In it, Charlie is napping on a beanbag whilst waiting for Annie to arrive. "Reminded him later of how many babies have probably been born on that beanbag!" she wrote, alongside a crying-with-laughter emoji.
Where does Alex Jones live?
According to HELLO! Magazine, TV presenter Alex Jones and her family live in London in a stunning Victorian property. The family-of-five have lived her since 2016.
Alex has shown off some of the property's period features on her Instagram accounts from sash windows and a freestanding Victorian roll top bath. The living room makeover also saw a log burner installed to bring cosiness to the space, which Alex credits as the "best decision ever".
Video of the Week
Emily Stedman is the Features Editor for GoodTo covering all things TV, entertainment, royal, lifestyle, health and wellbeing. Boasting an encyclopaedic knowledge on all things TV, celebrity and royals, career highlights include working at HELLO! Magazine and as a royal researcher to Diana biographer Andrew Morton on his book Meghan: A Hollywood Princess. In her spare time, Emily can be found eating her way around London, swimming at her local Lido or curled up on the sofa binging the next best Netflix show.