Is The One Show's Alex Jones pregnant and when is her baby due?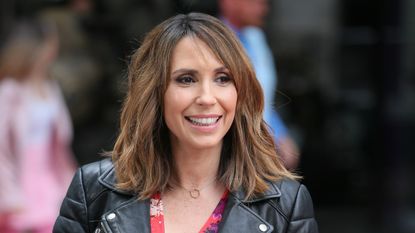 (Image credit: Photo by Ian Lawrence/GC Images via Getty)
The One Show's Alex Jones has been entertaining viewers on the popular topical show since 2010, but is she pregnant and when is her baby due? We reveal all you need to know.
Alex Jones has been a firm favourite on our TV screens for over a decade now, and is best known as co-host on the BBC's The One Show (opens in new tab). From presenting memorable segments to conducting inspiring interviews with guests on The One Show (opens in new tab), Alex's warmth makes each appearance a fun and relatable experience.
She's made a series of exciting personal announcements to her One Show colleagues over the years - including another one in recent months. And viewers are wondering if it could be to do with another incoming arrival to Alex Jones's family.
Is Alex Jones pregnant?
The One Show's Alex Jones was pregnant with a little girl in 2021. And it seems Alex's daughter named Annie (opens in new tab) is settling in well at home with the family.
As reported by Express.co.uk, the broadcaster opened up to Closer magazine about her pregnancy joy at the time. Here she is said to have revealed that she initially thought her pregnancy symptoms (opens in new tab) were signs of diet-related fatigue.
"I just felt really tired but, of course, in hindsight I was pregnant," Alex explained. "I thought it was the veganism making me drained of energy but it wasn't."
Admitting that she would've expected to recognize the signs after her previous pregnancies, Alex revealed she simply "didn't realise the clues were there".
"This is ridiculous in a third pregnancy, but I didn't realise the clues were there because I honestly blamed everything on the veganism," The One Show star said.
"I was so tired and hungry all the time and I thought it was that. But I said to my husband that I think we need to do a test. And he said, 'What? What?' - anyway, we did a test."
After discovering that Alex was indeed pregnant, she chose to announce her third pregnancy (opens in new tab) in a wonderful way in March. She had previously confirmed her second pregnancy on The One Show back in 2018 and chose to do so again this time around.
"It just seems like a good time to share some news with everybody, and the crew in the studio for the first time," Alex began, as she presented the show with Ronan Keating. "I mean lockdown has been anything but predictable and we've had some really unexpected news – baby number three is on the way."
And she's keen to receive advice from Ronan, who welcomed his second child with wife Storm last year.
"I need all the tips. We didn't see that one coming but we're delighted," Alex declared.
When is Alex Jones' baby due?
Alex Jones has now given birth to her baby girl. The One Show presenter left for her maternity leave at the beginning of August 2021. And Alex and her husband welcomed their new addition on August 21, 2021..
In an interview with Hello! magazine, Alex announced that her daughter was due to arrive in late August. And it seems that her baby girl indeed arrived around the time of her due date.
Alex's maternity break coincided with The One Show's annual thee-week break.
"The show breaks for three weeks in the summer every year and that break will be in August this year. So I'll go off on that and I'll probably stay off. That's the plan", she shared.
It's not yet been confirmed who might be taking over for Alex during her maternity leave, though the presenter has hinted that it will likely be "a mix" of people who are already familiar to the audience.