Is Tom Daley married and does he have children?
Everything you need to know about the Olympic diver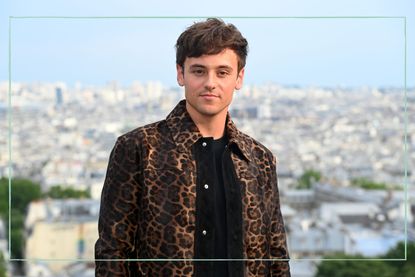 (Image credit: Getty Images)
GoodTo newsletter
Sign up to the GoodTo Newsletter. You can unsubscribe at any time. For more information about how to do this, and how we hold your data, please see our privacy policy
Thank you for signing up to . You will receive a verification email shortly.
There was a problem. Please refresh the page and try again.
Is Tom Daley still married, when did he marry and does he have any children? Your questions about the Olympic gold medallist answered.
Tom Daley is at the forefront of a new BBC documentary 'Tom Daley: Illegal to Be Me'. The hour-long film is not the first time the diver has shown his support for the LGBT+ community (opens in new tab) since he came out as gay in 2013. And while Daley has not been competing in this year's Commonwealth Games - leaving many asking if he has retired (opens in new tab) - the new documentary explores how gay athletes are facing extreme persecution in countries across the Commonwealth.
What with the diving, the knitting (opens in new tab) and now documentary making, you'd be forgiven for asking yourself 'is there anything Tom Daley can't do?' But alongside his gold medal studded career, fans also want to know more about the Olympian's private life. Read on to find the answer to is Tom Daley married and does he have children?
Is Tom Daley still married?
Tom Daley is still married to his husband Dustin Lance Black. The American film director and screenwriter, who is 20 years Tom's senior, first met the diver back in 2013 and the couple moved in together a year later. Tom and Dustin then announced their engagement in The Times (opens in new tab) in October 2015.
Speaking about their engagement during an interview with Out (opens in new tab) magazine in February 2016, Dustin declared, "Marriage is the foundation to all of these other big plans we have. So we knew we were going to get engaged — it was just a matter of when, and who does it."
"It turns out that we had both asked each other's parents, and we both had rings ready to go," Tom added. "I took mine away with me to America after my final diving competition last year, and I planned on doing it in San Francisco, because it's his favourite city."
However, the decision of where to finally propose to Dustin seems to have been a difficult one for Tom, as he tried to find the perfect moment.
"There were so many points when I thought that I was going to do it: We went out on a boat in the bay, but there were too many people around. And then we went to Lands End near the Golden Gate Bridge and again, there were a lot of people around. We went to dinner, and I thought, You know what, after this dinner, we'll go to Dolores Park, we'll sit down, and then I'll propose, and it will be somewhere we can go back to and relive that moment," Tom shared.
"Well, we got to Dolores Park and it was full of construction, and the first thing he said was, 'Oh, it looks awful here,' and I just thought, Great, I'll just have to save it for another time. So, I ended up bringing the rings back to London."
In the end, after a similar situation for Dustin of not quite finding the ideal location and time, the professional diver seized the moment when they were both at home alone.
"I go into the bathroom to get ready for bed and come out in my underwear, and that's when he drops down on one knee and proposes to me," Dustin explained.
Tom went on, "I had the ring box in my underwear, and when he came out of the bathroom, I just went down on my knee and proposed. Then he ran off to the bathroom to get his rings, and he had this whole speech prepared, but he's a writer so his was quite extravagant. But looking back, all I can remember is being completely overwhelmed, like, Oh my God, we're now engaged."
When did Tom Daley get married?
Tom Daley and Dustin Lance Black tied the knot on May 6, 2017 with a wedding ceremony at Bovey Castle Hotel on Dartmoor, Devon, which is about 30 miles from Daley's hometown of Plymouth.
Two days later, Tom Daley wrote on Instagram (opens in new tab) "On 6th May 2017, I married the love of my life @dlanceblack. We shared the day with 120 of our closest friends and family, from Texarkana to Plymouth! Thank you to everyone who made this weekend the most special weekend of our lives!"
Dustin Lance Black also shared a photo (opens in new tab) from the day, showing the pair stood on a bridge gazing into each other's eyes. In the caption he joked "So… what did you get up to this weekend?"
Music is thought to have played a huge part in the service, with Bruno Mars' Marry You sung by the London Gay Man's Choir after the couple exchanged their vows. It's understood that there were several heartfelt speeches made during the big day, including one by Tom's mother Debbie and by the newlyweds themselves.
According to The Mirror (opens in new tab), guests feasted on British classics such as beef wellington, sausage and mash and Eton Mess. The meal was followed by a five tier red, white and blue cake made by Crumbs and Dollies. The cake was adorned with stars and stripes and was a creative nod to the newlywed's home countries.
The Mirror also claims that the wedding included multiple poignant tributes to Tom's late father, Rob, who tragically passed away from a brain tumour in 2011. The already romantic day was then rounded off with a magical fireworks display in the evening.
Who is Tom Daley's husband, Dustin Lance Black?
Dustin Lance Black is an American film writer and director. He is perhaps best-known for his screenplay of Milk – an biographical film based on the life of politician and gay rights activists Harvey Milk. The film was released in 2008, and in 2009 Lance Black as awarded the Oscar for Best Original Screenplay.
Throughout his film career, Black has been an advocate for LGBT rights and is a founding board member of the American Foundation for Equal Rights. He has previously been open about the difficulties he faced as a gay man growing up in a Mormon and military community in Texas.
In 2019 he published his memoir 'Mama's Boy', in which he said that he knew he was gay when he was just six years old. He wrote "I had all the information to know how much trouble I was in. I was a Mormon and we were a military family in Texas. I had heard the word homosexual inside the Mormon church and the Prophet (church leader) at that time was saying it was a sin akin to murder.
"So I had heard lots of colourful words, almost all pejorative, about these feelings that I had for this kid down the block. Whatever little butterflies I had in my stomach turned to terror within seconds. I was going to hell and I would bring shame to my family."
Black reportedly met Daley at a mutual friends' dinner in Los Angeles in 2013 and later told Out magazine that it was 'love at first sight'.
Does Tom Daley have a child?
Tom Daley and Dustin Lance Black have one child together, Robert Ray Black-Daley, who was born via a surrogate in June 2018. The arrival of baby Robbie came just over a year after the couple tied the knot.
Following Robbie's birth, Black spoke out on the touching reason they opted for surrogacy (opens in new tab), saying on Lorraine "Tom has lost his father, I had lost my mom and brother and you start to yearn for that connection that goes from your past to your future, and surrogacy was one of the ways we could do it." The couple previously shared that both Daley and Black provided sperm to fertilise their surrogate's eggs, but do not wish to know who the biological father is (opens in new tab).
Now, Robbie is four years old, and Tom Daley has revealed that he would like to have more children with Black, but that it isn't easy for same-sex couples. Speaking to The Guardian (opens in new tab), he said "It's not quite as easy as a bottle of wine and a good time. A lot of thought has to go into it, but absolutely, I'd love more kids."
Daley also told The Guardian that little Robbie isn't interested in following his father's footsteps, and has no interest in learning to dive just yet. Daley added, "This time last year, [Robbie] was the only kid in the class who didn't want to jump in the water."
However, it sounds like the Olympian still shares plenty of traits with his child, who loves climbing and jumping off things. Daley said "It scares the living daylights out of me. Lance says, 'What do you expect? You climb up things and jump off them for a living.' When I look back, I wonder how my parents dealt with watching me do what I do every day and not be petrified."
Where does Tom Daley live?
Tom Daley lives with his husband Dustin Lance Black in an apartment in South East London. According to HELLO! (opens in new tab) the two-bed boasts a roof terrace and a hot tub.
The industrial-style pad features exposed brick walls, rustic beams, wooden kitchen cabinets and a built-in oven. Previously, the couple had said they were looking for a character-filled property for their family home, and Black told the Evening Standard (opens in new tab) "It was clear this wasn't a cookie-cutter apartment. Some people we know came and suggested we fill in brickholes and other things and I looked at them as if they were mad. In LA, you just can't fake these textures — very little there predates the Fifties. But it was obvious also that a lot of imagination and creativity had gone into this place."
And there are plenty of nods the the couples' professions throughout their home. The living room features a Union Jack sofa, while framed certificates and a photo of Daley diving at the Olympics line the stairs. Meanwhile, a David Hockney print with a director's chair, diving board and LA light, is nod to both Daley and Black's careers.
Video of the Week