Has Jeremy Clarkson been dropped by Amazon Prime? The controversy explained
Reports allege that Clarkson's shows have been axed by the streaming service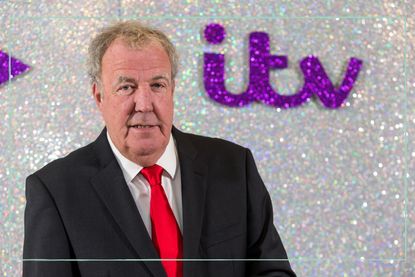 (Image credit: Getty Images)
Following outrage over his comments about the Duchess of Sussex, many are wondering has Jeremy Clarkson been dropped by Amazon Prime?
Jeremy Clarkson is a divisive figure, and while some eagerly await the arrival of Clarkson's Farm season 2 (opens in new tab), others have sworn off the former Top Gear (opens in new tab) presenter for what he said about Meghan Markle (opens in new tab) in a recent column for The Sun.
And following outcry from the public, many have been expecting the TV star to face repercussions for his comments. As rumours surface around the future of his TV deals, fans of Clarkson have been asking if he's been dropped by Amazon Prime.
Has Jeremy Clarkson been dropped by Amazon Prime?
Amazon Prime have not confirmed the news themselves, but it has been widely reported that the streaming service has cut ties with Jeremy Clarkson. The reports come from a Variety article (opens in new tab), and claim that Amazon Prime has no plans to work with the star past 2024.
This would mean that the already commissioned series of The Grand Tour and Clarkson's Farm will go ahead, but they will make no new content with the TV presenter beyond this.
The Variety articles adds that a press conference for Clarkson's Farm that was due to take place on Tuesday 17 September was called off last minute on the evening of Monday 16.
The reports come after Jeremy Clarkson claimed he emailed an apology to the Duke and Duchess of Sussex following comments he made in an article for The Sun about Meghan Markle on 16 December 2022.
In the article, he wrote: "I hate her. Not like I hate Nicola Sturgeon or Rose West. I hate her on a cellular level.
"At night, I'm unable to sleep as I lie there, grinding my teeth and dreaming of the day when she is made to parade naked through the streets of every town in Britain while the crowds chant 'Shame!' and throw lumps of excrement at her."
After his column was published, members of the public called for the TV presenter to be sacked by his bosses at ITV - where he presents Who Want To Be A Millionaire? - and Amazon Prime.
Clarkson initially apologised on Twitter (opens in new tab), writing: "Oh dear. I've rather put my foot in it. In a column I wrote about Meghan, I made a clumsy reference to a scene in Game of Thrones and this has gone down badly with a great many people. I'm horrified to have caused so much hurt and I shall be more careful in future."
However, the apology didn't go down well with many members of the public. Activist and political commentator Dr Shola Mos-Shogbamimu replied to Clarkson's tweet saying, "This tweet insults, gaslights & disrespects on an epic level. Very British non apology Jeremy Clarkson laughs in our faces."
On 16 January, Clarkson posted a further apology (opens in new tab) on his Instagram, writing as part of the lengthy statement, "The Sun quickly apologised, and I tried to explain myself. But still, there were calls for me to be sacked and charged with a hate crime. More than 60 MPs demanded action to be taken."
He added: "I therefore wrote to everyone who works with me saying how sorry I was and then on Christmas morning, I e-mailed Harry and Meghan in California to apologise to them too."
The piece has been taken down by The Sun, but according to the Independent Press Standards Organisation (IPSO) it received more than 17,500 complaints as of 9am on Tuesday 20 December – rising to 20,800 by 5pm.
Will ITV drop Jeremy Clarkson?
Though Clarkson said in his social media apology that both ITV and Amazon were "incandescent" following the column, ITV is yet to make a definitive statement about Clarkson's future on the channel.
Back in December, ITV boss Kevin Lygo said ITV plans to keep Clarkson as host of Who Wants To Be A Millionaire? "at the moment".
Speaking at a Broadcasting Press Guild event, Lygo said, "We hire him as a consummate broadcaster of the most famous quiz on television, Who Wants To Be A Millionaire?
"So it's not quite in our wheelhouse but I don't know what he was thinking when he wrote that. It was awful."
But when asked if ITV will keep Clarkson as host of the quiz show, Mr Lygo said: "Yes, at the moment we are."
Jeremy Clarkson net worth
According to The Sun (opens in new tab), Jeremy Clarkson is estimated to have a net worth of £55.8 million.
As well as his income from Clarkson's Farm, The Grand Tour and Who Wants To Be A Millionaire, Jeremy Clarkson makes his money from his regular newspaper columns, and he's also published several books.
These include Diddly Squat: A Year on the Farm (opens in new tab) and Diddly Squat: 'Til The Cows Come Home (opens in new tab), both of which detail life on his farm, and an eight book series called The World According to Clarkson (opens in new tab).
Clarkson started his career as a journalist on local newspapers, before landing his first TV role on Top Gear in 1988.
Video of the Week
Ellie joined Goodto as a Junior Features Writer in 2022 after finishing her Master's in Magazine Journalism at Nottingham Trent University. Previously, she completed successful work experience placements with BBC Good Food, The Big Issue and the Nottingham Post, and freelanced as an arts and entertainment writer alongside her studies. In 2021, Ellie graduated from Cardiff University with a first-class degree in Journalism.