How I Met Your Father season 1 recap: Everything you need to know ahead of season 2
Season 2 is here, so buckle up for a season 1 recap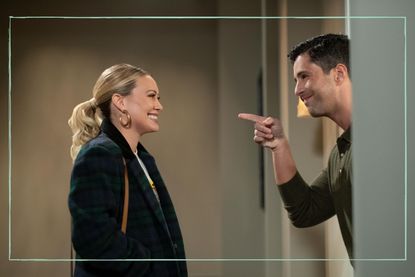 (Image credit: Patrick Wymore/Hulu/Future)
Hopeless romantic Sophie is back for a second outing of comedy happenings in How I Met Your Father, but can you remember what happened in season 1?
How I Met Your Mother spinoff How I Met Your Father, arrives on Disney+ for its second season, on April 19. With the ever lively and watchable Hilary Duff at the help as looking-for-love Sophie, the follow up has certainly been a success with some fans of the original. Kim Cattrall also has a turn as future Sophie, recounting to her unseen son in 2050, the story of how she met his father in 2022 while living with her friends while they figure out relationships and their place in the world. After waiting a year for season 2 to land, details of exactly what went down in season 1 can get a little hazy. That's why we are here with a recap of everything important to remember from the first outing, before settling down to binge the second.
We also have an Abbott Elementary season 1 recap for those who are yet to watch the second season currently riding high on Disney+. If you haven't heard, season 3 of Abbott Elementary now has its future confirmed. One to look out for for the whole family, the new Peter Pan & Wendy film now has a confirmed release date on the streamer.
How I Met Your Father season 1 recap
How I Met Your Father begins with Sophie heading out for a first date with marine biologist Ian.
Taking an Uber to meet her date, she meets Jesse and Sid, and they all end up at the surprise engagement party of Sid and girlfriend Hannah. Jesse has an adopted sister Ellen, who ends up becoming part of Sophie's friendship group. This episode sets up whom the potential father of Sophie's future son is - it's one of the men she meets that night.
This means potential baby fathers could be Jesse, Sid, Charlie, or Ian. Sophie later begins dating Drew who was also at the party, bringing the total number of possibilities to 5. However, Ian moves to Australia for a job after his date with Sophie, which seems to quickly eliminate him from the list - he remains absent for much of the remainder of the season.
Also playing out is the storyline involving Sophie's roommate Valentina, and her love interest Charlie. Valentina met aspiring model Charlie during a trip to London Fashion Week. Estranged from his family, Charlie then followed Valentina to New York, who was occasionally annoyed by his clinginess.
Charlie later moves in platonically with Ellen, continuing his relationship with Valentina. By the end of season 1, the pair have realised they aren't meant to be together - Charlie doesn't want to have children, but Valentina knows she one day would like a family, and they agree to end their relationship in the season finale.
Newly-engaged Sid and Hannah have their own relationship woes to contend with. Surgical resident Hannah is living in Los Angeles, while Sid owns and runs New York bar Pemberton's. Hannah persistently worries about the amount of money Sid ploughs into the bar, and the pair disagree on how much to spend on the wedding. They eventually elope, with the hope they can put their differences behind them.
Jesse spends the start of the series recovering from the heartbreak of a marriage proposal rejection. Former bandmate and girlfriend Meredith had turned down the proposal, which someone had captured on video. The resulting footage was subsequently shared to social media, where it went viral. Meredith shows up full of regret over what happened, asking him to go on tour with her.
Although Jesse liked Sophie, he was initially concentrating on getting over Meredith and didn't want another relationship. In the meantime, Sophie starts dating Drew, until the attraction between her and Jesse gets too much, and they share a kiss. This results in Sophie ending her relationship with Drew, and she and Jesse give in to their feelings for each other and form a relationship.
Things quickly sour however, when Sophie overhears Jesse utter "I love you" in his sleep. Panicking, she urges him to go on tour with Meredith, but later changes her mind. Her change of heart comes too late however, when she makes a dash to Jesse's apartment to let him know of her change of heart, only to find him kissing Meredith.
Moving the focus to Ellen, the former produce farmer had moved from Iowa to New York after divorcing her wife. She and Jesse had been separated as children following their own parents divorce, and she had been hoping to reconnect with her brother. Struggling to adapt to city life and not having any friends, she eventually meets Rachel, the granddaughter of her late neighbor. When Rachel loses her cat, Ellen is the one to find it, and the pair bond - and make plans for a date.
In the season finale, Ian returns from Australia and surprises Sophie at the art gallery. The captain of the boat Ian had been working on had been cheating on his wife, who had found out. His wife had retaliated by divorcing him, and sinking his boats. Ian had then lost his job and returned to New York. With Sophie and Jesse no longer together, Ian and Sophie could pick up where they left off heading into season 2.
Will there be a season 3 of How I Met Your Father?
There has been no announcement from Hulu about a potential season 3 of How I Met Your Father.
The show's predecessor ran for an impressive 9 seasons, but poor reviews of the spinoff could potentially mean an early cancellation for How I Met Your Father. The series currently holds a 38% critic score, and 51% audience score on Rotten Tomatoes.
Alex Hudson from Exclaim! didn't have many good things to say about the series. He said "How I Met Your Mother had an iconically terrible series finale... Now, the long-delayed spinoff How I Met Your Father is here and it does audiences a favour by being bad right from the beginning."
Brad Newsome from the Sydney Morning Herald agreed, adding "Not even the sunny charm and well-honed comedic talents of Hilary Duff can save this How I Met Your Mother spinoff from being the stinker that it is."
An equally scathing audience member wrote "Pretty much one of the worst shows I ever watched. Poorly written, poorly acted. The recorded laughs only emphasizes how NOT funny it is. No sense of unfolding plot and instead of growing fond of characters you end up finding them increasingly obnoxious. And when you think it can't possibly get any worse... Season 2 comes."
However, another audience member echoed the enjoyment of many others who had watched the show. They said "I hesitated for far too long to watch the show. I love How I Met Your Mother but I love the show even more it's far more relatable especially for girls in their 30s and it's just plain fun!!"
Related Disney+ Features:
Video of the Week
Lucy is a multi-award nominated writer and blogger with six years' experience writing about entertainment, parenting and family life. Lucy has contributed content to PopSugar and moms.com. In the last three years, she has transformed her passion for streaming countless hours of television into specialising in entertainment writing. There is now nothing she loves more than watching the best shows on television and telling you why you should watch them.