Will there be a season 3 of Abbott Elementary? Everything we know about the third instalment of the award winning comedy
We have all the Abbott Elementary news for you!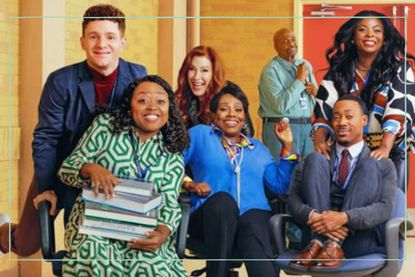 (Image credit: ABC/Matt Sayles/Future)
Season 2 is underway, but fans are already desperate for info about Abbott Elementary season 3 - we have all the latest news.
Abbott Elementary isn't only very timely with its portrayal of schools in dire need of extra funds, it's also hilarious. The show manages to balance real issues with real humour absolutely seamlessly - more awards for season 2 are surely on the way, after the previous win of 3 Emmy Awards for season 2. With season 2 of the mockumentary underway on Disney+ for UK viewers, there is already a thirst for more of the same comedic fun the series provides. Read on for everything there is to know about Abbott Elementary season 3, which can't come soon enough in our opinion.
For those who can't remember back to the first season, we have a full Abbott Elementary (opens in new tab) season 1 recap. For more laughter, Gemma Arterton is currently riding high in a hilarious turn as a beauty queen turned actress on NOW TV. Funny Woman is based on (opens in new tab) a multitude of source material, making for interesting and dynamic characters. Funny Woman filmed (opens in new tab) predominantly in the North, with some surprising places standing in for London.
Will there be a season 3 of Abbott Elementary?
Yes, season 3 of Abbott Elementary has been confirmed. The announcement was made midway through the second season's US run, in January 2023.
Channing Dunghey, chairman and CEO of Warner Bros. Television Group, released a statement about the renewal. She said "This renewal is a richly deserved feather in the cap of [executive producers] Quinta Brunson, Justin Halpern, Patrick Schumacker and Randall Einhorn, as well as the rest of the cast and crew of Abbott Elementary."
She continued to add "Each week, this talented group of artists celebrates true unsung heroes – public school teachers. And for some extra icing on the renewal cake, our favourite group of teachers was honoured this morning with two Screen Actors Guild Award nominations and last night with three Golden Globe Awards. Abbott Elementary is the gift that keeps on giving, and I look forward to many more magnificent episodes of this brilliant, authentic and just plain funny series."
On January 17, the Abbott Elementary official Instagram account released a short video, featuring Tyler James Williams saying "I know a secret. Wanna hear it?" before reaching out of the shot and making a whispering gesture. Pretending to receive the whisper, Quinta Brunson (Janine) then reveals "Oh my gosh! Abbott's coming back for season 3!"
When is Abbott Elementary season 3 coming out?
There has been no Abbott Elementary season 3 release date confirmed. However, there is speculation that it could land as early as September 2023 in the US.
Season 1 aired in the US from December 2021 to April 2022, followed by a season 2 2 premiere in September 2022 that concludes in March 2023. If the show follows the same pattern, season 3 could begin in the US anywhere from September up to December 2023. This would mean an approximate March, April or May 2024 UK release date depending on when it arrives Stateside.
Deadline Hollywood shared an interview with Sheryl Lee Ralph to their Twitter account, where she revealed season 3 would begin shooting in July 2023. The actress also weighed in on awards season, and how this was impacting the actors' lives. She said "We start shooting season 3 in July, which believe it or not is tomorrow. I believe July is actually tomorrow."
She continued "This whole awards season has just been going on and on. Do you know, it's just from July to July, nominations, and then you've got the Oscars, but then is starts right back up again! So, mother is tired, but it's all good."
Sheryl Lee Ralph on shooting Season 3 of #AbbottElementary #SAGAwards pic.twitter.com/ROTu6CKnJpFebruary 27, 2023
See more
Abbott Elementary season 3: Cast
It's assumed that all the major Abbott Elementary players from season 2 will return, such as Quinta Brunson (Janine) Tyler James Williams (Gregory), Janelle James (Ava), Sheryl Lee Ralph (Barbara), Lisa Ann Walter (Melissa), and Chris Perfetti (Jacob) to reprise their roles for season 3.
Mr Johnson actor William Stanford Davis was also promoted to series regular for season 2, and should also return. A promotion could also be in order from recurring to regular, for Keyla Monterroso Mejia (Ashley) Larry Owens (Zach), and Shalita Grant (Janet).
William Stanford Davis spoke to the Observer (opens in new tab) about the process of auditioning for the show, meeting his costars, and being upgraded to series regular. He said "When I first auditioned for the pilot, we really didn't have much of a conversation because I was coming in as a guest star. And as a guest star, you get your sides [script pages], you make your [acting] choices, and because we were right in the middle of Covid, everything was done on Zoom or on video. So I never got a chance to meet anyone until I got on the set, and they liked my choices, they gave me a couple of directions.
And the next thing I knew, I was coming back for another episode, and another one and another one. I understood who this guy was, that he was filter-less and he was a conspiracy theorist. [Laughs.] He wasn't going to let the teachers one-up him. He felt like he was just as smart as they were, so he tried to prove himself. And that's how I started to develop the character, based on what I was getting from the teachers and the writing. The writing was just so great."
Where can I watch Abbott Elementary in the UK?
Abbott Elementary can only be found on Disney+ in the UK. To view it on this platform requires a subscription.
A Disney+ subscription (opens in new tab) costs £7.99 per month in the UK, or £79.90 for the year. The majority of Disney+ content comes with the subscription, although Disney occasionally releases Disney+ Premier Access titles that require additional payment. However, such titles are usually added to the catalogue a short time later, where they become free to watch.
UK subscribers can stream on four screens simultaneously and register up to 10 devices, with the service supporting up to 7 profiles. There is no free trial offered with Disney+ - when the service launched in 2020, an initial one week free trial was offered at the time to celebrate. However, this was discontinued after the first month, and has not been reinstated. There are occasional short-term lower price offers that become available, but potential subscribers need to act quickly to find and purchase these when they come up.
Related Comedy Features:
Video of the Week
Lucy is a multi-award nominated writer and blogger with six years' experience writing about entertainment, parenting and family life. Lucy has contributed content to PopSugar and moms.com. In the last three years, she has transformed her passion for streaming countless hours of television into specialising in entertainment writing. There is now nothing she loves more than watching the best shows on television and telling you why you should watch them.