Abbott Elementary season 1 recap: Everything that happened in season 1 ahead of the season 2 arrival on Disney+
The funniest show around is back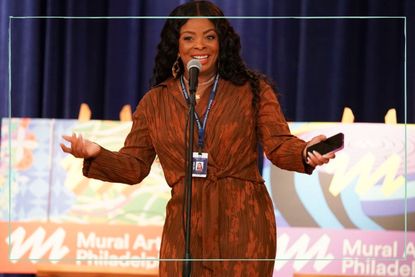 (Image credit: ABC/Gilles Mingasson/Future)
The award-winning comedy is back, and we are here to refresh you memories about everything that happened in the first season.
Abbott Elementary is an excellent mockumentary sitcom, following Janine Teagues - a second-grade teacher hoping to make a difference at the under funded Abbott Elementary in Philadelphia. The breakout smash hit first series premiered in 2021, and met with both critical and audience acclaim. There was no surprise when the show was nominated for seven Primetime Emmy Awards, taking home three. As season 2 arrives on Disney+ on March 1, we take a thorough look at everything that happened in season 1, before sitting down to laugh hysterically at the show's second outing. Keep reading for everything you need to know.
Elsewhere on Disney+, viewers are asking if Fleishman Is In Trouble is based on a true story (opens in new tab). The sharp script and brilliant performances bring multiple mid-life crises into focus. Award-winning comedy fans have also been asking about season 5 of Brassic (opens in new tab) - we have the latest news on the NOW TV comedy with Joseph Gilgun at the helm. Brassic filmed (opens in new tab) in some well known Northern locations, and we reveal exactly where they can be found.
Abbott Elementary season 1 recap
Abbott Elementary season 1 begins with fresh faced second-grade teacher Janine, arriving at Abbott Elementary with the hope of making a difference to those she teaches.
Janine however, is totally unprepared for the reality of teaching at an underfunded school. She struggles to control the children, and colleagues Barbara and Melissa need to step in to offer guidance to the eager teacher. We also meet Gregory, a substitute teacher with very little interest in his job. His feelings about teaching stem from his father dismissing the profession as not manly enough, and this having a profound impact on the way Gregory has embraced it.
He's also still reeling from Ava being made principal of Abbott Elementary, when he was sure the job was his. Starting the series with a tetchy facade, Janine and her colleagues eventually cut through his tough exterior, and he warms up to his job and fellow staff eventually.
The series highlights Barbara's relationship with daughter - the pair have difficulty connecting as Taylor works for a New York alcohol company, a job her mother disapproves of. Barbara and Taylor arguing results in Taylor becoming friends with Gregory. An implied relationship between the pair ensues, although Gregory clearly appears to have strong feelings for Janine.
Jacob is introduced as another uncool teacher, in a similar way that Janine in uncool to the kids. But when he introduces his colleagues to outgoing boyfriend Zach, they quickly change their opinion of him. Zach becomes really popular with the Abbott Elementary staff, and he and Jacob seem to have a sweet and loving relationship.
It's no wonder Gregory was annoyed at being passed over as school Principal in favour of Ava, as she is wildly unprofessional. As optimistic as ever though, Janine believes Ava can change, setting out to be her reformer - viewers later learn that Ava only got the job because she caught the superintendent cheating on his wife, and blackmailed her way into the role. When the superintendent leaves his wife for the mistress, Ava's upper hand is well and truly lost.
An unsure Ava is forced to give a presentation to the board about why the school should carry on receiving funds, when her fraud is uncovered. After blundering through it, she later delivers an impressive speech about the school having the best teachers in Philadelphia, admitting she personally doesn't deserve the funds, but the children shouldn't suffer.
She is allowed to keep her job, but the superintendent vehemently suggests the school won't get any financial support, due to her actions. Barbara and Melissa respond to this by again resorting to blackmail - this time of a different person - to secure an advancement grant. Meanwhile, in the personal lives of the staff, Melissa begins dating Gary. She had been flirting with the vending machine delivery man for some time, and the beginning of a fledgling romance gets underway.
By the end of the series, Gregory has made a turnaround and embraces silliness and fun for the sake of the children. When given the opportunity to take Ava's job, he turns it down and chooses to instead stay on as a full time teacher.
Janine's character development sees her finally using the right words to control the children as the season concludes - she maintains authority during a filed trip for the first time, without assistance from Barbara. Janine tearfully tells the camera crew that she now feels she belongs at Abbott Elementary.
Although Taylor and Gregory are seen walking hand at the end of the season, the closing moments see him looking at Janine with a real longing that suggests their could be romantic tensions arising in season 2.
Are Barbara and Janine mother and daughter?
No, Barbara and Janine aren't mother and daughter in Abbott Elementary. Janine sees Barbara as a mother figure, and envies that Barbara cares about daughter Taylor so much despite their strained relationship.
Although Barbara has issues with daughter Taylor's job and swanky New York lifestyle, she still cares passionately about maintaining a relationship with her which is something Janine has never had - her own mother struggles to acknowledge her existence. Confusion also arose in the show when Janine accidentally refers to Barbara as "Mrs Mom" during the pilot episode. This is due to nerves, rather than there being any direct relationship between them.
Janine actress Quinta Brunson's own mother was a teacher, which influenced her creation of the series. Speaking to Okayplayer (opens in new tab), the actress said "I got to see up-close just how big the job was. I watched my mom work early in the morning and way after school was over, doing the parts of the job that you don't see as a student at school. I think that gave me a better respect for teachers and ultimately made me a better student, because I look at all my [Abbott] students as full-fledged, well-rounded people. That definitely improved my attitude towards teachers."
Did Janine break up with her boyfriend in Abbott Elementary?
Yes, Janine and Tariq broke up at the end of Abbott Elementary season 1. It was evident to viewers all along that Tariq was completely wrong for Janine.
Tariq and Janine had been together since eighth grade, and while she works hard for a living, he lives off her while trying to forge a rapping career. Janine's colleagues see through Tariq immediately, and are horrified when Janine announces a desire to marry him. During the final episode, he announces he will be part of an elementary school tour anti-drugs campaign. Part of the tour would also involve penning songs for an album.
Janine is initially delighted, thinking he's finally turning his life around. Her happiness turns to shock when he elaborates that the tour will be in New York, and he's made the decision for the pair to move there - without consulting her. Janine eventually tells him their lives are too different now, and she has no desire to move to New York, or try to keep the relationship going long distance. Their relationship is officially over.
Why do they call Jacob Mr C?
Although his name is Mr Hill, Jacob is called Mr C because he's corny. When told by Janine that the children think he's corny, Jacob is shocked.
Actor Chris Perfetti spoke to Esquire (opens in new tab) about his relationship with the word "corny" after that particular episode had aired. He said "I would say newfound and appreciative. I think I'm biased, obviously, because Jacob has a lot to do in Episode 203, and I just think it's a brilliant piece of writing... And it's a real opportunity with Jacob because in this season, we are going to dig deeper into why these characters are the way that they are.
And I feel like as soon as we break down those walls and permeate that layer, we just have so much opportunity, and so I love that Jacob is having this existential and cathartic recognition so early in the season, and not to say that these characters are going to completely change overnight, because this is a sitcom and that's not how things work, but I just think it was a really smart decision on our creator's part to write an episode about Jacob realizing that he's corny."
Abbott Elementary: Reviews
The response to Abbott Elementary has been overwhelmingly positive, with the show holding a 98% critic score and 89% audience score on Rotten Tomatoes.
Alison Herman from The Ringer (opens in new tab) said "Its core cast are the teachers, who form a flawlessly balanced ensemble. Brunson plays Janine, a relative rookie as earnest as she is inexperienced. The part is an effective showcase, but compared to her costars, it's clear Brunson had the savvy and lack of ego to cast herself as the straight woman.
Sheryl Lee Ralph shines as Barbara, a seasoned pro intimidating in her efficacy, while Janelle James is the breakout as Ava, the deliciously incompetent principal. Abbott Elementary is neither saccharine nor cynical in its treatment of systemic issues, an impressive balancing act that's actually earned the acclaim it deserves."
Dan Einav from the Financial Times (opens in new tab) added "For all the sharp, referential dialogue, cut-scenes and unexpected, throwaway gags, Abbott Elementary disarmingly succeeds in reminding us of the value of dedicated teachers who care for their students even when their own employers don't care for them."
One audience member weighed in with their thoughts, writing "A mixture of fun and funny, Abbott Elementary shines with it's strong cast of characters. Often the jokes only work due to the systemically abysmal state of the US education system. It's a dark hurdle to jump over, but it works almost all the time so long as your humour is calibrated for it. Abbott Elementary recognizes this and leans in at every opportunity with their exceptional cast for a rare basic cable slam dunk."
Just as enthusiastic, another said "Abbott Elementary is the series we all didn't know we needed. It's an absolute heartwarming comedy must-see! Each 22 minute episode leaves you smiling, laughing, and even tearing up until the very end. Quinta Brunson is brilliant and someone to watch in the upcoming years."
Related Comedy Features:
Video of the Week
Lucy is a multi-award nominated writer and blogger with six years' experience writing about entertainment, parenting and family life. Lucy has contributed content to PopSugar and moms.com. In the last three years, she has transformed her passion for streaming countless hours of television into specialising in entertainment writing. There is now nothing she loves more than watching the best shows on television and telling you why you should watch them.