Is Boiling Point based on a true story? Origins of the BBC series explained
Where did the idea for the show come from?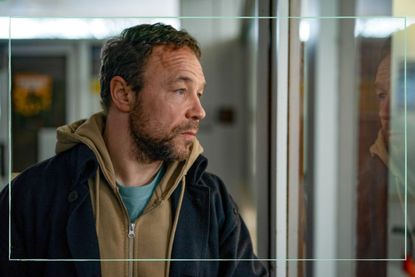 (Image credit: James Stack/BBC/Boiling Point TV Limited/Future)
Is Boiling Point based on a true story? We delve into the origins of the BBC spin-off from the popular film, as it explodes onto our screens.
Boiling Point is back, but this time as a four-part spin-off from the original 2021 film. The same minds behind the film; Philip Barantini, James Cummings, and Stephen Graham are also bringing the series to life, with many of the film's cast reprising their roles. The show picks up six months after the film left off, with Carly now running her own kitchen with former boss Andy's staff. The authenticity of the cast's performances, and genuine anxiety the show induces in viewers, has left some wondering whether Boiling Point is based on a true story - read on for everything we know.
The spin-off series has been likened to the hit and equally frenetic kitchen-based series, The Bear, which also had viewers asking if it was based on a true story. So highly anticipated was The Bear season 2, that viewers found themselves racing through the episodes to the show's ending before they knew it - and left wanting more. As Boiling Point lands, it appears the public have a thirst for high energy television that offers a behind-the-scenes look at real life in high-end kitchens; both series have been lauded as some of the finest to hit our screens this year.
Is Boiling Point based on a true story?
Boiling Point isn't based on a true story, but the real-life experiences of director Philip Barantini. While working as an actor, Barantini needed a second job for extra income and began working in kitchens - eventually becoming a head chef.
Speaking to The Book of Man about using his experiences to write the original film - the show is a continuation of the film - Barantini said "This Andy character is loosely based on my life and my experiences. I've been sober for almost seven years now, but during my time in kitchens, when I was drinking and doing all that, I was in a dark place."
He added that a particular aim of his in creating the characters, was to "Shine a light on society so people can relate to it and see themselves in it, or notice these things in somebody else that they know, and say, 'look, are you okay?' I wanted to show that, so somebody can watch it and know they're not they're not alone, that everybody is dealing with something at some point in their lives. And that there is help out there."
The director spoke at length to the publication about the realities of working in fast-paced kitchens, suggesting a lot of kitchen teams cope with the stress of their working environments by turning to drink and illicit substances. He recalled having a drink before work each day, before spiralling into sneaking out of the kitchen to take drugs. "Then you start to rely on that, and it becomes this whole other thing where it's just stressful, it's not a nice feeling, you feel like you're drowning," he said.
"You go and have a drink to come down from the shift, and then you come back in and you're a bit intoxicated, and then you carry on. You finish work and you're like, 'oh, man, I need a drink, now it's my time.' You might have a lock in and the next minute, it's five o'clock in the morning and you're still at work. It's a vicious cycle", he added. Barantini said it was his wife that eventually helped him break those behaviours, standing by him while he got help.
He concluded "I see now that there's a lot of charities out there that can help people in hospitality with mental health issues and addictions, but when I was working, I don't think there was anything there. And as a man, with the bravado, I didn't want to reach out, I didn't want people to think I'm stupid. But for me a real man is somebody who can show that emotion. A really strong man can say 'I need help, I'm struggling.'"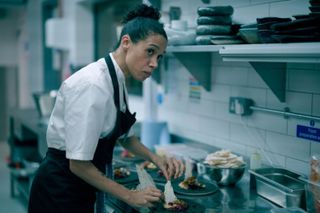 Where is Boiling Point set?
The Boiling Point series is set in Dalston, London, the same area as the original film.
In the film, Stephen Graham's Andy Jones was depicted running the Dalston restaurant Jones & Sons. Eight months in the future, the series sees Vinette Robinson's Carly launching her own restaurant named Point North, having poached many of the original Jones & Son staff. Despite being set in London, the entire series was actually filmed in Manchester.
As London and Manchester are quite different and distinctive cities, producers had to be clever when choosing which spots around Manchester would double as the capital. Side streets and back alleys from Manchester's Northern Quarter and Ancoats were used to recreate the Dalston aesthetic, and a Deansgate nightclub acted as a London night spot.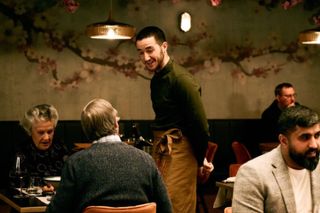 Is Point North a real restaurant?
Point North is not a real restaurant, it's a purpose-built set created inside Space Studios in Manchester's Gorton. The original Jones & Sons however, is a real restaurant that can be booked in real life.
Actor Shaun Fagan plays Bolton in the series, and described his reaction to seeing the set for the first time, to the Manchester Evening News. "When I first saw the set my head fell off," he said, adding "It was so jarring because from the outside it is this massive wooden frame, yet the moment you walk in it's like you've just stepped into a restaurant. Even when we were filming, at the end of a take you'd step off set and forget you were actually in a studio."
Jones & Sons can be found at 3 Gillett Street in Dalston, and was founded by Andy Jones - a friend of Boiling Point director Phil Barantini and whom Stephen Graham's character in the series is named after. Famed for their famous Bottomless Brunch and Sunday roasts, the eatery is often found in top restaurant and Sunday lunch guides - there's also artisan cocktails from around the world on offer too.
Real chefs were also involved in the series, both as cast members and advisors. Liverpool-based chef Ellis Barrie consulted on the show, with Manchester chef Rachel Stockley portraying an agency chef on screen from episode two. Phil Barrintini said "When we made the feature, we didn't have enough time for them to train as chefs, so they just had to move like chefs. With the TV series, we had a little bit more time so we had them work with Ellis Barrie, our chef consultant on the show."
He added "You can't turn people into chefs overnight, so we have to make them look like they know what they're doing. Ellis was by my side the whole time and we couldn't have done it without him. He helped the cast technically so I could focus on the performance. He really helped them nail it, they all look amazing with what they doing. They look like professionals. It's incredible."
Boiling Point: Cast
Vinette Robinson (The A Word, Six Four) as Carly
Stephen Graham (Peaky Blinders, The Walk-In) as Andy
Steven Ogg (The Walking Dead, Better Call Saul) as Nick
Hannah Walters (Time, Malpractice) as Emily
Ray Panthaki (Gangs of London, The Serpent Queen) as Freeman
Gary Lamont (River City, The North Water) as Dean
Áine Rose Daly (Hanna, The Cursed) as Robyn
Taz Skylar (Agatha Raisin, One Piece) as Billy
Daniel Larkai (Malpractice, Villain) as Jake
Stephen McMillan (Dead Shot, The Lesson) as Jamie
Hannah Traylen (Ridley Road, Hounded) as Holly
Izuka Hoyle (The Wheel of Time, Big Boys) as Camille
Stephen Odubola (A Violent Man, Blue Story) as Johnny
Shaun Fagan (Malpractice, Kate & Jake) as Bolton
Joel MacCormack (Hobbs & Shaw, Wolf Hall) as Liam
Ahmed Malek (The Furnace, The Swimmers) as Musa
Cathy Tyson (Band of Gold, Help) as Vivian
Missy Haysom (Life in Film) as Kit
Henry Meredith (The Great, The Gallery) as Nathan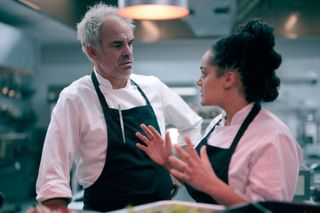 Boiling Point: Reviews
There is no doubt the critic and viewer opinion of Boiling Point is that it's one of the year's unmissable shows.
Rebecca Nicholson from the Guardian offered 4 stars, saying "It is mesmerising, particularly at the height of another service in which the worst can and inevitably does happen. You end up rooting for them all to get it together and triumph over every single bit of adversity that falls in their path, and there is a lot of adversity. After three episodes or so, some of the personal issues start to veer towards the melodramatic, and it is a shame that Andy is a smaller part of this story, because it means that when the magnificent Graham does appear on-screen, you realise just how good he is."
Nick Hilton from the Independent also offered 4 stars. His opinion was "Above all, the quality of the acting – from the stations of the kitchen to the bartenders and waitresses out front – saves Boiling Point from becoming a mess. The writing from Philip Barantini and James Cummings (who also co-wrote the film version) keeps proceedings on the right side of melodrama and sermonising, and cinematographer Matt Lewis retains the visual dynamism. It's a knife-edge, but it works."
#BoilingPoint is brilliant from the amazing cast to the compelling intertwined stories told through out with carly running her business to Andy and the aftermath of the film to poor Jamie. Bravo on this series.October 2, 2023
See more
On social media Platform X, one viewer gushed "#BoilingPoint is brilliant from the amazing cast, to the compelling intertwined stories told throughout, with Carly running her business to Andy and the aftermath of the film, to poor Jamie. Bravo on this series."
Man I'd love to be in #BoilingPoint LOVED the tension and I genuinely felt like I was in the kitchen with them. Chefs kiss 👌October 2, 2023
See more
Another viewer added "Man I'd love to be in #BoilingPoint LOVED the tension and I genuinely felt like I was in the kitchen with them. Chefs kiss." Commenting on the incredible tension the show builds, one person tuning in said "This is a great show. Riveting, entertaining, I couldn't work there though, I was so tense just watching them."
Recently, viewers were asking if Lessons in Chemistry was based on a true story, as seeing the main protagonist break through patriarchal barriers was very satisfying. Fans wanting to know the origin story of Netflix's The Fall of the House of Usher, have many different theories to choose from. New to BBC One, the second instalment of anthology series Time has left many asking about the cast of Time season 2 - we delve into who they are and where you might've seen them before.
Parenting advice, hot topics, best buys and family finance tips delivered straight to your inbox.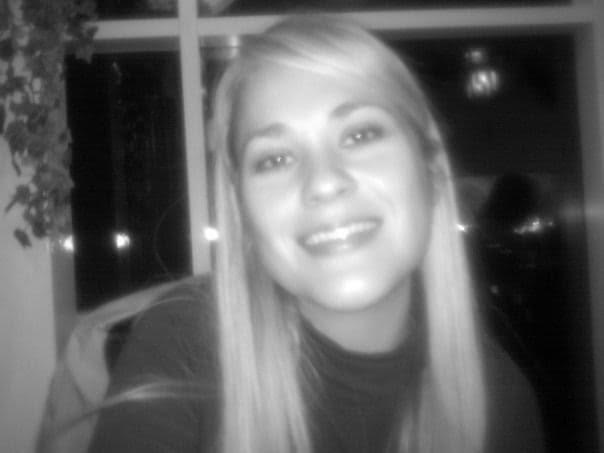 Lucy is a multi-award nominated writer and blogger with six years' experience writing about entertainment, parenting and family life. Lucy has contributed content to PopSugar and moms.com. In the last three years, she has transformed her passion for streaming countless hours of television into specialising in entertainment writing. There is now nothing she loves more than watching the best shows on television and telling you why you should watch them.