What do you do when you find out your mum has been living a double life? Suranne Jones and Eve Best find out in Maryland on ITV
A female-centred show tackles some difficult concepts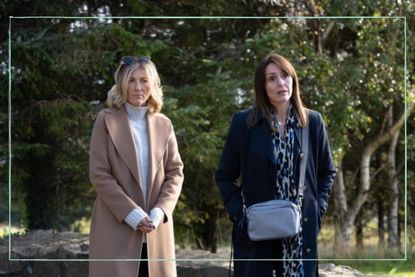 (Image credit: ITV/Future)
What would you do if you found out a family member had been living a double life? The writers used inspiration from their real lives when writing the Maryland script.
Acting royalty unite in new ITV drama Maryland, released on May 22. Suranne Jones and Eve best are joined by Grease legend Stockard Channing, for an intriguing drama sure to have viewers gripped. Jones and Best star as sisters Becca and Rosaline who have completely different personalities. The pair are forced to come together when their mother is found dead on a beach on the Isle of Man. The baffled sisters had no idea their mother visited, or had any connection with the island. As an investigation gets underway, old secrets come pouring out; Channing then arrives on the scene in the form of the mother's friend. What do you do when you find out your mother has been living a double life? The drama explores that very explosive concept…
Elsewhere on ITV, Malpractice caused a stir with its uncomfortably realistic portrayal of the plight of NHS doctors - for those needing the ending explained, we unravel exactly what happened. Malpractice filmed in some interesting locations, and those behind the show explain how they recreated a realistic hospital unit.
Where was Maryland filmed?
Despite being set on The Isle of Man, Maryland filmed in Ireland, specifically Dublin and the Howth peninsula, east of Dublin.
In the series Becca and Rosaline find the house their mother was living in, and this can be found on the Howth peninsula in real life. Similarly, locations in and around Dublin stood in for areas of The Isle of Man. Speaking about this diversion, the series co-creator Anne-Marie O'Connor said "I lived in Ireland for a time. I went to university in Galway for a year, all my family are from Tipperary. My writing career started there; I wrote two novels in Ireland when I was younger."
She continued "Not only did I go to university there, when I was in my mid-20s, I moved back and lived in Dublin, and worked, in a previous life, as a PA in Dublin city centre. So, I've got such a kinship with Ireland, and I go there all the time. All the family are there. So yes, I love Ireland although I was really disappointed not to be able to use the Isle of Man. I would have loved to film there. There's a real specificity to the island. But I think we've done a really good job of selling the Isle of Man with Ireland and the locations that we found."
Is Maryland based on a true story?
Maryland isn't based on a true story, but on the collective idea of family living double lives, thought of by Suranne Jones and writer Anne-Marie O' Connor.
Suranne came up with an initial idea for the series, relating to the two sisters finding out their mother was leading a double life; Wanting to build on the premise of "How well do you really know your family?", and the idea that an older woman could be leading a double life, rather than a man. It was also important to her to have leading characters in their 40s, 50s, 60s, and 70s, and include the lived experience of older people, rather than a focus on younger generations.
Jones was teamed with writer Anne Marie O'Connor to put the script together. Two and a half years ago, the first episode was taking shape. O'Connor had also been "slightly obsessed" with family relationships, and the idea of double life secrets emerging after someone has died. Speaking of a personal experience, she said "My grandma, who I was very close to, we found out after she died that she had a child that she never told anybody about. And he wrote a letter to my mum, and all of these things were hidden."
She added "There's a line in the drama where Rosaline says, 'My therapist says we were forged in the same fire,' and somebody once said something about being forged in the same fire, and it just made me laugh because it just meant you grew up in the same house. You grow up together, but you have wildly different experiences, and I wanted to put that on the screen." With a predominantly female cast, it was also important to the pair to put the female experience front and centre.
How many episodes of Maryland are there?
There are 3 episodes of Maryland. After the first episode has aired on Monday 22 May, episodes two and three will air consecutively at 9pm on Tuesday 23 and Wednesday 24 May.
Series executive producer Alison Owen weighed in with her thoughts on the series, saying "When Suranne and Anne-Marie approached us with the idea of a story about two sisters rebuilding their relationship as they uncover their mother's secret life, we barely drew breath before saying that we'd love to develop it with them. As huge fans of both, it felt to us like a match made in heaven."
Maryland: Cast
Suranne Jones (Vigil, Gentleman Jack) as Becca
Eve Best (House of The Dragon, Nurse Jackie) as Rosaline
Stockard Channing (Grease, The West Wing) as Cathy
Hugh Quarshie (Holby City, Breeders) as Pete
Andrew Knott (Where The Heart Is, Ackley Bridge) as Jim
Dean Lennox Kelly (Shameless, Shadow and Bone) as Jacob
George Costigan (Happy Valley, So Haunt Me) as Richard
Rhiannon Clements (Hollyoaks, Ridley) as Lauren
Yasmin Davies (The Tower) as Molly
Judy Clifton (Endeavour, Doctors) as Mary
Speaking about her character, Rosaline, Eve Best said "She's the sister of Becca, they have polar opposite lives, as often happens with siblings. She has a high-flying career in London. She's single, she doesn't have children. She's very devoted to and very good at her job. She's driven, focused, and efficient.
What happened with her health when she was younger had a major effect. The illness and the trauma of that gave her strength and resilience. But also a huge vulnerability, and a kind of inner closing – a need for self-preservation, almost like she doesn't want to open the floodgates. Because if she does, it will be overwhelming."
Related ITV Features:
Video of the Week
Lucy is a multi-award nominated writer and blogger with six years' experience writing about entertainment, parenting and family life. Lucy has contributed content to PopSugar and moms.com. In the last three years, she has transformed her passion for streaming countless hours of television into specialising in entertainment writing. There is now nothing she loves more than watching the best shows on television and telling you why you should watch them.