Samantha Stobbart now: What happened to the former girlfriend of Raoul Moat after his murderous rampage?
What happened to Samantha Stobbart?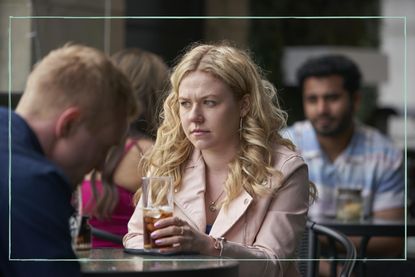 (Image credit: ITV/Future)
As an ITV drama brings the 2010 crimes of Raoul Moat back into public focus, attention has turned to his former girlfriend Samantha Stobbart - where is she now?
ITV has begun airing a true crime drama about the manhunt for Raoul Moat, after he was released from prison and promptly undertook a series of crimes. Currently available to view on ITV1 and ITVX, The Hunt For Raoul Moat highlights the human tragedies behind the events that took place in Northumberland, which resulted in fatalities and injuries, inciting huge public interest by being followed live on news channels and frenzied social media activity. During Moat's final standoff with police officers, Paul Gascoigne even arrived on the scene believing the pair knew one another, offering to help. With the series being considerate to Moat's victims at the time of the incident, focus has turned towards who Raoul Moat killed and his former girlfriend Samantha Stobbart, whom Moat shot during his crime spree. What happened to Stobbart and where is she now?
After BBC series The Gold told the shocking story of the infamous Brinks-Mat robbery, viewers were asking where is Kenneth Noye now? Noye acted as a mastermind behind concealing evidence in the aftermath of the crime. Similarly, Paramount+ documentary Con Girl left many asking for the whereabouts of Samantha Azzopardi now - the bizarre lies and acts of fraud the young woman carried out are unbelievable.
Where is Samantha Stobbart now?
The current whereabouts of Samantha Stobbart is currently unknown, and she has previously discussed the need to move frequently to maintain her privacy.
On July 3rd 2010, Moat shot 22-year-old trainee hairdresser Samantha Stobbart twice in the stomach, through the window of a home she was visiting with their then 3-year-old daughter Chanel. He also shot and killed her new boyfriend, 29-year-old karate instructor Chris Brown, outside the property. Using her arm to block the bullets, Stobbart was told if it hadn't taken the initial impact of the bullets, she would have died.
According to the Radio Times, the last time Stobbart gave an interview was following the death of another of Moat's victims, PC David Rathband. Police officer Rathband had been shot in the face by Moat and left blind - he took his own life in 2012. Speaking in 2013, Stobbart said "I can't imagine how horrible it must be to lose your sight. But I do have an inkling of how he must have felt. I know how low I have felt and there were lots of times when I thought about suicide. I just thought, 'I can't do this any more.'"
She continued "But then I've got my little girl, and I would look at her and remember why I had to live. If I had lost my eyesight and couldn't see her, I don't think I'd be here either." Stobbart and Moat had engaged in an on/off relationship for 6 years, beginning when Stobbart was just 16, and Moat 31. Although the relationship had been violent on occasions, Stobbart always maintained she had no idea Moat was capable of doing what he did.
What did Raoul Moat do?
Between February and July 2010, Moat had been incarcerated for eighteen weeks in Durham Prison for assaulting a nine-year-old relative. Known for having a violent temper, Moat had a grudge against the police, blaming them for the collapse of his business while he was in prison. Samantha Stobbart ended her relationship with him while he was serving his sentence, but later said he was reluctant to accept this.
On his release from prison, Moat posted threats to police and others on Facebook, beginning his spree of terror just two days later. At 2:40 am on July 2, 2010, Chris Brown left the house where he and Stobbart were staying, and Moat shot him at close range with a shotgun. He then fired at Stobbart through the living room window while her mother called the police. Stobbart was rushed to hospital for emergency liver surgery and placed under armed guard.
At 12:45 am on 4 July, Moat targeted Police Constable David Rathband apparently at random, shooting him twice in the head while he was sat in his police vehicle. Reports at the time claimed Moat had called police 12 minutes prior to the shooting, to taunt them over what he was about to do. Rathband was left blinded by the shooting, taking his life 18 months later.
A manhunt ensued, searching for the running Moat. On 9 July, police recovered mobile phones used by the fugitive, at the National Trust's Cragside estate in Cartington. Police then surrounded Moat, who held a gun to his head. At around 1:15 am on July 10, reports of a shot fired in the vicinity of the stand-off arose. It transpired that Moat had shot himself, allowing police the time to detain him and transfer him to Newcastle General Hospital, ending the hunt.
How many people did Raoul Moat kill?
Raoul Moat directly killed one person, Chris Brown. However, he caused the injuries that later led to PC David Rathband taking his own life.
According to The Mirror, Samantha Stobbart was immediately informed of Rathband's death. She said "I heard that PC Rathband had died when a policewoman rang me at 12.20am. I was asleep in bed, and my mum woke me up with the phone. But because I was half asleep, I couldn't take in what she was saying at first. As soon as I did, it hit me like a hammer blow."
She continued "The officer was really concerned and asked me if I was all right, but I wasn't. It was horrible. I lay awake all night after that. I just kept thinking to myself – that's another life that Raoul's taken away. Even when he's dead, he is still hurting people. When is it going to end? I'm the only one left now. Sometimes I think this will only be finished when I die."
David Rathband was found hanged at his home in Blyth on 29 February 2012. In June of the same year, he had been due to carry the Olympic torch as part of the Olympic opening ceremony, with Britain hosting the games. His daughter Mia took his place, choosing to run blindfolded in his memory.
Not quite sure how to feel about the Raoul Moat drama. It's interesting to see the events leading up to what happened, but it's so unsettling to watch 🫤 #TheHuntforRaoulMoat pic.twitter.com/8Y3r40M0y4April 16, 2023
See more
Is Raoul Moat dead?
Yes, Raoul Moat is dead - after being transferred by ambulance to Newcastle General Hospital, he was pronounced dead at 2:20 am on July 10.
Following his death, a further number of arrests were made. Two men initially believed to have been Moat's hostages, were later arrested on suspicion of conspiracy to commit murder and possession of a firearm with intent. Karl Ness and Qhuram "Sean" Awan supplied the gun to Moat and were both with him when he shot PC Rathband on 4 July. Ness had also accompanied Moat when he attended the property Stobbart and Brown were staying. Both men had actively helped Moat look for policemen to shoot when they came across Rathband,
Of 20 arrests made in connection with Moat's crimes, only Ness and Awan were convicted. Ness was handed three concurrent life sentences for his role in the murder of Brown, conspiracy to murder and the attempted murder of PC David Rathband. Awan received two concurrent life sentences for conspiracy to murder and for his role in the attempted murder of Rathband.
Related ITV Features:
Video of The Week
Lucy is a multi-award nominated writer and blogger with six years' experience writing about entertainment, parenting and family life. Lucy has contributed content to PopSugar and moms.com. In the last three years, she has transformed her passion for streaming countless hours of television into specialising in entertainment writing. There is now nothing she loves more than watching the best shows on television and telling you why you should watch them.