Where was Malpractice filmed? Locations featured in the ITV medical drama
You asked where it was filmed, and we have answers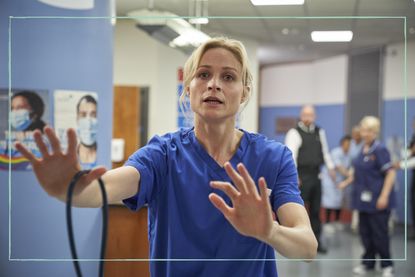 (Image credit: ITV/Future)
Written by a former Doctor, Malpractice showcases the increasingly impossible conditions NHS healthcare professionals are forced to work under - but where did it film?
Malpractice writer Grace Ofori-Attah, worked as an NHS Doctor for a decade. Now, she has written a TV series highlighting the stressful conditions healthcare professionals of today have no choice but to endure. Niamh Algar takes the helm of the drama, starring as Dr Lucinda Edwards. When a series of unfortunate events leads to an overdose victim dying in her care, the family of the dead girl insist her death is the result of negligence. The show then explores the ensuing malpractice investigation, and who was really responsible for the untimely death. Alongside raising important moral questions, another question relating to the series is where is it filmed? Read on to find out exactly where Malpractice was shot, or why the Malpractice ending has left viewers divided.
Fans of medical dramas might be interested to hear Malpractice was shot not far from where fellow drama Maternal filmed - the series followed female healthcare workers going back to work after having babies, and their inevitable work/life struggle. ITV's Six Four filmed in Scotland, and viewers were also keen to know if the thriller was based on a true story. Elsewhere on the channel, popular detective drama Grace filmed at an equally popular seaside destination - we reveal where.
Where was Malpractice filmed?
Malpractice was filmed in Shipley, West Yorkshire. Scenes were also filmed at Bradford city centre, Eccleshill, and Rawdon, near Leeds.
The show's fictional West Yorkshire Royal Hospital's A&E department was filmed in a former Shipley tax office, in West Yorkshire. Director Philip Barantini, said "We filmed at a former tax office in Shipley, West Yorkshire. It was amazing. We found the building online and the exterior looks like a hospital. Then we went there and found the interior was just like a studio with big open spaces. Massive rooms. So, we decided to film all of the hospital exterior and interior scenes there."
He continued "The production designer Adam Tomlinson and I had an early chat about what we wanted it to feel like. There is a certain criteria and things that have to be there to make it look real. I wanted it to feel like a real hospital, not a set, and Adam is all about that anyway. He made 3D scale models which were so helpful.
Then when we saw it all come together it was absolutely amazing. We had the A&E consultants come on set and they were like, 'Wow, this is incredible.' One of them said it was better equipped than their own hospital and added, 'I wish I worked in this hospital.'"
According to the Telegraph & Argus, Skye House on Larkfield Road, Rawdon played a major part in filming. The property was on the market with Fine & Country Leeds at the time the owners were approached for permission to film at their home.
Skye House is situated within the heart of Rawdon village and boasts breathtaking views of West Yorkshire countryside https://t.co/fSCekHBXNINovember 3, 2022
See more
In Eccleshill, Moorside road was a location used for filming. One local resident took to Facebook to share "Just in case you don't know, film locations for this new series, included our very own Eccleshill village - Moorside Road, close to the rec was descended upon by World Productions (ITV) last August for the day. Filming took place at our gaff and my wife offered the main character a cuppa whilst she sat in the kitchen between scenes!"
How many episodes of Malpractice are there?
There are five episodes of Malpractice, with the finale set to air on Sunday, May 21. For those who want to watch the series in one go, it will be available in its entirety on ITVX when the first episode has aired.
Writer Grace Ofori-Attah spoke about the real life consequences for Doctors who come under investigation. She said "For a few years I had been quite alarmed at the number of doctors committing suicide while under investigation by the General Medical Council. The process just wasn't considerate to the doctors involved. As a doctor you are constantly worrying about doing something wrong because it's almost like there's a presumption of guilt rather than innocent until proven guilty.
I remember quite early on in my core training a nurse and a doctor disappearing from our ward overnight. Because a patient had made an allegation against them. It was like, 'We have to believe the patient immediately and they have to be suspended until it's investigated.' They hadn't done anything wrong but they still had to go through this awful process, which everyone knew about because they were no longer on the ward. The processes are so punitive.
Malpractice: Cast
Niamh Algar (The Wonder, Raised By Wolves) as Dr Lucinda Edwards
Lorne MacFadyen (Vigil, Six Four) as Tom
Brian Bovell (Andor, The Witches) as Sir Anthony Owusu
James Purefoy (Sex Education, A Discovery of Witches) as Dr Leo Harris
Helen Behan (The Box, Holding) as Dr Norma Callahan
Jordan Kouamé (Scoop) as Dr George Adjei
Hannah Walters (Time, Boiling Point) as Matron Beth Relph
Priyanka Patel (Britney, Another Me) as Dr Ramya Morgan
Scott Chambers (Malevolent, Doctor Jekyll) as Dr Oscar Beattie
Tristan Sturrock (Poldark, The Crown) as Dr Mike Willett
Georgina Rich (Black Mirror, Heartstopper) as Dr Eva Tait
Liberty Miller as Abi Edwards
Actress Niamh Algar spoke about what she's taken from filming the series. She said "What I learned from it is there is a huge mental health crisis that's happening. A lot of these staff are being left to deal with people who are mentally ill with nowhere else to go. So they find themselves in A&E at two in the morning.
The pandemic has impacted on a lot of people's mental health. I think many people were selfmedicating at the time because they couldn't see their doctor or were too scared to go near a medical facility. With an increase in anxiety and depression due to the pandemic. People have become a lot more open and able to talk about it."
Malpractice: Reviews
Malpractice has so far received positive reviews.
Lucy Mangan from The Guardian offered 4 stars. She said "Malpractice plunges us into the unforgiving world that today's doctors work in. Intricately plotted and beautifully, leanly written by Grace Ofori-Attah, who spent 10 years as a doctor in the NHS, it stars Niamh Algar as Dr Lucinda Edwards – whose only averagely stressful life and career are derailed when an overdose victim dies in her care. Ofori-Attah explores the black, white and grey areas in medical practice as the investigation into Edwards' actions and decisions that night digs deeper into her background, and its discoveries prompt her to start some clandestine inquiries of her own."
Vicky Jessop from the Evening Standard also awarded 4 stars. She added "At a time when doctors and medical staff are dominating the headlines, this show is a welcome reminder of just how driven, and how under pressure those who work in the NHS are – and a breakneck thriller that leaves your head spinning even as you're watching it."
Sean O'Grady from The Independent wasn't quite as sure of the drama, offering 3 stars. His opinion was "Dr Lucy Edwards actually doesn't seem to be all that good at her job, and I'd have no compunction in firing her for the sake of patient safety. She's just too scatty, undisciplined and prone to error to trust her with your life, or, indeed, a prime slice of your Sunday evening. Doctor Lucy is supposed to be a challenged, yet sympathetic, cool character, but I'm afraid she just leaves me cold – like too many of her patients, unfortunately."
Related ITV Features:
Video of the Week
Lucy is a multi-award nominated writer and blogger with six years' experience writing about entertainment, parenting and family life. Lucy has contributed content to PopSugar and moms.com. In the last three years, she has transformed her passion for streaming countless hours of television into specialising in entertainment writing. There is now nothing she loves more than watching the best shows on television and telling you why you should watch them.