Is Kevin McKidd married and does he have children? Everything you need to know about the Scottish star
He's had a long and varied career, but what about the star's personal life?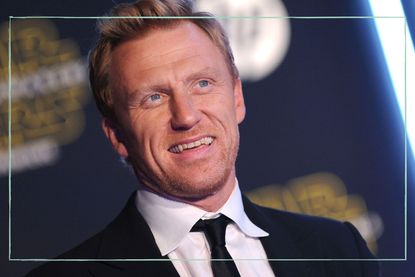 (Image credit: AFF/Alamy/Future)
Kevin McKidd has enjoyed a long and varied acting career in film and television, as well as often taking to the other side of the camera as director. Here's everything you need to know about the Scottish star's personal life.
Beginning his career with a bang in acclaimed cult hit Trainspotting alongside Ewan McGregor in 1996, Kevin McKidd has remained a household name. A star turn in historical drama Rome was followed by becoming known to millions as Dr. Owen Hunt in Shonda Rhimes' long-running Grey's Anatomy - a role he remains in to this day, and has stated he has no plans to leave. As McKidd returns to UK screens in gritty crime drama Six Four, interest in the star's personal life has piqued. We have everything you need to know about whether Kevin McKidd is married, and if he has any children.
Not the only celebrity with a love life holding intrigue, as Anton & Giovanni: Adventures In Sicily airs, viewers have been asking is Giovanni Pernice in a relationship? Being accompanied by his best friend and fellow dancer on the reality travel series, has also led to fans asking who is Anton Du Beke's wife, and if the Tango aficionado has children - we have answers to all the questions!
Is Kevin McKidd married?
Kevin McKidd is currently divorced, having split from second wife Arielle Goldrath in 2022, after 4 years of marriage. He had previously been married to Jane Parker for 16 years.
The pair met at a party in 2016, and dated for two years before marrying on January 13, 2018 at Malibu's Calamigos Ranch. In July 2022, McKidd shared a lengthy Instagram post, revealing he and Goldrath had separated "a few months" previously. Little is known about 35-year-old Arielle as she refrains from sharing details of her private life on social media, but it is believed she works as a private chef.
In the post announcing the couple's separation, McKidd said "I don't often share my personal life on social media, but today there is something I do want to share with you. A few months ago, Arielle and I decided to end the marriage portion of our relationship. We reached this conclusion after much soul searching and discussion. We know it's what is right for both of us."
He continued "We continue to have the highest love and respect for each other. We have been able to redefine our lives and love for each other in a beautiful way. It's not been easy and has taken significant work and self-examination. Please wish us luck and good fortune going forward, as we also wish for you all. It feels good to share this part of my life and let you all know that even with challenges, it is possible to reach happy conclusions if we show up for each other and stay open. Arielle and I will always be there for one another."
Does Kevin McKidd have children?
Kevin McKidd has four children, a son and daughter from his first marriage, and another son and daughter from his second marriage.
His eldest son Joseph is 23-years-old, and his eldest daughter Iona, is 21-years old. The children he shares with Arielle Goldrath are 4-year-old Aiden, and 3-year-old Nava. In the Instagram post announcing his separation from Arielle, Kevin paid homage to his ex-wife as a mother. He said "Arielle is an incredible mother to Aiden and Nava. She's one of the wisest, most intelligent and loving people I've ever known."
He later added "It has all been worth it to get to where we are now: a deep and honest relationship as parents and real friends with an amazing shared history, beautiful children and family. I hope everyone could be this blessed: to raise their kids with one of your very best friends."
The star occasionally shares pictures of himself and his children to Instagram. After taking his older children to a holiday resort, he posted a pictures of the three of them captioned "What an amazing time we had at @stregispuntamita! Amazing location and views, delicious food and lovely people! Wish we were back there !! Thankyou !!! X (nice face Iona!;)))"
He has also shared pictures of his older and younger children together, particularly a sweet snap of Iona and Nava sharing a cake. This was captioned "My badass strong independent daughters #independentwoman #thisisrockandrolli"
Why did Kevin McKidd leave his wife?
It appears that splitting from Arielle was a joint decision. When Arielle filed for divorce 5 months after the couple's separation was announced, she cited irreconcilable differences as the cause.
The pair share joint physical and legal custody of their two children, as Kevin also had with his older children following his divorce from their mother. Mediation was organised, to determine how their assets would be split.
When Kevin divorced his wife of 17 years, Jane Parker in 2016, irreconcilable differences was also the cause given. The pair had married in 1999, separated on October 31, 2015, and finalised their divorce on June 24, 2016.
Did Sandra Oh and Kevin McKidd date in real life?
Although viewers were impressed with their on-screen chemistry, Sandra Oh and Kevin McKidd did not ever date in real life.
McKidd joined Grey's Anatomy in 2008, with instant sparks flying between his character Owen Hunt, and Oh's character, Cristina Yang. Their characters married on screen in 2010, before divorcing in 2013. From the moment the pair shared their first kiss when Hunt pulled an icicle from Yang's stomach, the two became a fan-favourite coupling.
Cristina Yang and Owen Hunt Miss them....Sandra Oh and Kevin mckidd, great friendship off screen pic.twitter.com/yibPmtMJwSJuly 10, 2020
See more
Their screen relationship was forced to come to a permanent close in season 10, with Oh's departure from the show. Her character left to help former boyfriend Burke - who jilted her at the altar- run a top cardio hospital in Switzerland. Hunt and Yang's relationship remains one of the series most talked about romances.
Related Features:
Video of the Week
Lucy is a multi-award nominated writer and blogger with six years' experience writing about entertainment, parenting and family life. Lucy has contributed content to PopSugar and moms.com. In the last three years, she has transformed her passion for streaming countless hours of television into specialising in entertainment writing. There is now nothing she loves more than watching the best shows on television and telling you why you should watch them.