Where is Maternal filmed? Locations featured in the ITV drama
A popular Northern city played host to a lot of filming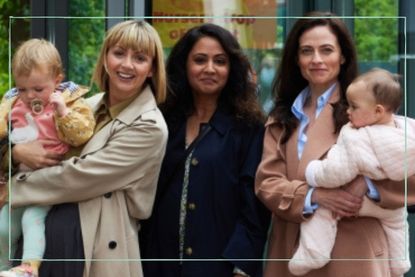 (Image credit: ITV/Future)
Some viewers will recognise the Northern locations featured in ITV's new female-centred medical drama Maternal. If you're wondering exactly where they are, we've got you covered.
Maternal is coming to ITV on January 16, and is set to cover some current, and hugely important themes. Three female doctors are all trying to prove to themselves the well worn, but very untrue adage that women can have it all. The women - all mothers returning to work after maternity leave - are all attempting to juggle work, as well as raise their families. Add to that they just happen to be working in the post pandemic NHS, and overwhelm, and relentlessly long hours are factored into the chaos they experience both in and out of work. The turbulent opening scene sets the tone for the show, as Maryam, Catherine, and Helen attempt to get their offspring fed, ready for nursery, and themselves into work as functioning humans. For audiences who love to know where their favourite shows filmed, we have the full lowdown on where this exciting medical drama filmed - some Northern viewers might recognise the locations.
Elsewhere on ITV, Winter Love Island filmed (opens in new tab) in a different mansion than previous series, and we have the intel on where you can find and visit the beautiful abode. Fans of reality shows will know that Dancing on Ice 2023 (opens in new tab) is about to kick off, and we have everything you need to know about the new series. For those asking if Big Brother is coming back (opens in new tab) in 2023, we have the answers!
Where is Maternal filmed?
Although set in Manchester, Maternal filmed in Liverpool. Edge Hill Health Centre on Edge Lane, and Liverpool Innovation Park were used.
Edge Hill Health Centre (opens in new tab) is situated at 157 Edge Lane, Liverpool, and is a working GP Practice - the centre was transformed into surgical theatres for the show. Speaking about the choice of filming locations, writer Jacqui Honess-Martin said "Although Maternal is set in Manchester, the series was filmed in Liverpool - it could be set in any cosmopolitan city in the north of England." She added "I really wanted to film it in Leeds, where I live, but there was already too much filming going on." She confirmed the filming location when she said "Our surgical theatres were at Edge Hill Health Centre."
Liverpool Innovation Park (opens in new tab) can be found on Edge Lane, Fairfield, Liverpool. It is a large building consisting of offices, leisure and business services, with 300,000 square feet of accommodation available to rent. A space within the complex was transformed into the hospital featured in Maternal.
Series director James Griffiths, spoke about why he became involved in the show. He said in a statement "I have a personal connection to the material as both of my sisters have devoted their lives to working for the NHS – one in admin in a lab, and the other as a nurse. "Having witnessed their experiences through Covid over the past couple years, I instantly felt compelled by this story and became passionate about collaborating with the brilliant team who brought it to light."
Liverpool Confidential shared pictures to Facebook of film crews filming Maternal outside Mowgli Street Food on Water Street, Liverpool. Extensive equipment for the perfect shot can be seen, while the page captioned the photo "Filming a new ITV drama called 'Maternal' on Water St. What's the best thing to ever be filmed in Liverpool?"
Maternal on ITV: Trailer
In the series, Maryam is a paediatric registrar returning to work after nearly two years of maternity leave. On her first day back, she can be seen asking her husband "what if I hate being away from them?" when talking about her children. She follows this up with "or love being away from them – that's worse, right?"
Fellow character Helen is a registrar in acute medicine. Her cheating husband has been given a promotion while she took time out to raise their children, and he's now her boss. Catherine completes the trio of working mums - she's a trauma surgeon and single mum, with a virtually non-existent support system.
Maternal on ITV: Cast
Parminder Nagra (Bend It Like Beckham, ER) as Maryam Afridi
Lara Pulver (Spooks, Sherlock) as Catherine MacDiarmid
Lisa McGrillis (Last Night in Soho, Somewhere Boy) as Helen Cavendish
Raza Jaffrey (Code Black, Spooks) as Jack Oliviera
Chris Oliver (Trying, The Crown) as Guy Cavendish
Abhin Galeya (The Bill, Cleanskin) as Raz Farooqu
Julie Graham (Shetland, Ridley) as Susan Fisher
Alexander Karim (Tyrant, Thin Ice) as Lars Nordstrom
Aurora Jones (Casualty) as Maggie Cavendish
Mat Fraser (American Horror Story, His Dark Materials) as Steve
Haydn Gwynne (Peak Practice, The Windsors) as Anne MacDiarmid
Matilda Ziegler (Eastenders, Lark Rise to Candleford) as Becky Hillford
Shaheen Khan (Casualty, Doctor Who) as Sania Masoom
Sabina Arthur (Game of Thrones) as Kim Allerton
Dean Ridge (Vikings, Dunkirk) as Simon Segman
Dvante Hart (Deceit) as Edward
Cheryl Mackie (Dream Team, Brookside) as Mrs Williams
Darren Hart (Starred Up, Mandem) as Mr Williams
Cleo Sylvestre (All Creatures Great and Small) as Mrs Osei
Jennifer Macbeth as Tessa Joseph
Elizabeth Dulau (Andor, The Outlaws) as Louise Pennycook
Stephanie Jacob (Heart of The Sea, The Iron Lady) as Mrs Smith
Joe Thomas (The Inbetweeners) as Mat Malyon
Bill Skinner (W1A, The Windsors) as Will
Elan Butler as Freddie
Speaking about her character, Dr Maryam Afridi, Parminder Nagra said "She's very good at what she does but is struggling with the conflict of being a mum and being at work, and her husband doesn't seem to want her to go back to work. On her first week back, she's not supposed to see patients yet, but they're so understaffed she gets put in charge of the ward. And before she knows what's going on she's thrown in the deep end."
She added "I liken playing Maryam to an Alton Towers ride like Oblivion. You're trundling along for a minute, and then you get to the top and you think it's going to be great, but all of a sudden, it takes a deep dive in terms of emotion, and boy, do we really go there."
Laura Pulver also weighed in on her character, Ms Catherine MacDiarmid. She said "She's finding her path in a very male-orientated profession whilst juggling this new area of her life. She has an innate confidence that she is the best person for the job, but the algorithms that work in her job don't work in her day-to-day life anymore, because you can't schedule a nine-month-old baby."
She added "This has been a gift of a job for me: not only is the subject matter exactly what we're juggling and dealing with, but it's a gift for us to learn that we can do our jobs to the same high standards and still be present parents."
Related ITV Features:
Video of the Week
Lucy is a multi-award nominated writer and blogger with six years' experience writing about entertainment, parenting and family life. Lucy has contributed content to PopSugar and moms.com. In the last three years, she has transformed her passion for streaming countless hours of television into specialising in entertainment writing. There is now nothing she loves more than watching the best shows on television and telling you why you should watch them.