Where is Winter Love Island 2023 filmed? Location of the latest series revealed
The 2023 Villa location is looking a little different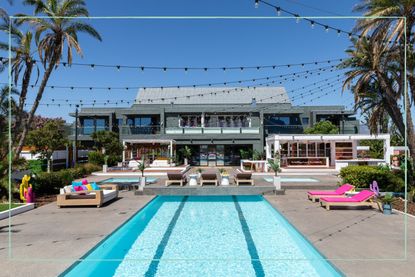 (Image credit: ITV/Future)
If you're wondering why the Winter Love Island villa is looking a little different this year, we have the answers! Let's delve into where the latest series of the dating show filmed.
Love Island is now a summertime TV institution, which is why it came as no surprise when the spin-off series Winter Love Island (opens in new tab) was announced, to form a biannual spectacular. The original version of the dating show has not only spawned a second series in the UK, but an entire Love Island franchise that has seen 22 versions of it pop up around the world. ITV has since confirmed it's working on a spin-off show called The Romance Retreat (opens in new tab) which begins filming shortly after Love Island 2023 finishes (opens in new tab).
The ITV and ITVX reality series returned on January 16, 2023, bringing a little sunshine to light up the January gloom. But it's summer location has been swapped for a new holiday destination, so it's no surprise that eagle-eyed fans might notice a change in villa that usually sees all the action. Just like viewers have been wondering where is Love Island: Aftersun filmed (opens in new tab), the same is being asked of the main show. The Winter Love Island 2023 cast (opens in new tab) are now in place and making their moves in the villa, and we have the lowdown on those entering the winter villa, where they can be found on social media and who has since left Love Island (opens in new tab). This is in addition to this year's filming locations too.
Where is Winter Love Island 2023 filmed?
Winter Love Island 2023 is filmed at the Ludus Magnus estate in Franschhoek, near Cape Town. The 25-acre resort can be found in the Franschhoek wine valley, known as South Africa's "millionaire's row".
Previously, the winter instalment of the show filmed at the Midden Cottage, located in the Constantia suburb of Cape Town. No reason has been offered for the move to a different location, but Mike Spencer, Executive Producer at Lifted Entertainment, shared his excitement at the move. He said "After eight brilliant series, we are excited to be serving up two helpings of love in 2023 by kicking off in January at a stunning new villa in South Africa. We can look forward to more romances, bromances and everything in between as we embark on another epic year of love."
The Ludus Magnus (opens in new tab) estate website states that 5 star luxury exclusive use can be made of the accommodation, that is surrounded by vineyards and famed for French heritage and cuisine. Named after a Roman gladiator school, the French-Italian couple who own the estate renamed the villa after they left Europe with their 3 children and 5 dogs to begin a new life there.
Sustainability is at the heart of the accommodation, which generates its own electricity using 266 solar panels. Renewable food sources are grown on site, including a "Vitamin C" running trail consisting of 14 citrus tree varieties. As well as active beehives and the owner's own pets, the estate acts as home to rescue donkeys, tortoises, chickens and horses.
According to National World (opens in new tab) you can stay at the villa, but a room in the luxury resort will not be cheap - the nightly rate for a double bedroom can cost anywhere from £478 per night. This will include use of one of the 17 available bedrooms, freshwater dam with Olympic-length swimming lanes, river tubing, ziplining, and 400-metre running track. The publication also reported that ITV paid £1.2 million to rent the luxury property for filming.
Who is the Winter Love Island 2023 presenter?
Winter Love Island 2023 will be presented by Maya Jama. This news was confirmed in October 2022.
On Boxing Day, ITV shared a short promo video to their Instagram account of Jama in the presenting role, with the caption "New year, new series, new host. Let's do this, @mayajama!" Jama said in a statement "I've always been such a massive Love Island fan and I'm so excited to be hosting one of the nation's favourite shows! I can't wait to get into the Villa to meet all of the Islanders."
Director of Reality Programming & Acquisitions and Controller, Paul Mortimer, also shared his thoughts on Jama taking over the presenting baton. He said "Finding a new host to follow the wonderful Laura Whitmore was never going to be easy. In Maya Jama though, we have another high profile fan of the show who'll be a great addition to the Love Island family. Cool, charming and charismatic, I speak for us all when I say Maya will also bring a unique presenting style to the show".
How can I watch Love Island 2023?
Winter Love Island 2023 will air from January 16 at 9 pm on ITV2. It will be available for catch up afterwards on BritBox, and the new ITV streaming service, ITVX.
ITVX has now replaced the original ITV catch up service, ITV Hub. Viewers who already had ITV Hub installed don't need to do anything to switch to ITVX, as this will happen automatically. For those without ITVX, the basic platform can be accessed for free by signing up for an account (opens in new tab), in the same way the previous ITV Hub would have worked. Functioning as an entry-level tier, viewers can find an extensive back catalogue of ITV shows, and anything they might've missed on ITV that they'd like to catch up with.
The ITVX free option also comes with the ability to watch live TV. However, the downside is that all shows will include adverts to make up for the service being free. To view the catalogue without ads, ITVX will have a premium subscription service for £5.99 per month or £59.99 per year.
Do you get paid for being on Love Island?
It is widely reported that Love Island contestants get paid £250 per week for appearing on the show, although this has never been confirmed by ITV.
In 2021, contestant Priya Gopaldas appeared to confirm this amount when she shared a screenshot of her £750 pay cheque to Instagram. The medical student spent one week on the show, but had quarantined for two weeks prior to filming - £750 would be the correct sum for three weeks of participation. She later donated the money to NHS charities.
Although this doesn't appear to be a lot of money, winners of the show can bag £50,000 (or £25,000 if split between a couple), and lucrative advertising and sponsorship deals can arise for contestants on leaving the villa. For instance season five runner up Molly-Mae Hague, has enjoyed a lucrative career after appearing on the show, allegedly having a net worth of £4.5million.
Related ITV Features:
Video of the Week
Lucy is a multi-award nominated writer and blogger with six years' experience writing about entertainment, parenting and family life. Lucy has contributed content to PopSugar and moms.com. In the last three years, she has transformed her passion for streaming countless hours of television into specialising in entertainment writing. There is now nothing she loves more than watching the best shows on television and telling you why you should watch them.