Obsession ending explained: What happens to Anna and William?
Spoiler: It's not a happy ending...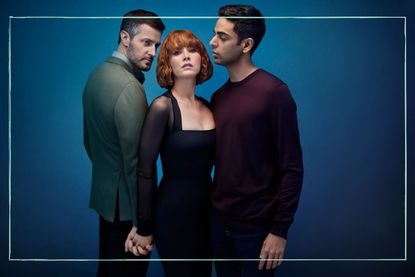 (Image credit: Netflix)
It's the Netflix show everyone's talking about, and now viewers are keen to have the end of Obsession explained...
Obsession has quickly made it's way into Netflix's global top 10, so it's no surprise that viewers have questions about it - from where is Obsession filmed to whether it's a remake of Damage. The erotic thriller is indeed based on the 1991 book, Damage, and centres on a successful surgeon, William, and his passionate yet ruinous affair with Anna, the fiancée of his son Jay. The Obsession cast stars The Hobbit's Richard Armitage and Happy Valley's Charlie Murphy in the show's main roles.
In the ending of the book, William's character (who's called Stephen) lives a solitary life abroad and spends his time staring at photographs of Anna and his son which cover his walls. However, the Netflix show's ending is much more mysterious, and has left many viewers wanting the Obsession ending explained...
Obsession ending explained
The final episode of Obsession picks up with Jay following his father to the apartment that is owned by Peggy - Anna's best friend. After forcing open the door, Jay discovers his father and his fiancée having sex.
Shocked by what he has discovered, Jay falls down the stairs to his death, and William is left to face his wife, Ingrid, and daughter, Sally, after spending all night with the police. At the funeral, Ingrid makes it clear she never wants to see William again.
Meanwhile, William is still obsessed with Anna. When he sees her mother at the funeral he asks where Anna is, to which she replies, "This is what she does, I'm afraid. Run away." He then turns up to Peggy's workplace, demanding to know where he can find her.
Next, we see that Anna is at her mum's house. Her mother says to her, "Just promise me that was the last time. You could've had such a beautiful life with Jay. These poor boys that fall for you so intensely. Didn't stand a chance, did he? Neither did your brother. Aston loved you so much. "
Here, Anna realizes that her mum knew that her brother abused her throughout her childhood, and storms out.
Who was texting William?
It's revealed that the person sending threatening messages to William in Obsession is his daughter, Sally - despite it initially seeming to be Peggy who was the culprit.
Sally starts sending the messages because she becomes suspicious that her father might be having an affair, after she found pages of Anna's diary in William's jacket.
However, when confronted Anna manages to convinces Sally there is nothing going on between them, and that William was just holding onto the pages for her after stumbling upon them.
How does Jay die?
After discovering William and Anna having sex, Jay backs out of the room and falls down the stairs to his death below.
William runs downstairs naked and cradles his dead son, who is covered in blood, while Anna gets dressed and walks past the two men, leaving the building.
William returns home the following morning to find his wife Ingrid screaming and crying. She blames William for Jay's death, and says, "That's our son. Look what you took from him and from me, you've taken him from me."
What happens to William and Anna?
Though the ending of Obsession has left many viewers with questions about what happens next, it seems pretty clear that Anna and William won't be seeing each other again.
Anna doesn't turn up to Jay's funeral, so William tracks down Peggy, who tells him that she went on the honeymoon. William finds Anna, who has just returned to her hotel from a night out in which a stranger tried to assault her.
William looks after Anna, and is clearly hopeful for a future with her, saying the next morning that they shouldn't let the affair and damage it caused be "for nothing." But Anna feels guilty about Jay's death and tells William she wishes they had never met, before getting up to leave and asking him not to try and find her again.
Though we then see Anna asking Peggy to meet her at the flat, the camera cuts to William walking into the empty apartment, greeted by an estate agent. William digs one of Anna's journals out from inside the fireplace and we later see him reading Anna's diary while sat in the living room.
Meanwhile, Anna visits a therapist. She says at the appointment, "Should I just start at the beginning? I've never really done this, so I don't know the rules," to which he replies, "Would it help to have some rules? Is that something you feel you need?"
Anna stares intently into the camera and says, "How strange" - which was something she also said to William when they first met.
These final scenes from Obsession have left fans with burning question around what happens next. Does William buy Peggy's flat? And does Anna go on to have an affair with her therapist?
Related Netflix features:
Video of the Week
Ellie is Goodto's Feature Editor, having joined the team as a Junior Features Writer in 2022, and covers everything from wellbeing for parents to the latest TV and entertainment. Ellie has covered all the latest trends in the parenting world, including baby names, parenting hacks, and foodie tips for busy families. She has a distinction in MA Magazine Journalism from Nottingham Trent University and a first-class degree in Journalism from Cardiff University, and previously Ellie has worked with BBC Good Food, The Big Issue, and the Nottingham Post, as well as freelancing as an arts and entertainment writer alongside her studies.