Fall ending explained: What happened to Becky at the end of the Netflix survival thriller?
Hold on tight, it's a long way down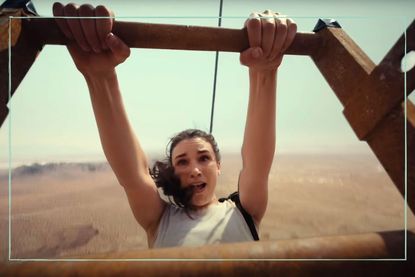 (Image credit: Lionsgate/Everett Collection Inc/Alamy/Future)
For anyone who has questions about the ending of edge-of-your-seat Netflix thriller Fall, we are here to answer them.
When survival thriller Fall was added to the Netflix catalogue, it unexpectedly took social media - and the world - by storm. The small budget film's terrifying storyline and top-notch acting have left viewers asking if Fall is based on a true story (opens in new tab), as a lot of survival thrillers can be - Becky and Hunter's horrifying ordeal would certainly go down as one of the worst possible disaster stories if it were true. The action in Fall filmed (opens in new tab) almost on location for authenticity, with the two main characters even performing their own stunts at the top of a reconstructed tower on a cliff edge. For those who have seen the movie and have questions about the ending, read on while we dissect everything that happened.
Also on Netflix, the Four Good Days true story (opens in new tab) shines a light on America's opioid problem, and how easily the system has made it to fall into addiction. Similarly, The Swimmers true story (opens in new tab) depicts the harrowing ordeal of refugees fleeing their war-torn homeland, and the lengths they went to reach safety.
Fall ending explained
By the end of Fall, Hunter and Becky have tried to alert somebody to their predicament, and failed. Having just tried setting off a flare gun, the only result was that their car was stolen.
A terrible revelation then comes, when Becky notices a tattoo on Hunter's ankle reading 1-4-3. This was the sequence she previously used to tell husband Dan that she loved him. Hunter admits Dan initiated an affair in the months before his wedding to Becky, and the pair had been seeing each other until the wedding day. This bombshell clearly leaves Becky distraught, especially as she wasn't speaking to her father over his claims Dan wasn't right for her - he had been right all along.
In trying to make it up to Becky, Hunter suggests she'll make the treacherous climb down the tower to collect the backpack they'd dropped. The bag held some water and a drone - their remaining chance of being found. Hunter successfully retrieves the bag, and uses the tower's red lamp to charge it.
The women set the drone on course to fly to a nearby diner, but a truck smashes into it just before it arrives leaving them once again without hope of rescue. Later, a food and water starved Becky deliriously realises Hunter hadn't made it back safely with the backpack at all, she had actually fallen to her death. Her body is splayed out on a lower section of the tower being pecked by vultures.
Becky wakes the next morning with a vulture knawing at a wound on her leg. Desperate for food, she kills and eats the bird, realising she might have one final hope of recue in the process. Recording a video message to her father, she climbs down to Hunter's body, and carefully places her phone in a shoe. She then places the shoe in a gaping wound Hunter has, and pushes her body from the tower.
Her hope is the phone will survive the fall, and pick up enough signal when it hits the ground to alert her father to her whereabouts. The plan works, and when we next see Becky she is being tearfully reunited with her father as a rescue helicopter circles overhead. Hunter's body is being placed in a body bag nearby, and the film draws to a close.
Was Becky hallucinating in Fall?
Yes, Becky was hallucinating the final part of Hunter's presence after she had retrieved the backpack.
Hunter's body is shown dead on the lower platform after the backpack sequence, but she later reappears next to Becky. This led viewers to believe that initially seeing the body had been a bad dream of Becky's, as she'd experienced several nightmares about her husband's death throughout the film. There are however, more clues that Hunter could be a hallucination, as the film progresses.
Hunter tells Becky she needs to eat and rehydrate, never taking anything from the newly retrieved backpack herself despite both women being starving and thirsty. When the pair later have a conversation about wrestling, Hunter jumps in with the name of a wrestler Becky is struggling to recall. When Becky questions how she knew the name without ever watching wrestling, it further becomes apparent Hunter is an apparition.
There are theories that Becky could be hallucinating due to lengthy exposure to high altitude. She is also weak, hungry, and dehydrated - all of these could have easily altered her mental state. However, some believe that Hunter is part of Becky's survival mode - realising her friend is dead could've made her give up. Having a spirit or imaginary Hunter with her, gave her the courage and hope she needed to keep moving forward and find a way out.
Fall: Fan reactions
Fall has certainly been eliciting strong reactions from those who have tuned in to watch it.
One viewer wrote on Twitter "Mr has put Fall - Netflix movie on. I'm sitting on the sofa watching through my fingers, feeling nauseous, with vertigo and anxiety." Another quipped "I have just watched #fallnetflix and actually cannot see myself climbing the stairs tonight...."
Mr has put Fall - Netflix movie on. I'm sitting on the sofa watching through my fingers, feeling nauseous, with vertigo and anxiety. pic.twitter.com/ny0y1FIV1LMarch 4, 2023
See more
Another viewer enthused "Enjoyed Fall so much I'm watching it again. I never watch films twice! Can't get enough of that sweaty palm vibe" with another adding "#fallnetflix genuinely gave me like weird shivers through my nervous system. I'm not good with heights and some of the imagery in this proper freaked me out."
On Instagram, some fans went to the official Fall account to leave their opinions. One wrote "Literally the most stressful film I have ever seen in my entire life. Wow wow wow! I have never felt so emotionally drained from a film before….amazing amazing amazing job! Seriously wow."
Responding to the prolific symbolism in the film, another said "WOW. Just wow. Hands down best movie I've seen with such incredible attention to detail and the symbolisms!! I think the fact that every bit of symbolism is all tied together in the end just keeps you so on edge. It's trauma that caused the hallucination, eating the bird, the dead body, the symbolism in the beginning of the coyote, and the tattoo!!! You guys did an amazing job and took it way beyond expectations! Heights and being left alone in the middle of nowhere are my biggest fears and let me tell y'all I was sweating in my seat. I hope this movie gets the attention it deserves."
Related Netflix Features:
Video of the Week
Lucy is a multi-award nominated writer and blogger with six years' experience writing about entertainment, parenting and family life. Lucy has contributed content to PopSugar and moms.com. In the last three years, she has transformed her passion for streaming countless hours of television into specialising in entertainment writing. There is now nothing she loves more than watching the best shows on television and telling you why you should watch them.