Is The Strays a true story? Real inspiration behind the Netflix mystery thriller
The story isn't as far fetched as it seems...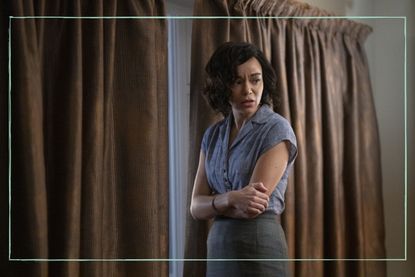 (Image credit: Chris Harris/Netflix/Future)
As viewers devour Netflix's latest thriller, The Strays, they are asking what the film is based on - the answer is surprising.
A film about a woman who just disappears, leaving her husband and children behind to build a new and affluent life elsewhere, might seem far fetched. The Strays opening moments does just that, as it depicts Cheryl (Ashley Madekwe) distraught over the hardships she faces in her impoverished life. Desperate for more, she leaves a note for her husband and disappears. Viewers catch up with Cheryl, now Neve, years later. She has everything she once hoped for - a home in an upper middle class Wiltshire suburb, two new children with equally middle class names, and a job as a deputy head at a private school. Neve's perfect life escalates when her original children track her down, and want answers. Although the premise is shocking, there is real inspiration behind it - read on to find out the events behind the story.
The Strays ending (opens in new tab) is the most tense and shocking moment of the entire film - we dissect what happened and what it meant for the characters. Also on Netflix, the You season 4 part 1 ending (opens in new tab) brought the thrills, and bloody spills. Similarly, the Lockwood & Co ending (opens in new tab) left viewers with a spooky cliffhanger - that season 2 announcement had better be on the way!
Is The Strays a true story?
The Strays is based on a true story writer Nathaniel Martello-White was once told by his mother. Although the story makes the essence of the film, a lot was also embellished for the sake of the narrative.
Speaking to Radio Times (opens in new tab), Martello-White said the story his mother told was "about a woman who essentially was denying the fact that she had two Black children. She also had two children who were very fair-skinned and almost white-passing, and this woman was biracial. And I was just really struck by the kind of complexities of that, like, what would make somebody feel like they had to erase their past and deny it?"
He continued to add "I had a really interesting conversation with my mum about generational trauma – she's also biracial – and she was sort of talking to me about her experiences as a biracial woman and kind of traversing different cultures and classes and sometimes being perceived as almost white and kind of how people would treat her. And then the odd sort of slip, and then there's a microaggression or something, which actually is quite offensive, or quite shocking."
The publication continued to report that Martello-White's mother imparted this story in the same year Get Out was released and during the BFI Network program in conjunction with the London Film Festival and Black Star, he was persistently asked what his first feature film would be.
Pondering this question at the time, the writer said "And I sort of came away from that experience being like, it had to be something really personal that sort of explored race in a really complex way but also have a genre element to it that kind of made it more universal and far-reaching," and he began formulating the script for The Strays.
What have the cast of The Strays been in before?
Ashley Madekwe
Ashley Madekwe first came to prominence for the role of Bambi in the ITV2 series Secret Diary of a Call Girl, in 2008. In 2011, she landed the role of Ashley Davenport in ABC's Revenge. Between 2014 - 2017, she appeared in the WGN series Salem, as Tituba.
In 2019, Madekwe was nominated for a BAFTA for Best Supporting Actress, for her role in County Lines. Fans of The Umbrella Academy will also recognise her for the role of Detective Eudora Patch, in 3 episodes of the Netflix hit show. She later appeared in psychological thriller Tell Me a Story, in the lead role of Simone. Madekwe is married to Peaky Blinders actor Iddo Goldberg, whom she worked with on both The Secret Diary of a Call Girl, and Salem.
Bukky Bakray
Relative newcomer Bukky Bakray is from Hackney, East London. The 20-year-old actress and writer is best known for her breakthrough debut role in the 2019 coming-of-age drama film Rocks.
At the age of 19, Bakray became the youngest recipient of the BAFTA Rising Star Award. The same year, she was also one of the youngest actresses to be nominated in the Best Actress in a Leading Role category. She is set to star in upcoming film Self-Charm directed by Ella Greenwood, and the BBC's You Don't Know Me series. She has also secured a role in the Apple TV+ series Liaison, alongside Vincent Cassel and Eva Green.
Jorden Myrie
Also a relative newcomer, Jorden Myrie is known for playing Kobi in the BBC musical drama, Mood. He also took the role of Raheem Bennett in every episode of the Channel 4 prison drama, Screw.
The young actor also played Stuart Lawrence in the 2021 limited crime drama series Stephen – the show was based on the 1993 murder of teenager Stephen Lawrence. Last year, Jorden made it to the list of the 2022 Screen Stars of Tomorrow. Speaking to TresA (opens in new tab) about appearing in his first major film role in The Strays, Myrie said "The experience was great. Everyone really put a lot into creating the film. There's a lot I'm looking forward to about the film's release, but I think one really interesting thing is how people will interpret these characters, and the discussions people will have about them afterwards."
Joining Ashley Madekwe, Bukky Bakray, and Jorden Myrie in the cast, are: Samuel Small (Game of Thrones, Bonus track) as Neve's younger son Sebastian, Maria Almeida (Pretty Red Dress, Fifteen-Love) as younger daughter Mary, and Justin Salinger (Everest, Brimstone) as Neve's new husband, Ian.
The Strays: Viewer reaction
Most of the viewer reaction to The Strays, deals with Neve's actions in the shocking conclusion to the action.
On Twitter, one viewer wrote "@ashleymadekwe in the movie #thestrays was the villain all along. I watched till the end waiting to see the main reason for her actions, damn! The end was cruel." Another agreed, adding "Am I the only one who laughed at the ending. I mean...it wasn't funny but it was darkly hilarious. #TheStrays."
@ashleymadekwe in the movie #thestrays was the villain all along. I watched till the end waiting to see the main reason for her actions, damn! The end was cruel 😂#thestraysnetflix pic.twitter.com/gZD1DThgxPFebruary 23, 2023
See more
One viewer showed empathy towards Neve's actions however, saying (opens in new tab) "I don't blame her at all, I would have done the same. What an annoying group of people! #TheStrays #TheStraysNetflix." Another agreed, adding (opens in new tab) "#TheStraysNetflix Neve/Cheryl has that energy that I aspire to have. Seriously, walk away from discomfort and problems. That's the lesson I learned from that movie."
Related Netflix Features:
Video of the Week
Lucy is a multi-award nominated writer and blogger with six years' experience writing about entertainment, parenting and family life. Lucy has contributed content to PopSugar and moms.com. In the last three years, she has transformed her passion for streaming countless hours of television into specialising in entertainment writing. There is now nothing she loves more than watching the best shows on television and telling you why you should watch them.