Murder Mystery 2 ending explained: Who is the perpetrator in the Netflix mystery comedy?
There will be some big spoilers ahead!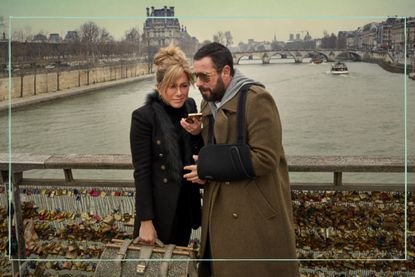 (Image credit: Scott Yamano/Netflix/Future )
Who did it? All will be revealed about the killer in Murder Mystery 2 - prepare for spoilers ahead!
Four years after the events of Murder Mystery in Monte Carlo, Jennifer Aniston and Adam Sandler are back to reprise their roles as Nick and Audrey Spitz, in Murder Mystery 2. This time around, the pair have quit their jobs to become private detectives - but their agency is failing. They're also crime solving in a new location, as Murder Mystery 2 filmed in some very different locations to its predecessor. A surprise chance to turn it around comes when Nick and Audrey are invited to celebrate their friend, and Maharaja, Vik's wedding. When Vik is kidnapped for a ransom, the sleuths take the chance to solve the case and make a name for their agency. But who was the kidnapper, and what exactly did that ending mean? Read on for all the answers you need.
The Luther film is also riding high on the Netflix top 10, but fans have been left asking what did Luther go to prison for, when the opening of the film saw him incarcerated. Equal numbers have been asking if The Clovehitch Killer is based on a true story, and there was a chilling inspiration behind it. Viewers have also been enjoying mystery thriller Triptych on the streamer - but what does Triptych mean?
Murder Mystery 2 ending explained
At the end of Murder Mystery 2, Vik appears in an elevator with a bomb strapped to him. He comes with a message stating the ransom must be sent to the top floor within one minute.
Nick and Audrey have arranged for all potential suspects to meet them at the Eiffel Tower. Following an explosion, Nick realises kidnapping expert Connor must be the blackmailer, just as Connor arrives back on the scene to announce he faked his own death earlier while brandishing the bomb detonator. When everyone becomes distracted by a lost tourist, Nick takes the opportunity to snatch the detonator from Connor's hands, who has a zip wire ready to escape with. In the ensuing fight, Delacroix gets injured and throws his gun to Nick, while Audrey tries to cling on to Connor.
Finding themselves on the roof of the Eiffel tower, Nick, Audrey and Connor are unsure what to do, so Audrey threatens to throw the suitcase over the side. When she ends up pushed from the tower instead, she's saved by having attached herself to Connor's zip wire escape line. Untangling herself, Audrey takes a gun and immediately heads back to the roof, to find Nick opening the suitcase - which proceeds to blow everywhere.
Audrey replaces herself on the zip wire with Connor, pushing him from the scene. He meets an unfortunate end at the hands of a helicopter blade, and this appears to be the end of the saga. It transpires this is not the case, when back in the restaurant Audrey sees Saira is bleeding. Saira dismisses it as simply being henna from the wedding, but Audrey is sceptical. Knowing that henna is fast drying, she recalls Saira missing parts of the wedding day, deducing she must be partially responsible for the kidnap of brother Vik.
Realising Audrey is on to her, Saira responds by trying once more to shoot her brother, with the Colonel taking the bullet instead. Saira is arrested and admits her only motive was being jealous of her brother. Vik and Claudette being planning to elope, with Vik handing handing Nick and Audrey a bag of money to thank them for solving the crime and saving him.
In the film's closing moments, Nick and Audrey are armed with their cash and flying over Athens in a helicopter. The chopper has the same pilot from earlier in the film, who suddenly demands the money and jumps from the window with it - leaving the helicopter without a pilot. Nick and Audrey are left in quite a predicament, with viewers not told of their fate.
Who kidnapped the Maharaja in Murder Mystery 2?
Connor Miller kidnapped the Maharaja, or Vik, in Murder Mystery 2. Vik's sister Saira masterminded the plan, with Conner mainly responsible for executing it.
Nick deduces it must have been Connor who carried out the kidnapping, after reading his book. The book outlines the complexities of a hostage situation, stating that a kidnapper would value their ransom money too much and wouldn't harm their captive. Piecing together events from the evening, Nick gets Connor to reveal he was the kidnapper, understanding he wouldn't actually blow up Vik before getting his money.
When filming scenes together for the explosive conclusion to the film, Connor actor Mark Strong revealed that he accidentally punched Adam Sandler really hard. Speaking on The One Show, Strong said "The [action sequences] go on for ages. You're doing one movement for ages and I had to literally hold [Sandler's] shoulder and punch him but keep a small distance away from him because of where the camera was. And one time I caught him."
Murder Mystery 2: Reviews
There has been a very mixed audience and critical reception to Murder Mystery 2.
Wendy Ide from The Guardian was really unimpressed, offering only one star. She said "There's a murder and a kidnapping, and, thanks to a missing cheese knife, Nick and Audrey are suspects. This crime caper has a certain frenzied energy, but it's sloppily plotted, crass and so dumb, you wouldn't trust it to use cutlery unsupervised."
Jon Nugent from Empire was similarly unimpressed, offering the film two stars. He wrote "Standard-issue late-stage Netflix-era Sandler stuff: not exactly good, but goofy and charming in its own boneheaded, stick-it-on-if-there's-nothing-else-on kind of way."
One gushing audience member however, said "Murder Mystery 2 is an absolute delight to watch. It's the perfect movie to unwind with after a long day and just let yourself be taken on a wild ride of non-stop laughter and entertainment. The chemistry between Jennifer Aniston and Adam Sandler is simply unmatched and it's no surprise considering their long history of working together. Their comedic timing is impeccable and they make the perfect duo in this hilarious film."
Another added "Good one time watch, nothing too superior than the first movie. The plot was a lot predictable, like you would know what would happen next. Some of the dialogues feel forced. And lot of the characters and scenes could have been explored more..."
Will there be a Murder Mystery 3?
Although it appears a Murder Mystery 3 has been perfectly set up by the Murder Mystery 2 ending, there has been no official announcement made.
However, in an interview with MovieWeb, Adam Sandler and Jennifer Aniston revealed they've already discussed potential locations for a third film. Sandler said "We've been talking Greece," with Aniston adding "Greece would be so fun. We're figuring it out. We know there's so many places to go."
With realism, Sandler then followed this up with "You know where it's gonna end up being? Wherever Netflix says, 'Go there' and we'll be like, 'Yes, Netflix'." During a red carpet interview, Aniston was asked about a follow up, again reiterating "It depends on how everybody responds to this film. And if they enjoy themselves and had a good time, Netflix will hopefully say, 'Yep'."
Related Netflix Features:
Video of the Week
Lucy is a multi-award nominated writer and blogger with six years' experience writing about entertainment, parenting and family life. Lucy has contributed content to PopSugar and moms.com. In the last three years, she has transformed her passion for streaming countless hours of television into specialising in entertainment writing. There is now nothing she loves more than watching the best shows on television and telling you why you should watch them.