31 best romantic movies to stream on Netflix and Amazon Prime this Valentine's Day
Grab the tissues and choccy!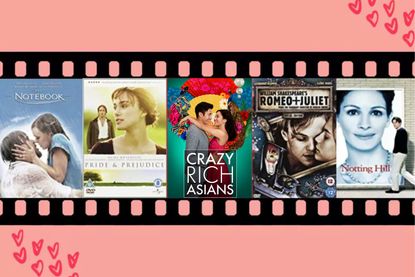 (Image credit: Future)
Popcorn at the ready! We've rounded up the best romantic movies for Valentine's Day that tick both the laughter and love boxes.
It's a day dedicated to L-O-V-E and the joy that comes with it. And cinema is certainly one industry that has capitalised on that big fuzzy feeling, presenting us with romantic ideas and hopeful tales that we can't help but be sucked in by. Regardless of our relationship status.
Everyone's got their favourite go-to Rom Com, be it a Richard Curtis classic or a bad block-busting tearjerker. And we've compiled the best of the best available to stream on the night. So after you've unwrapped your thoughtfully chosen Valentine's gifts for her and gorged on those Valentine's Day hamper chocolates, it's time to settle down and snuggle on the sofa with one of these topical films. We'll be watching whilst tucking into one of these Valentine's 'dine in for two' deals of course. And don't forget your gal pals - gather them round for a movie night and treat them to something from our pick of the best Galentine's Day gifts.
31 best romantic movies to stream online:
1. The Notebook
Based on the Nicholas Sparks novel of the same name, it follows Allie Nelson (Rachel McAdams) and Noah Calhoun (Ryan Gosling) whose paths first cross as teenagers during a hot 1940s South Carolina summer. Their love story (recorded in a notebook) is read aloud by an elderly gentleman (James Garner) to a fellow nursing home resident (Gena Rowlands). With the pair's own attachment to the piece becoming clear as the movie goes on...
GOODTO REVIEW:
"There's something heartwarming about rekindling a relationship, especially when it's a true love or long-lost love and for me, this incorporates my ideal fairytale film - a bumpy ride to never ending love and this is perfectly captured in this movie," says Senior Entertainment writer Selina Maycock.
"Whether it's Ryan Gosling and Rachel McAdams or later James Garner and Gena Rowlands romance you believe in, different generations of a family will be moved by this movie. A film that can make you laugh AND cry is definitely one to stream, rent or buy!"
2. Notting Hill
William Thacker (Hugh Grant) is just your average London guy living an average London life in Notting Hill. Until American film star Anna Scott (Julia Roberts) wanders into his quaint travel bookshop one day and turns his world upside down.
GOODTO REVIEW:
"What do you get when an international movie star meets a London book shop owner? A girl, standing in front of a guy, asking him to love her - or so the famous line goes," says Features Editor Emily Stedman. "Julia Roberts and Hugh Grant are at their rom-com best in this adored Richard Curtis film, that's aided by a strong supporting British cast and a memorable movie soundtrack."
3. Romeo + Juliet
Baz Luhrmann's adaptation of Shakespeare's star-crossed lovers is a 90's cult classic. Not exactly the most upbeat of romantic movies, this cinematic version stays true to the original (and tragic) Shakespearean plot. However Luhrmann flips the setting to contemporary America, representing the Montagues and Capulets as warring mafia groups equipped with guns (not swords).
GOODTO REVIEW:
"I remember the first time I watched Romeo + Juliet I rewound the swimming pool scene at least five times, it's just SO romantic," says Features Writer Ellie Hutchings. "Leonardo DiCaprio is of course the perfect Romeo and honestly this is probably the only film I'll ever watch and not be rooting for Paul Rudd to get the girl. Conveniently, it's one of my boyfriend's favourite romantic movies too, so Romeo + Juliet is our go-to Valentine's watch."
4. Bridget Jones' Diary
The film is adapted from the column turned book series by author Helen Fielding. And Austen fans will notably pick up on the plot being a modern version of Pride and Prejudice. January 1st marks a new year of resolutions for 30-year-old Bridget who makes it her mission to bag a 'nice sensible boyfriend'. But plans go awry when she strikes up a romance with boss Daniel Cleaver (Hugh Grant) and an unexpected suitor throws his hat into the ring for Bridget's afffections.
GOODTO REVIEW:
"Big knickers and even bigger romance problems, Bridget Jones is one of cinema's best-loved heroines and my favourite film of all time," says Emily Stedman. "Who can forget the iconic fight scene between two of Britain's dashing bachelors - actors Colin Firth and Hugh Grant?! You're in safe hands with Richard Curtis who co-wrote the screenplay alongside Helen Fielding and it's one of those films packed with British acting talent you've seen in many a thing before. The original proved such a hit in 2001 that it led to a sequel and a long overdue third film - Bridget Jones' Baby (2016)."
5. Pride and Prejudice
Set in Regency England where marriage and class is key. Pride and Prejudice follows Elizabeth Bennet (Keira Knightley), the second of five sisters and her family's matchmaking obsession to marry all off to respectable suitors. Luck appears to be on their side when the eligible and wealthy Mr Bingley arrives in town with his best friend Mr Darcy (Matthew Macfadyen). But first impressions of the latter are less than favourable after an initial exchange with Elizabeth. As the story develops and other bachelors present themselves to the family, Elizabeth comes to question her previously held judgement though. And thankfully there's a happy ending.
GOODTO VERDICT:
"I'm a sucker for a period drama as well as any TV adaptation of a classic novel, so naturally Pride and Prejudice is one of my all-time favourite romantic movies," says Goodto's Ellie Hutchings. "In my eyes, it's the original will-they-won't-they and while it's certainly not the truest of adaptations to the book, this version feels a bit more like a classic rom-com with some period costume, stately homes, and a few shots of rural England thrown in. What's not to like?"
6. When Harry Met Sally
Sally Allbright (Meg Ryan) and Harry Burns (Billy Crystal) meet as graduates at the University of Chicago and buddy up together on a car journey to New York where they'll begin their post-grad lifes. Far from a friendly road trip, the two part and don't stay in touch. But sure enough, their paths cross again some time later and it seems their initial impressions of each other were ill-judged with the two going on to become firm friends and maybe more.
GOODTO REVIEW:
"Famous for the Meg Ryan orgasm scene alone," says Emily Stedman. "This Nora Ephron directed rom-com boasts a great cast, sharp writing and the ultimate romantic movie backdrop: New York. It tells the story of an unlikely friendship between a man and a woman navigating relationships and the dating scene before the penny finally drops..."
7. Dirty Dancing
18-year-old Frances Houseman (Jennifer Grey) - better known as Baby - journeys to family holiday resort Kellerman's for a 1963 summer of fun with her mum, dad and older sister Lisa. In between the magic shows and other such guest activites, Baby finds herself befriending a number of the resort staff, including dance teacher Johnny Castle (Patrick Swayze). And the two certainly get to know each other more intimately when an unfortunate event leads Baby no other choice but to team up as his dance partner.
GOODTO REVIEW:
"She carried a watermelon and found true love," says Emily Stedman. "Dirty Dancing is an iconic coming of age romance film that thrust Patrick Swayze into the limelight and no doubt led to a surge in dance class sign ups when released in 1987. One that's surprisingly stood the test of time - it's Oscar-winning track (I've Had) the Time of my Life remains a wedding song favourite today."
8. Ghost
Sam Wheat (Patrick Swayze) is a banker, Molly Jensen (Demi Moore) is an artist, and the two are madly in love. However, when Sam is murdered by friend and corrupt business partner Carl Bruner (Tony Goldwyn) over a shady business deal, he is left to roam the earth as a powerless spirit. When he learns of Carl's betrayal, Sam must seek the help of psychic Oda Mae Brown (Whoopi Goldberg) to set things right and protect Molly from Carl and his goons.
GOODTO VERDICT:
"If you fancy absolutely sobbing your heart out this Valentine's Day, then Ghost is the romantic film I'd recommend," say Goodto's Interim Editor Stephanie Wood. "It's not just about love, but also grief, and the final scene - where Sam (Swayze) tells Molly (Moore) "The love inside, you take it with you" as he finally leaves her in a blaze of celestial glory - will hit right at the heart of anyone who has ever loved and lost. Plus, THE POTTERY SCENE."
9. Sleepless in Seattle
Newly widowed Sam Baldwin (Tom Hanks) moves to Seattle with his son Jonah. A sly young matchmaker, Sam calls into the local radio station with a request to help find his sad dad a new wife. And after some encouragement Sam takes to the airwaves to share his own feelings. It's enough to make engaged listener and journalist Annie Reed (Meg Ryan) fall for him. And she goes out of her way to meet the man on the phone, culminating in a romantic meeting on Valentine's Day itself.
GOODTO VERDICT:
"I've seen Sleepless in Seattle so many times I've lost count, I even have a teddy bear from childhood called Walter who is named after Annie's fiance at the beginning of the film - you know, the guy with all the allergies?" says Goodto's Money Editor Sarah Handley. "Not sure why I picked him, because it's Tom Hanks' Sam that tugs on my heart strings in this movie. The scene where he's on the radio talking about his deceased wife? That's the kind of love everybody deserves."
10. Pretty Woman
Two worlds collide in Pretty Woman when businessman Edward Lewis (Richard Gere) meets prostitute Vivian (Julia Roberts). After taking a friendly shine to her on their first night together, Edward offers Vivian a 2 week professional contract to accompany him whilst in Beverly Hills for business. But sure enough the lines between their professional and personal relationship start to blur. And the unlikely pairing realise there's plenty of real-world issues to overcome if they want to make the love leap.
GOODTO VERDICT:
"A romantic rags to riches fairytale given the Hollywood treatment. For many Rom-Com fans this is one of the best romantic movies to binge on the big day," says Emily Stedman. "Julia Roberts became a household name after starring alongside screen favourite Richard Gere. And it's safe to say, her enviable film wardobe (the red Opera gown!) helped showcase her for the star she is today."
11. Moulin Rouge
Dashing young English writer Christian (Ewan McGregor) journeys to Paris during the Bohemian revolution of 1899. And within days finds himself work, helping to write a musical intended for the world famous Moulin Rouge. It's here where he meets the club's brightest star and in-demand courtesan Satine (Nicole Kidman) and what follows is a story of love, jealousy, heartbreak, joy and madness.
GOODTO VERDICT:
"Immerse yourself in the spectacular that is the Moulin Rouge! A firm favourite of mine (and my husband's!)," says Senior Content Editor Jessica Dady. "Moulin Rouge! is a musical extravaganza packed full of well-known songs that have been flipped on their heads to create a medley of upbeat, catchy sing-along classics that unfold a true love story between a Bohemian poet and a Moulin Rouge courtesan.
"When I first watched this film I was taken aback not just by the vibrant, elaborate costume and set designs but by the unique characters and cleverly written songs too. A fast-paced Baz Luhrmann classic that certainly captivated us from the start. It's a romantic rollercoaster of a film - with bittersweet highs and heartbreaking lows which had me in floods."
12. How to Lose a Guy in 10 Days
Magazine journalist and advice columnist Andie Anderson (Kate Hudson) has an inspired idea for her next feature: a how-to piece in reverse informing women of the dating don'ts that scare men away. Given the sign off by her boss, Andie just has to secure the perfect man for her experiment. Enter sports agent Ben Berry (Matthew McConaughey), a confident chap with his own mission to prove. And when the two collide - disaster and comedy ensues.
GOODTO VERDICT:
"Matthew McConnaughey at his rom com best? Check. Kate Hudson at her comedic peak? Check," says Money Editor Sarah Handley. "As a lover of rom coms, I had got to the point where they tended to be a lot more rom than com, but this one has me in stitches as Kate Hudson's Andi does everything she can to get Ben to break up with her (and she's going to write a magazine article all about it), only to find that he's putting up with all her shenanigans for a bet. But it's so lovely when these two fall for each other in spite of the crazy game-playing. Plus I've never wanted to own a canary yellow evening gown more."
13. Crazy Rich Asians
Rachel Chu (Constance Wu) is happy to accompany her longtime boyfriend, Nick (Henry Golding), to his best friend's wedding in Singapore. She's also surprised to learn that Nick's family is extremely wealthy and he's considered one of the country's most eligible bachelors. Thrust into the spotlight, Rachel must now contend with jealous socialites, quirky relatives and something far, far worse -- Nick's disapproving mother.
GOODTO VERDICT:
"For me, Crazy Rich Asians is the perfect rom com," says Goodto's Sarah Handley. "Lovely girl meets lovely boy, falls in love, only to discover he's rich. Like crazy rich. If you've ever felt like it's you and your partner against the world, you'll identify with the plight of the main characters in this movie. Watch out for the church scene with a jaw-dropping walk down the aisle, and the super-satisfying Pretty Woman moment at the end. Rom com escapism at its finest, in my opinion."
14. Crazy, Stupid, Love
On an otherwise normal date night out, Cal Weaver (Steve Carrell) learns that his wife Emily (Julianne Moore) has been unfaithful and wants a divorce. Blindsided and a little lost on where to turn next, he bumps into Jacob (Ryan Gosling) in a sleek LA bar. And the serial womaniser shares with Cal his pulling moves, soon transforming Cal into a hit with the ladies. But is this new Cal who he really wants to be?
GOODTO REVIEW:
"Ryan Gosling, Steve Carrell, Emma Stone and Julianne Moore starring in a rom-com together. Surely I don't need to say any more to convince you to watch this romantic movie?" says Features writer Ellie Hutchings.
"Aside from the cast, the quick wit and the Dirty Dancing reference (if you know you know), what I love about this film is that all the character's are interlinked in different ways that slowly become clear as the film goes on. And that scene at the end where they all meet in Cal's garden? I laugh out loud EVERY time."
15. My Best Friend's Wedding
Food critic Julianne (Julia Roberts) is shocked when she learns that her best friend Michael (Dermot Mcdermott) is soon getting married to young, happy-go-lucky Kimmy (Cameron Diaz). Overcome with a surge of mixed emotions, she makes up her mind to sabotage his wedding and make him her own - with a little added help from gay best friend George (Rupert Everett).
GOODTO VERDICT:
"Julia Roberts and Cameron Diaz were the ultimate nineties and noughties romcom aficionados," says Goodto's TV and Entertainment Writer Lucy Wigley. "This is always a feel-good film with quite a relatable plot, and the likeable leading ladies light up the screen from beginning to end."
16. 13 Going on 30
The story sees a girl, Jenna (Jennifer Garner) make a wish on her 13th birthday to be 30 in hope of overcoming her unpopularity at school. Along the way she discovers that adulthood isn't all she hoped it would be, including a broken friendship with childhood best friend Matt (Mark Ruffalo). This film touches on more than just a romance and tackles issues of bullying and peer pressure in a positive light too.
GOODTO VERDICT:
"A cheesy rom-com at its finest - I've probably watched 13 Going on 30 more times than I'd like to admit," says Goodto's Jessica Dady. "I'm a sucker for Mark Ruffalo and Jennifer Garner and their on-screen chemistry really makes this film a true rom-com gem.
"A sweet, feel-good fairy tale - dare I say 'chick flick' with a heartfelt storyline and an array of on-point comical moments; from Jenna's shock discovery she's a 13-year-old in a 30-year-olds body, complete with fully developed breasts and a half-naked man in her apartment contrast with Andy Serkis, who plays Richard; Jenna's boss, dancing on-point to the iconic 80's Thriller song at a work party. Not to mention Jenna's quirky fashion sense."
17. P.S, I Love You
Adapted from the popular book of the same name by Cecelia Ahern. Newly widowed Holly (Hillary Swank) is still dealing with the devastating after-effects of losing husband Gerry (Gerard Butler). But luckily the cheeky Irishman has planned ahead and pre-written a year's worth of letters for his wife, containing handy tips and activities to help guide her through her grief. One such adventure takes her to Ireland - where the two first met - and proves as a reminder that life does go on after tragedy.
GOODTO REVIEW:
"Another tearjerker that ranks highly in our romantic movies list is P.S, I Love You and it's bittersweet tale of love," says Goodto Family Editor Stephanie Lowe. "It was a breakout role for Scottish actor Gerard Butler (who interestingly plays an Irishman in the film). Plus Pheobe from Friends (aka Lisa Kudrow) is a much welcome addition to the rom com cast."
18. Think Like a Man
For one reason or another, friends Dominic (Michael Ealy), Jeremy (Jerry Ferrara), Michael (Terrence J) and Zeke (Romany Malco) just can't seem to seal the deal with the women in their lives. When their lovely ladies buy a book by comic Steve Harvey and start to apply its advice to their relationships, this band of brothers gets all shook up. Learning that they have been betrayed by one of their own, Dominic and his friends conspire to use the book's teachings to turn the tables.
GOODTO VERDICT:
"I love a rom com with an ensemble cast, and this one also has a great battle of the sexes going on, with game-playing galore," says Sarah Handley. "A great watch for Valentines Day where the characters learn the true meaning of love."
19. My Big Fat Greek Wedding
30-year-old Toula Portokalos is unmarried, unmotivated and still working in her family's Greek restaurant when she decides one day that enough is enough. Upon retraining as a travel agent at her aunt's company, she meets and falls in love with high-school teacher Ian Miller (John Corbett). But there's just one problem: he's not Greek and her family definitely don't want to know about it.
GOODTO VERDICT:
"A Greek woman's hilarious take on her community and overbearing, over-populated family. My Big Fat Greek Wedding is one of those must-watch romantic movies that tells of an unlikely relationship between Toula and her non-Greek fiance (aka Aidan from Sex and the City)," says Emily Stedman. My Big Fat Greek Wedding 3 is in production to be released in theatres on September 8th.
20. 27 Dresses
Jane Nichols (Katherine Heigl) has been a birdesmaid 27 times, but is yet to find her happily ever after. The personal assistant has harboured a crush on her boss George (Edward Burns) for years. But just as she plucks up the courage to tell him, her younger sister arrives in town and sweeps him off his feet instead. It's not long till the two are engaged. And Jane - a big wedding junkie - finds herself planning the nuptials to the man she loves. The only thing that could possibly make things worse is the arrival of handsome wedding announcements reporter Kevin Doyle (James Marsden) who sees Jane's story as a scoop which will help him get ahead at work.
GOODTO VERDICT:
"Fresh off the back of her Grey's Anatomy and Knocked Up fame. Katherine Heigl is watchable in whatever she does, but is at her best in a romcom lead," says TV writer Lucy Wigley. "Being a bridesmaid 27 seems pretty unbelievable before Jane gets her turn, but I cheered her all the way to the altar anyway."
21. Four Weddings and a Funeral
The film follows unlucky-in-love Charles (Hugh Grant) and his friends on the wedding circuit one year. During the first nuptials, he meets attractive American Carrie (Andie MacDowell) and the two share a magical night together. However, Charle's hopes are dashed when she returns to the states with the intention of never seeing her again. A few more nuptials and (one funeral later) their paths unexpectedly cross again. But could they ever have a future together?
GOODTO VERDICT:
"A 90s classic movie that is relatable to anyone whose close friendship or family circles sees them attend so many weddings/ funerals and while the underlying tone linking all the events is the relationships, it's the believable - and LOL unbelievable mishaps that happen along the way that will give you plenty of belly laughs!" says Senior Entertainment writer Selina Maycock.
"Of course Hugh Grant and Andie MacDowell are the stand out stars [and don't worry if you spend the whole film thinking it's Julia Roberts, like I still do, easy mistake to make], but you'll also spot some familiar faces from stars like Rowan Atkinson and Nicola Walker that will have you reaching to Google their film credits."
22. The Proposal
Book editor Margaret Tate (Sandra Bullock) faces losing it all when she's slapped with a deportation notice to send her back to Canada. Not willing to give her life up, she comes up with a plan to solve her situation, roping in her assistant Andrew Pazton (Ryan Reynolds) and announcing their whirlwind engagement. Though begrudgingly on-board, Andrew has a few conditions to the proposal, including a meet and greet with his family.
GOODTO VERDICT:
"As much as I love Sandra Bullock, it's Ryan Reynolds that steals the show for me in The Proposal," says Money Editor Sarah Handley. "His eye-rolling and exasperation at his uber-demanding boss/fake fiance, as well as his signature sarcasm, is comedy gold. It's got laughs, feels and gorgeous scenery (and I'm not just talking about shirtless Ryan)."
23. Clueless
Shallow, rich and socially successful Cher (Alicia Silverstone) is at the top of her Beverly Hills high school's pecking scale. Seeing herself as a matchmaker, Cher first coaxes two teachers into dating each other. Emboldened by her success, she decides to give hopelessly klutzy new student Tai (Brittany Murphy) a makeover. When Tai becomes more popular than she is, Cher realizes that her disapproving ex-stepbrother (Paul Rudd) was right about how misguided she was -- and falls for him.
GOODTO VERDICT:
"When it comes to Clueless, there are so many things that are just perfection," says Money Editor Sarah Handley. "The cast. The clothes. The makeovers. And is there anything more perfect for Valentine's Day than watching characters who can't stand each other realise that they loved each other all along? I don't think so."
24. How Stella Got Her Groove Back
Unlucky-in-love stockbroker Stella (Angela Bassett) jets to Jamaica with her gal pal Delilah (Whoopi Goldberg) for some fun in the sun. There, the 40-year-old working woman has an island fling with Winston (Taye Diggs) -- a handsome 20-something. When it's time to return to California, Stella realizes that she's developed real feelings for her new man. But, with their distance from each other, not to mention their disparity in age, does a real relationship stand a chance?
GOODTO VERDICT:
"There's something so heartwarming about this tale of a workaholic single mother who takes a well earned holiday to Jamaica, only to be romanced by a younger man," says Sarah Handley. "It's got glamour, it's got heart, and it's set in paradise - what more could you ask of a Valentines Day classic?"
25. Valentine's Day
In a similar format to Love Actually, it follows a group of characters in mini episodes all experiencing love troubles on Valentine's Day. From a proposal that's rejected hours later, to a teacher unknowingly in love with a married man and a US Army captain flying back especially to surprise someone for the big day.
GOODTO REVIEW:
"An obvious contender on our romantic movies list," says Goodto's Emily Stedman. "Produced and directed by American's answer to the Brit's Richard Curtis, Gary Marshall's homage to the big romantic day contains a stellar Hollywood cast. Think Jennifer Garner, Julia Roberts, Jessica Biel, Ashton Kutcher, Patrick Dempsey, Bradley Cooper and Taylor Swift."
26. Dear John
When John Tyree (Channing Tatum) meets college student Savannah Curtis (Amanda Seyfried) it marks the start of a long seven-year relationship. Up and down at times, it's ultimately tested by John's career in the military. As he spends periods of time away overseas as a soldier in often dangerous and deadly locations. The only way the two can stay in touch? Letters and beautifully written ones at that.
GOODTO VERDICT:
"Another Nicholas Sparks penned romance. Dear John is an American romance war film that sees lovers separated and their relationship put to the test," says Emily Stedman. "Channing Tatum debuts a softer side in this role alongside Mean Girls and Mamma Mia's Amanda Seyfried."
27. Me Before You
Louisa 'Lou' Clark (Emilia Clarke) swaps her cafe job for a carer role. As part of a career move to help her family make ends meet. Cheery and bubbly by nature, she finds she has her work cut out for her with Will Traynor (Sam Claflin) - the wealthy young banker left paralyzed after a biking accident two years prior. Despite an initial clash of personalities, the two soon learn to get along with each snd even become friends. With Will's cynical outlook on life shifting thanks to Louisa and her mission to make him see life is worth living. But are her efforts enough?
GOODTO REVIEW:
"So refreshing to see a couple fall in love through circumstances and not based on the stereotypical love at first sight, so if you're a firm believer of not judging a book by its cover then this is the film for you," says Goodto's Selina Maycock. "It proves that everyone deserves to be loved and to fall in love and have the relationship they've always dreamed of. Lead stars Emilia Clarke and Sam Claflin navigate their characters' feelings in this complex but strong storyline in an inspirational way whilst giving the viewer some very-relatable romantic comedy moments. The storyline is believable as like love, it's unpredictable at times."
28. Serendipity
Serendipity: "The occurrence and development of events by chance in a happy or beneficial way." It's a case of love at first sight for Johnathon (John Cusack) and Sara (Kate Beckingsale) when their paths cross in Bloomingdale's during their Christmas shopping sprees. But there's just one hitch - they're both with someone else. Sara, a frim believer in fate, puts a message out into the universe to see if they should really be together. But it appears to be a case of right thing at the wrong time and the two go back to their normal lives - until 10 years later fate steps in to lend a hand and lesson in love.
GOODTO VERDICT:
"Whether you believe in fate or not - this rom com is a totally charming flick that stars a very young (and beautiful) Kate Beckinsale," says Goodto's Family Editor Stephanie Lowe. "There's also great cameos from Mr Selfridge's Jeremy Piven and Sex and the City's Aidan and Natasha (aka John Corbett and Bridget Moynahan). And if that's not enough to win you over it's sets in a stunning snowy New York during the Christmas season."
29. Love, Rosie
Since the age of 5, Rosie Dunne (Lily Collins) and Alex Stewart (Sam Claflin) have been the best of friends. And as they grown up, the two find themselves leaning on each other though everything - from grief and break-ups to children and single parent life. But a change in location for one of them brings a new strain to the friendship. Can they work together to get past the obstacles and find the relationship they were always destined to have?
GOODTO REVIEW:
"British actor Sam Claflin plays the leading guy again in this delightful book-to-screen rom-com," syas Emily Stedman. "Based on the novel of the same name by Cecelia Ahern, it's headed up by Emily in Paris star Lily Collins and tells a tale of childhood friends and their decades-long relationship. A more modern flick in our romantic movies round-up."
30. One Day
The date is July 15, 1988 and two college graduates Emma Morley (Anne Hathaway) and Dexter Mayhew (Jim Sturgess) first lay eyes on each other. After a very brief one-night fling, the two decide they're better off as buddies. And what follows between the two is a lifelong friendship that's both cosy and chaotic at times - checking in with the two and where they're at in their 20s, 30s and 40s.
GOODTO VERDICT:
"We have to warn you, this is one of those romantic movies that will require a few tissues," says Emily Stedman. "Anne Hathaway helps bring the best-selling book by David Nicholl's to life. And whilst her Scottish accent at times might not be pitch perfect, her performance is otherwise seamless."
31. To All The Boys I've Loved Before
Lara Jean Covey (newcomer Lana Condor) has had a total of five crushes in her life. And she decides to one day, put pen to paper and share her feelings to them. The result is five soul-baring letters that are meant to never see the light of day. But of course the total opposite happens and Lara has to brace herself for a whole load of havoc coming her way.
GOODTO VERDICT:
"Streaming giant Netflix have taken on romance movies in recent years. And To All The Boys I've Loved Before is one original that went down a treat with viewers," says Emily Stedman. "So much so that a second and third film followed suit. A sweet coming-of-age love story that will take you back to your teens. This is a top pick in our romantic movies list."
Video of the Week:
Emily Stedman is the former Features Editor for GoodTo covering all things TV, entertainment, royal, lifestyle, health and wellbeing. Boasting an encyclopaedic knowledge on all things TV, celebrity and royals, career highlights include working at HELLO! Magazine and as a royal researcher to Diana biographer Andrew Morton on his book Meghan: A Hollywood Princess. In her spare time, Emily can be found eating her way around London, swimming at her local Lido or curled up on the sofa binging the next best Netflix show.