Nelson Mandela's granddaughter says she is 'mortified' that her words were 'twisted' and used against Prince Harry and Meghan Markle
Ndileka Mandela wants to set the record straight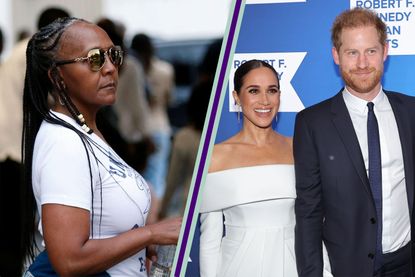 (Image credit: REUTERS/Siphiwe Sibeko/Alamy Stock Photo/Future)
Nelson Mandela's granddaughter, Ndileka Mandela, has spoken out after her words were 'twisted' and used to 'attack' Prince Harry (opens in new tab) and Meghan Markle (opens in new tab) - a couple she says she 'greatly admires.'
Ndileka Mandela has rebuffed claims that she criticised Meghan Markle and Prince Harry for using her grandfather, Nelson Mandela's, name to boost the profile of their Netflix documentary, Live to Lead.
Writing for The Independent, Ndileka said the words were 'twisted' and that she was 'mortified'.
In other royal news (opens in new tab), Prince Harry announces first public appearance since Spare release (opens in new tab).
Ndileka Mandela, the oldest granddaughter of Nelson Mandela, is setting the record straight. After reports in an Australian newspaper shared that Ndileka had accused Prince Harry and Meghan Markle of "using" her grandfather's name for profit with their latest Netflix documentary series, Live to Lead, she wrote a piece in The Independent rebuffing the claims.
She wrote, "They said I had described it as 'deeply upsetting and tedious'. And I want to set the record straight. It is true that I feel terribly disappointed whenever the Mandela name or face is used for commercial purposes without any benefit to vision he stood for. But what's ironic is that one of the biggest examples of this happening was not carried out by Harry and Meghan at all – but carried out by their critics, who falsely exploited my grandfather's name to attack them.
"In reality, I greatly admire Prince Harry and Meghan Markle for their courageous commitment to defending those less privileged than them – vulnerable people, women, and people of colour. I welcomed the Nelson Mandela Foundation's brilliant partnership with them on Live to Lead, and I celebrate the inspiration that Harry and Meghan take from my grandfather's legacy for their social activism.
"The words wrongly attributed to me, criticising them for quoting my grandfather, are not mine at all – they belong not to me, but to those who have amplified these falsehoods all over the world."
Ndileka then goes on to explain how she believes her words became so twisted. She believes, in sharing her upset at people's wrongful profiteering off Nelson Mandela's name, reports wrongly connected Harry and Meghan's Netflix project to the statement.
She explained, "I am mortified to have seen how my words were twisted in such a way as to distort my genuine concerns about the commercial exploitation of my grandfather's legacy. For decades, people have sold flyers and T-shirts of my grandfather for profits which do not support the causes and values he fought so hard for."
In case her words could be any further misconstrued, Ndileka closed her statement with a clear message of support for Harry and Meghan. She wrote, "By speaking out about their experiences in the royal family, Harry and Meghan are widening the boundaries of acceptable discourse, bringing to light the unsavoury realities of a cherished British institution that remains at the heart of racialised global inequalities.
"I believe that their detractors are afraid that, as their message spreads far and wide, more and more people will wake up to the continued systemic injustices that define how the world works today. That is why I unequivocally support their stand – and their use of my grandfather's name."
Related articles:
Royal News and Entertainment writer
Charlie Elizabeth Culverhouse is royal news and entertainment writer for Goodto.com. She began her freelance journalism career after graduating from Nottingham Trent University with an MA in Magazine Journalism, receiving an NCTJ diploma, and earning a First Class BA (Hons) in Journalism at the British and Irish Modern Music Institute. She has also worked with BBC Good Food and The Independent.