Prince Harry opens up about how his childhood shaped how he parents Prince Archie and Princess Lilibet
"I, as a father, feel a huge responsibility to ensure that I don't pass on any traumas or negative experiences I've had"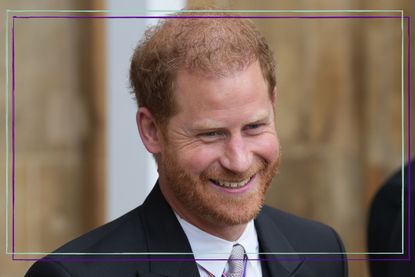 (Image credit: Dan Charity - WPA Pool/Getty Images)
Prince Harry has spoken candidly about how the 'traumas' and 'negative experiences' of his childhood have impacted his parenting style with his own children, Prince Archie and Princess Lilibet.
Prince Harry has said he 'smothers' his children 'with love and affection' to ensure he doesn't 'pass on any traumas or negative experiences' that he says plagued his own childhood.
The Prince opened up about the changes he has made in his life to remove the 'root cause' of his trauma and ensure he can raise Archie and Lilibet 'in a way that's really beneficial and good for them.'
---
Prince Harry has spoken candidly about his parenting style and how his approach to raising his two young children, Prince Archie and Princess Lilbet, whose new royal titles were officially confirmed earlier this year, has been shaped by his own childhood. And while we have learnt many parenting rules from him and his wife Meghan Markle, the Prince revealed that he is still 'working everyday' to ensure he's doing the best he can for Archie and Lilibet.
During a livestream event for his memoir Spare that came out earlier this year, alongside Dr. Gabor Maté, the author of the bestselling book Myth of Normal: Trauma, Illness, and Healing in a Toxic Culture, Harry revealed how his own childhood, particularly the lack of physical contact he experienced during it, continues to influence both his and Meghan's decisions when it comes to their kids, who Meghan reportedly wants to have a relationship with their grandpa King Charles 'now, more than ever.'
The most emotional point in the live-streamed conversation came as the pair spoke about personal healing. Dr. Maté brought up a selection of passages from Spare where Harry had recalled his childhood wish for both his father King Charles and his grandmother the late Queen to be more physically affectionate with him. The Dr asked Harry whether or not that lack of physical contact had shaped his current parenting style.
He replied, "It leaves me in the position how as a father, I have two kids of my own, making sure that I smother them with love and affection," before adding jokingly that he doesn't "smother them to the point that they're trying to get away."
He continued, "But in the sense that I as a father feel a huge responsibility to ensure that I don't pass on any traumas or negative experiences I've had. And that's work, that's putting in the work, and daily, being conscious of my behaviour, of my reactions to both of my kids.
"And there are times when I catch myself in a moment when I should be smothering them with that love and in that moment, I might not be, reminding myself [to]. I wouldn't have been as aware of it had I not done the therapy and work that I've done,"
Clearly interested in the Prince's admission, Dr. Maté then asked Harry what he believed the 'impact' of 'not getting the hugging the way you didn't get it' would have on his family.
Imagining the scenario, Harry explained, "I don't know what the impact would be, but I imagine the result would be similar. That's why, again, I am grateful to have been able to change my environment, which I fully appreciate that not everyone can do, because it comes down to resource.
"To be able to change the root cause of so much of those issues, to be able to up, move, that to me, feels as though it gives me much more of a chance, and my wife, more agency as parents, to be able to bring our kids up in a way that's really beneficial and good for them."
Elsewhere in the livestream, Harry took time to praise Meghan Markle, sharing that she 'saved him' during a time in his life where he felt 'stuck.'
He revealed, "My wife saved me. I was stuck in this world, and she was from a different world and helped draw me out of that. But none of the elements of my life now would have been possible without me seeing it for myself.
"My partner is an exceptional human being and I'm eternally grateful for the wisdom and the space that she has been able to give me."
Royal News and Entertainment writer
Charlie Elizabeth Culverhouse is royal news and entertainment writer for Goodto.com. She began her freelance journalism career after graduating from Nottingham Trent University with an MA in Magazine Journalism, receiving an NCTJ diploma, and earning a First Class BA (Hons) in Journalism at the British and Irish Modern Music Institute. She has also worked with BBC Good Food and The Independent.