Queen Elizabeth's 'brilliant' response to being told to keep still revealed by portrait artist
A royal portrait artist shared a hilarious exchange with the Queen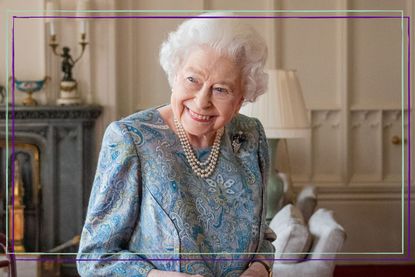 (Image credit: Getty Images/ Dominic Lipinski - WPA Pool)
A royal portrait artist has recalled a hilarious moment he shared with Queen Elizabeth II after he told her to 'keep still' for his painting.
---
Following Her Majesty's state funeral (opens in new tab) in September, British artist Christian Furr has spoken of the Queen's 'brilliant sense of humour and detailed a cheeky moment he shared with her, as he painted her portrait in 1995.
Undertaking the project at just 28 years old, Furr told OK! (opens in new tab) that during the portrait sitting he was "concentrating on something and thinking, 'I've got to get this right.'."
He went on, "And the Queen was kind of bopping around listening to some music outside that she clearly enjoying. And I said, 'Oh, do you mind keeping your head still?'"
He then revealed that the Queen looked at him and then quipped, "Isn't it still already?" before he added, "She was so funny, she had a brilliant sense of humour."
Speaking on his experience painting the Queen for the first time, he added, "I was very nervous but as soon as she arrived, she said, 'Oh, we've started now.' She was very able to relax with you instantly."
This mirrors a similar sentiment shared by Sir David Attenborough, who said he will remember her for her 'most precious laugh (opens in new tab),' and spoke of her ability to put people at ease.
Furr's portrait of the Queen is now on display at the Royal Over-Seas League, but he shared the image on his Instagram account to mark her Platinum Jubilee, again taking a moment to praise the humour.
He wrote in the caption, "The Queen is unruffable and when you get to know her she has a delicious almost deadpan sense of humour. She said a few things that made me laugh that I couldn't repeat."
Since the Queen's passing, the royal family has released a number of poignant portraits in tribute to her, including one of her beloved pony Emma (opens in new tab), and a never-before-seen photograph of the Queen (opens in new tab), taken during her Platinum Jubilee.