What happened between Jamie Lynn Spears and Britney Spears? Everything we know as Britney's sister appears on I'm A Celeb
As the actress heads into the jungle this year, viewers are curious to know what happened between Jamie Lynn and Britney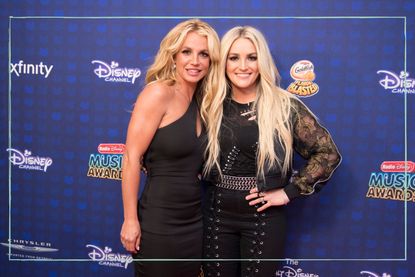 (Image credit: Getty Images)
The Sweet Magnolias star is heading into the jungle, and viewers want to know what happened between Jamie Lynn Spears and her sister, Britney.
The I'm A Celeb 2023 line-up has been revealed, and as well as wondering when I'm A Celeb starts, fans of the show are eager to find out all about the stars heading into the jungle this year. Jamie Lynn Spears has caught the attention of many, with fans wanting to know all about the actress.
Known for her roles in Nickelodeon's Zoey 101 and Netflix's Sweet Magnolias, some are wondering how many kids Jamie Lynn Spears has and other details about her family life - but perhaps what the actress is best known for is her status as Britney Spears' sister. Following Britney's conservatorship, which saw her finances and assets controlled by her father, Britney and Jamie Lynn appear to have had a strained relationship, often airing their grievances publicly. So it's no surprise that TV fans want to know what happened between Jamie Lynn and Britney Spears.
What happened between Jamie Lynn Spears and Britney Spears?
Jamie Lynn and Britney have had their ups and downs over the years, with Britney previously saying she wanted to sue her family over the conservatorship. Jamie Lynn has publicly tried to defend her sister in the past, though Britney has previously claimed that her sister didn't have her back.
In 2008, Britney was placed under conservatorship, with her father in charge of her state and finances. Britney's conservatorship was terminated in November 2021, and since then she has very publicly called out her family for it - particularly in her new memoir, The Woman in Me.
Her relationship with Jamie Lynn appears to have suffered as a result, with the pair going at each other on social media more than once in the past few years. And as the sisters don't follow each other on Instagram, it seems things are far from patched up.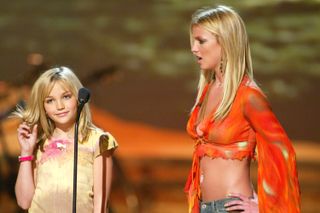 2018: Jamie Lynn reportedly becomes a trustee of Britney's estate
Jamie Lynn was secretly named as a trustee of Britney's fortune, according to legal documents obtained by The Blast. This meant that in the event of Britney's death, Jamie Lynn would be responsible for ensuring that her assets were used to take care of her children.
It was the first time Jamie Lynn was named in connection with Britney's conservatorship.
2020: Jamie Lynn makes a move to increase her control over Britney's fortune
It is reported that Jamie Lynn had made a move to obtain more control over Britney's fortune, by transferring that star's financial assets to different accounts that would require a judge's approval to remove them - as reported by the Los Angeles Times.
June 2021: Britney wants to sue her family over her conservatorship
Britney speaks in court and explains she wanted to take legal action against her family. She said, "I would honestly like to sue my family, to be totally honest with you. I also would like to be able to share my story with the world, and what they did to me, instead of it being a hush-hush secret to benefit all of them."
Jamie Lynn then spoke out on Instagram after followers questioned why she hadn't openly supported the 'Free Britney' movement. She said, "I'm so proud of her for using her voice. I'm so proud of her for requesting new counsel like I told her many years ago - not on a public platform but just in a personal conversation between two sisters.
"If ending the conservatorship and flying to Mars or whatever the hell else she wants to do to be happy - I support that 100% because I support my sister.
"I love my sister. Always have, always will. As long as she's happy. So let's keep praying. That's all."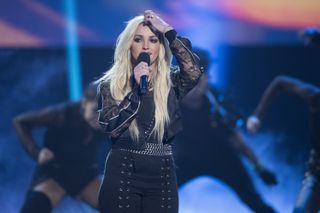 July 2021: Britney calls out Jamie Lynn on Instagram
Britney called out her father and sister with a post on Instagram captioned, "I'm not gonna be performing on any stages anytime soon with my dad handling what I wear, say, do, or think I've done that for the past 13 years."
She continued, "I don't like that my sister showed up at an awards show and performed MY SONGS to remixes!!!!! My so-called support system hurt me deeply."
She then threw shade at her sister a few days later, mocking an Instagram post Jamie Lynn had captioned "May the peace of the Lord be with you, and your spirit," by posting a video of herself with the caption, "May the Lord wrap your mean a** up in joy today."
January 2022: Jamie Lynn shows her support, but Britney hits back
Jamie Lynn said in an interview with Good Morning America, "I've only ever loved and supported her and done what's right by her, and she knows that. So I don't know why we're in this position right now. … I've always been my sister's biggest supporter, so when she needed help, I set up ways to do so."
She added that she didn't even "understand" the conservatorship, and felt "happy" when it ended.
Britney hit back against these claims, adding that her younger sister "never had to work for anything", leading Jamie Lynn to write a lengthy social media post. She said, "I can't help that I was born a Spears too, and that some of my experiences involve my sister. I've worked hard since before I was even a teenager, and I've built my career in spite of just being someone's little sister."
But after accusing Jamie Lynn of making up stories to sell her memoir, Things I Should Have Said, Britney appeared to offer her sister an olive branch, writing, "Jamie Lynn … I don't think your book is about me at all … I said some harsh things because you obviously hurt me by the things you are making up about me."
Though she added, "What Dad did to me, they don't even do to criminals ... so for you to sit back and act completely aloof to what has happened to me is honestly insane to me!!!"
Later that month, Britney's lawyer sent Jamie Lynn a cease and desist letter, demanding that Jamie Lynn stop "referencing Britney derogatorily" while promoting her memoir.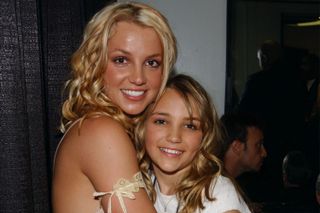 December 2022: Britney and Jamie Lynn appear to have made up
Britney celebrates her birthday on Instagram with a collection of photos of Jamie Lynn, shortly after her younger sister's performance in Sweet Magnolias. The original caption of the Instagram post has since been edited, but according to People, Britney initially wrote: "It's my b-day but you're my heart so I'm thinking about you … congratulations on being so brave, inspiring, and showing guts and glory in your show."
July 2023: Jamie Lynn talks about her relationship with Britney
In an interview with Variety, Jamie Lynn was reluctant to offer an update on her relationship with Britney. She said, "If I learned anything from last year, being so open and feeling like I had to defend myself at times, I don't feel like there's anything else that I need to say. I just have to leave it where it is because those conversations are meant to be personal. All I can focus on now is my girls, my husband and the work that I'm doing."
October 2023: Britney's memoir reveals more about her relationship with Jamie Lynn
Britney's new memoir, The Woman in Me, touches on her relationship with Jamie Lynn. She wrote: "My sister and I should have found comfort in each other, but unfortunately that hasn't been the case. As I was fighting the conservatorship and receiving a lot of press attention, she was writing a book capitalizing on it. She rushed out salacious stories about me, many of them hurtful and outrageous. I was really let down."
"She will always be my sister, and I love her and her beautiful family," she added. "I wish the absolute best for them. She's been through a lot, including teen pregnancy, divorce, and her daughter's near-fatal accident. She's spoken about the pain of growing up in my shadow. I'm working to feel more compassion than anger toward her, and everyone who I feel has wronged me. It's not easy."
November 2023: Jamie Lynn joins the I'm A Celebrity cast
Jamie Lynn is revealed as a contestant on the latest series of I'm A Celebrity, telling ITV that she wants to show the world what she is really like as a person. She said, "There is literally every misconception you can have on a person about me so I don't take any of it seriously."
Meanwhile, Britney appeared to take a swip at her sister when the news was announced, posting an Ernest Hemmingway quote on her Instagram that read: "All things truly wicked start from innocence," shortly after the I'm A Celeb line-up was confirmed.
Jamie Lynn spears net worth
According to Celebrity Net Worth, Jamie Lynn Spears has a net worth of £4.82million ($6 million). The star first entered the limelight as a teenager with her own Nickelodeon show, Zoey 101. However, she had also made an appearance in Britney's iconic film Crossroads in 2002.
Since her time as a child star, Jamie Lynn has held a leading role in seasons one and two of Netflix's popular TV show Sweet Magnolias, and reprised her old Nickelodeon role for the film Zoey 102, released in July 2023. The films is a sequel to the TV series and aired on Paramount+.
As well as heading to Australia for this year's I'm A Celebrity, Jamie Lynn recently took part in Dancing With the Stars, before being eliminated in a public vote.
Want to know more about the I'm A Celeb cast? We've taken a look at who Nella Rose is and whether Grace Dent is married too.