How many kids does Jamie Lynn Spears have and how old was she when she had her first?
The star is a devoted mom as well as an actress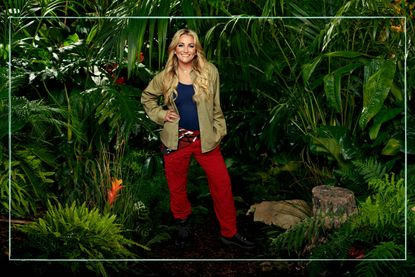 (Image credit: ITV)
How many kids does Jamie Lynn Spears have? As the actress is set to appear on I'm A Celebrity, we take a look at her family life.
Earlier this year, Jamie Lynn Spears reprised her role as Noreen in the Netflix hit Sweet Magnolias. Since then, she's gone on to appear in Dancing With The Stars and now that the I'm A Celebrity 2023 line-up has been confirmed, she's heading into the jungle too.
Ahead of the start of I'm A Celebrity, fans of the show are keen to know all about the family lives of those about to take part in the bushtucker trials, wondering whether Grace Dent is married and if Tony Bellew is married too. Now, similar questions are being asked of Jamie Lynn Spears - with many wanting to know what happened between Jamie Lynn and her sister Britney. Read on to find out how many kids she has, and how old she was when she had her first.
How many kids does Jamie Lynn Spears have?
Jamie Lynn Spears has two daughters. Her first child, Maddie, was born in June 2008 to Jamie Lynn and her then-boyfriend, Casey Aldridge. Jamie Lynn's second daughter, Ivey Joan Watson, was born in 2018, and she shares her with businessman James Watson.
After her first pregnancy, Jamie Lynn stepped away from her acting career and has only recently returned to screens, with Zoey 101 reboot Zoey 102 released in July 2023, and Sweet Magnolias taking off and re-catapulting her back into the public eye.
In 2019, when news about her TV return was announced, Jamie Lynn tweeted, "Mama's going back to work y'all. Can't wait for y'all to meet 'Noreen'!! I fell in love with this story, and so excited I get to be a part of telling it #SweetMagnolias."
How old was Jamie Lynn Spears when she had her first child?
Jamie Lynn Spears was 17-years-old when she had her first child, Maddie. The actress was starring in Nickelodeon comedy-drama Zoey 101 when she found out she was expecting Maddie Briann at the age of 16.
Her first daughter was born on June 19, 2008, and her father was Spears' then-fiancé, 19-year-old Casey Aldridge. The star soon announced she'd be stepping away from acting to focus on motherhood. Speaking to Nylon, the actress recalls attending an audition for Twilight, and feeling very sick while being unaware of her pregnancy. Although related to nerves, the nausea later helped her confirm she was expecting.
She said of ex-fiance Aldridge "You have your first love, or what you call love in high school. You think it's forever, and then, oh my gosh, I'm pregnant." She continued "I am mortified to have to tell my parents this and my family this. That was all I was thinking about: 'These are the people I love that I have to tell, and also, I'm pregnant. There's a human being growing inside of me, and I'm so young, I'm almost a baby myself.'"
Jamie Lynn felt the need to hide away from the press and those feelings, and moved to live a more quiet life in Mississippi. Elaborating on this, the star said "So, I got me a little house. I put a big gate up around it, and I was like, 'I'm going to stay here, raise my baby, and figure this out because this is real life. I've put myself in this situation, I'm not condoning it or saying it's right, but these are the cards that I have to play.'" Spears and Aldridge split in 2010, when Maddie was 19-months-old.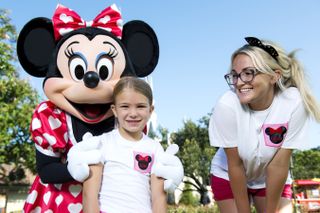 Who is Jamie Lynn Spears' husband?
James Watson is a businessman who reportedly works for a company that sells electronics. The couple dated for a couple of years before Watson proposed in 2013 - a New Orleans wedding followed the following year.
Writing a social media tribute to her husband on their eighth wedding anniversary, Spears wrote "I was an 18 year old single mom, when this guy came into my life, he made me laugh more then I ever had before, and his never changing consistency gave me stability for the first time in my life. I felt a sense of peace with him, and I think that's what being in love is suppose to feel like, just feeling at peace."
James appears to have a good relationship with Maddie, often sharing proud parent moments featuring her on his own social media. He shared a cute picture of her in her High School uniform on what appeared to be her first day; the post was simply captioned "High Schooler."
Was Jamie Lynn Spears pregnant on Sweet Magnolias?
Although Jamie's character Noreen was pregnant during Sweet Magnolias season 2, she wasn't actually pregnant in real life.
There was much fan speculation at the time surrounding a possible real-life pregnancy, Spears' bump wasn't real. She also shared several pictures to Instagram, showing the fake bump at various stages of development, and her wearing it during the shoot.
Daughter Ivey also made a sweet cameo during season two, with Spears writing another Instagram post announcing the news. "In honor of #sweetmagnolias being #1 today!! SPOILER ALERT MAJOR GUEST STAR APPEARANCE IN EPISODE 6!" she wrote, adding "Yes, she was quite the DIVA, but the girl knows her angles, and can rock some pig tails like no other Thank y'all, thank y'all, THANK YALL for loving this show as much as we do I am beyond GRATEFUL."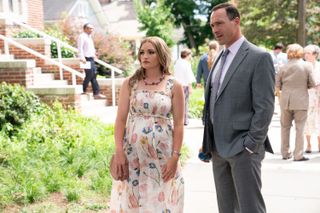 Why did people boycott Sweet Magnolias season 2?
Fans of Jamie Lynn's sister Britney Spears, threatened to boycott Sweet Magnolias as they felt Jamie Lynn wasn't properly supporting her sister through her conservatorship problems.
An apparent feud between the pair broke out on social media, with both making accusations against each other regarding poor treatment. One viewer wrote on Twitter of the boycott, "Still refusing to watch @SweetMagnolias (which was a favorite) since @netflix didn't edit @jamielynnspears out. It's trash now....just like her. #SweetMagnolias."
Still refusing to watch @SweetMagnolias (which was a favorite) since @netflix didn't edit @jamielynnspears out. It's trash now....just like her. #SweetMagnoliasFebruary 3, 2022
See more
Another added "I love Sweet Magnolias but Jamie Lynn being in it is a major downside. Not a person I'd want on my screen." Jamie Lynn did little to address the controversy, but a lengthy Instagram statement from the actress about her sister concluded with "There are no sides, and I don't want drama, but I'm speaking my truth to heal my traumas so I can close this chapter and move forward, and I wish my sister could do the same."
She added "No matter what comes, I will always love my big sister, and be here for her. It's time to put an end to the unhealthy chaos that has controlled my life for so long."
For more news on celebrities and their children, we have everything you need to know about how many kids Joe Swash has. Similarly, people have been wondering how many kids does Andy Murray have, and we have the lowdown. If you've been wondering who Lewis Hamilton is dating and does he have kids, we have this covered too.