What happened to Natascha Kampusch, and where is Wolfgang Priklopil now? Channel 5 documentary The Girl In The Cellar looks at the true crime case
A documentary delves into the horrifying case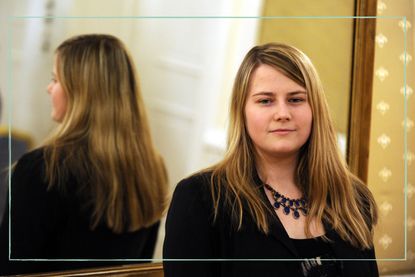 (Image credit: dpa picture alliance archive / Alamy Stock Photo)
When Natascha Kampusch disappeared, her mother tried everything to find her. When she reappeared, the truth of her ordeal shook the world.
The Channel 5 documentary The Girl in The Cellar: 8 Years Underground, is set to delve into the 1998 disappearance of Natascha Kampusch. Natascha was 10 years old when she disappeared seemingly without trace, on March 2, 1998, from near her home in Vienna. A huge police investigation took place, spanning not just Austria, but reaching much further abroad. Eight years later, Natascha was found alive and the truth of her years missing spread rapidly. Her story spawned many conspiracy theories, and later inconsistencies meant that the truth of her time in captivity was sometimes shaky. With the documentary attempting to reveal the truth, we look at what happened to Natascha Kampusch, and the whereabouts of her kidnapper.
Channel 5 dramatised the disappearance in Soham, of Holly Wells and Jessica Chapman in 2002. When Maxine aired we looked at how long Maxine Carr served, and what she was charged with (opens in new tab), for her part in the crime. Scott Reid plays Ian Huntley (opens in new tab) in the drama, and we delved into who he was, and where viewers might've seen him before. Over on Netflix, for those asking is The Stranger a true story (opens in new tab), we have the lowdown on how much truth there is to the crime thriller.
What happened to Natascha Kampusch?
On March 2, 1998, Natascha Kampusch was abducted from the street by Wolfgang Priklopil in the city of Vienna, while walking to school. One of Austria's largest missing-person searches ensued, turning up no leads.
After reports that Natascha had been seen being dragged into a white minivan by two men, the search focussed on minivan owners. Police even visited and interviewed her abductor who was listed as owning a minivan. However, they were satisfied with the alibi he offered, and didn't pursue him as a suspect any further. Natascha was kept in a secret, windowless cellar at Priklopil's house in Strasshof, just north-east of Vienna. Here, she was physically and sexually abused, and initially not allowed to leave the cellar under any circumstances. Over time, she was allowed access to other areas of the house, and was forced to cook and clean for Priklopil. He offered her books and a radio, and did not object to her continuing to educate herself.
Eventually, Priklopil allowed Natascha to attend holidays with him, although she asserted he always watched her closely and there was no opportunities for her to escape. During the early afternoon of August 23, 2006, the then 18-year-old Natascha was permitted to the driveway of the Priklopil's house, to vacuum his car. When he received a phonecall, he moved away from the noise of the vacuum, and temporarily out of sight. Leaving the vacuum running, Natascha took this opportunity to escape, running to he house of a neighbour and telling him who she was. The police were called, and Natascha was able to be reunited with her family.
The worldwide press were impressed by how articulate was, and how confidently she held herself with poise, after such an ordeal. It was found that she'd hardly grown during her time in captivity, nor gained much weight - Natascha stated that Priklopil would often withhold food from her. When she later made statements indicating she felt sorry for her captor, speculation arose she was suffering from Stockholm Syndrome. Natascha deems this term to be "disrespectful" to her, and the feelings she has about her relationship with Priklopil.
Why did the kidnapper kidnap Natascha Kampusch?
According to Natascha, Wolfgang Priklopil kidnapped her so that she could perform housework tasks for him.
He also set her a daily schedule to ensure she completed the household tasks set, while also being able to continue her studies. Including the books and radio he supplied for her, he later bought things Natascha requested, including a TV, a desk and chair, games, books, and magazines.
However, although Natascha was allowed some of the luxuries she requested and eventually let out of the cellar into the garden, Sky (opens in new tab) reports she also suffered immense cruelty at the hands of Priklopil. They report one of his motives for her kidnap was due to his admiration of Hitler - he wanted her to feel like she was victim of the nazis. In a statement after her escape, Natascha said "He gave me little to eat, little clothes, humiliated me, let me do heavy work and shaved my head. He admired Adolf Hitler and wanted me to feel like the Nazi victims."
She kept a secret diary, written on toilet paper, that she kept well hidden from Priklopil. One entry is said to have read "At least 60 blows in the face. Ten to 15 nausea-inducing fist blows to the head. One strike with the fist with full weight to my right ear." Natascha has always denied rumours she had a baby with her captor. Documents leaked about her ordeal, include an interview with doctor who examined her when she was found - she allegedly asked how long after a delivery you could tell if a woman had been pregnant.
According to The Australian (opens in new tab), Natascha addressed this conversation by saying "It is true that I did inquire about the subject because biology interests me and I'm interested in the human body. But it had nothing to do with me personally." On pregnancy books being found in her cellar, she suggested they were only there because Priklopil had placed them there, claiming suggestions she had ever been pregnant were "outrageous".
What is Natascha Kampusch doing now?
Natascha Kampusch in now an author, television personality, and activist. Although reluctant to speak about her ordeal initially, she later wrote two books about her time in captivity.
She released her first book entitled 3096 Tage (3096 Days), in September 2010, and it was made into a film in 2013. Her second book coincided with the 10th anniversary of her escape, and was titled 10 Years of Freedom - the book came out in August 2016. She has been given Priklopil's house, and although she doesn't live there, still pays any necessary bills and upkeep for it. She cites the house as being a big part of her formative years, and visits regularly to ensure it isn't being vandalised or damaged.
She also briefly had her own talk show on Austrian TV channel, PULS 4. Beginning on June 1, 2008, the show was called Natascha Kampusch trifft (Natascha Kampusch meets), but it only ran for three episodes. After suffering cyberbullying after her ordeal, Natascha also speaks widely about the subject and has written a book about it. Cyberneider (Cyberjealous) was released in 2019, and Natascha said to Business Insider (opens in new tab) "online abuse became a part of my everyday life. There were times where I didn't even go out anymore because the abuse was so bad. But I don't want to hide. I never wanted to. This is why. in my book, I want to bring attention to the issue and tell people how cyberbullying can feel".
Is Wolfgang Priklopil still alive?
Wolfgang Priklopil died on the day Natascha Kampusch escaped. Realising the implications of being caught, he threw himself under a train.
Realised his arrest was imminent, Priklopil fled his house in the car Natascha had been vacuuming. The car later found abandoned by police, while Přiklopil continued to evade police on foot, until he reached the Wien Nord station in Vienna. He then took his own life by jumping under a train.
It was reported that Natascha was distraught on hearing about his death, crying for hours. Her mother reported that she carried a picture of him around with her for a time after his death, fuelling speculation she was suffering Stockholm Syndrome. She allegedly said "I feel more and more sorry for him – he's a poor soul."
Related Channel 5 Features:
Video of the Week
Lucy is a multi-award nominated writer and blogger with six years' experience writing about entertainment, parenting and family life. Lucy has contributed content to PopSugar and moms.com. In the last three years, she has transformed her passion for streaming countless hours of television into specialising in entertainment writing. There is now nothing she loves more than watching the best shows on television and telling you why you should watch them.