The Family Pile on ITV: Plot, cast and everything you need to know about the new comedy series
Four sisters need to sell their family home, but can't agree on anything...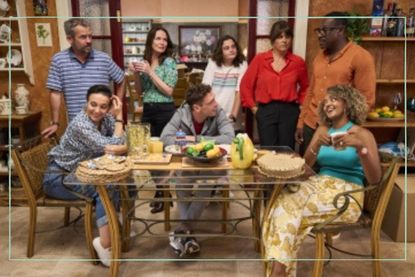 (Image credit: ITV/Future)
There's new comedy to brighten up the still-dark evenings - we deliver everything you need to know about ITV sitcom The Family Pile.
One of life's major milestones gets a comedic exploration in The Family Pile, starting on ITV on January 17, at 9.30pm. Sisters Nicole, Yvette, Ursula, and Gaynor, have some big decisions to make when they find themselves in the midst of grief - and hilarious consequences ensue. The series, despite dealing with difficult subject matters, promises to bring the laughs. The script was penned by Brian Dooley, famous for writing award-winning comedy The Smoking Room, as well as Being Human, Becoming Human, and The Sarah Jane Adventures. Read on for everything you need to know about the sitcom, including cast and plot details.
Elsewhere on ITV, pertinent drama Maternal (opens in new tab) has recently started. We have the full lowdown on the cast and characters, and very relevant themes of the mum-centred medical drama. Maternal is filmed (opens in new tab) in a different location to where it's set, and we delve into exactly where the cast and crew shot their scenes. Looking ahead to February and more must watch television, we share when Nolly starts on ITV (opens in new tab). The Russell T Davies penned drama stars Helena Bonham Carter as soap legend Noele Gordon.
The Family Pile on ITV: Plot
In The Family Pile, Nicole, Yvette, Ursula, and Gaynor, have recently lost their parents. They need to pack up their family home and sell it on, but can't agree on a lot of the important decisions.
Even in grief, the messy lives of the four women continue - episode 1 sees eldest sister Nicole sneaking the house onto the market, fed up with the lack of help from her siblings. It's soon a decision she'll come to regret, when taking prospective buyers around the house reveals a secret she'll be forced to keep...
The concept of the show is not generally associated with comedy. However, Alexandra Mardell, who plays Gaynor on the show, spoke out about this. She said "It doesn't sound like a very funny concept but it is. The characters are so relatable and that's what makes it so funny."
She added "I think the viewers will be laughing their heads off but some moments are really meaningful. We had a really great chemistry, we really felt like a family and some of our inside jokes made it into the show."
The Family Pile on ITV: Cast
Amanda Abbington as Nicole
Most viewers will recognise Amanda Abbington for her roles as Miss Mardle in Mr Selfridge, and Mary Watson in Sherlock. She was previously in a relationship with Martin Freeman, with the pair meeting on the set of Men Only in 2000. They have two children together and separated in 2016. Amanda is currently engaged to escapologist Jonathan Goodwin.
Speaking about reading the script for The Family Pile, Amanda said "the scripts really made me laugh and I'd worked with the director Fergal Costello on a recent sci-fi show I did, We Are Not Alone and thought he was amazing. Then when I saw that Clare and Claire had been cast, that was it. I've always loved their work so the opportunity to play one of their sisters was fantastic."
Clare Calbraith as Yvette
Clare Calbraith is most recognisable to audiences for the roles of Dr Tricia Summerbee in Heartbeat, Robyn in Coronation Street, and Jane Moorsum in Downton Abbey. She has also made appearances in DCI Banks, Silent Witness, Casualty, and Unforgotten.
Speaking about the dynamics between the four sisters, Nicole actress Amanda Abbington told What To Watch "As the eldest of the four sisters Nicole has taken on the matriarchal role. She's very business-like, organised and quite acerbic. She's happily married to her husband Stuart and fiercely protective of her two sons. Family is everything to her and she would kill for her sisters but at the same time they really rub her up the wrong way!"
Claire Keelan as Ursula
Claire Keelan has appeared in many small parts in sitcoms throughout her career. Other notable TV appearances include The Trip, Black Mirror, and Cold Feet. Having worked extensively in theatre, her theatre credits include Top Girls, Ultra Violet, Les liaisons dangereuses, A Midsummer Night's Dream, Rise and Shine and The Electric Hills.
Speaking more about the ladies cast as her sisters, Amanda Abbington said "I'm an only child so I don't know what having siblings is like but having these three brilliant and very funny women with me on set, I felt like they really had my back. We were all incredibly supportive of one another and had a lovely chemistry which I hope comes across on screen. Claire Keelan said 'We are like sisters from another mister'. It was a dream job to do."
Alexandra Mardell as Gaynor
Alexandra Mardell came to prominence for her role as Emma Brooker in Coronation Street. In November 2022, it was announced she would be partnered with Kai Widdrington and be taking part in the 2022 Strictly Come Dancing Christmas Special - Alexandra went on to win the competition.
The actress shared some photos and a TV news interview segment featuring herself talking about the show, to her Instagram page. She captioned the post "The FP fam make me smile so much! We had a little screening this week and it was soooooo good to see it all come together, catch up with the team and watch my fabulous new family do their thaaaang!"
Other cast members of The Family Pile
Kieran O'Brien (Andor, Ted Lasso) as Stuart
Richard Pepple (The Rig, Gangs of London) as Austin
James Nelson-Joyce (The Responder, The Outlaws) as Greg
Nellie Slaven as Poppy
How many episodes of The Family Pile will there be?
There will be a total of 6 episodes of The Family Pile on ITV and ITVX, each will be 30 minutes long. Immediately after the first episode has aired on ITV, the remaining 5 episodes will be available to view together on ITVX.
ITVX has replaced original ITV catch up service, ITV hub. Viewers who already had ITV Hub downloaded didn't need to do anything to switch to ITVX, as this happened automatically. For audience members without ITVX, the basic platform can be accessed for free - all you need to do is sign up for an account (opens in new tab). Functioning as an entry-level tier, signing up offers viewers access to the extensive ITV back catalogue, and anything they might've missed on the channel that they'd like to catch up with.
There is an option to watch live TV available with the free ITVX option, with the only downside being that all shows will include adverts to make up for the service being free. To view the catalogue without ads, ITVX will have a premium subscription service for £5.99 per month or £59.99 per year. A benefit of ITVX is that many new series will have their entire set of episodes put on the streamer immediately after the first episode has aired, for those who don't want to wait weekly for episodes.
Where is The Family Pile filmed?
The Family Pile filmed entirely in Liverpool. Writer Brian Dooley, and executive producer Jimmy Mulville, are both from the city.
According to The Guide Liverpool (opens in new tab), the production crew created a full-size family home interior set seen in images from the show, inside the now-empty Pensby High School for Boys in Wirral Peninsula. Exterior shooting took place in Crosby and Bebington. The production also offered a number of ]training and professional development opportunities for up-coming talent based in Liverpool, including the costume and make-up departments, production accountancy and camera grips.
On filming in the area, Head of Liverpool's Film Office, Lynn Saunders, said "With its unique brand of humour, Liverpool has been the cradle of some legendary TV sitcoms over the years including The Liver Birds, Bread and Watching. Hot from their Derry Girls success, we're delighted to welcome Jimmy and the Hat Trick team to the city with a new show that keeps the gags and punchlines flowing whilst at the same time dealing with some potent emotional issues. It's been a long wait but The Family Pile finally puts the Scouse sitcom back on mass audience prime time where it belongs."
Related ITV Features:
Video of the Week
Lucy is a multi-award nominated writer and blogger with six years' experience writing about entertainment, parenting and family life. Lucy has contributed content to PopSugar and moms.com. In the last three years, she has transformed her passion for streaming countless hours of television into specialising in entertainment writing. There is now nothing she loves more than watching the best shows on television and telling you why you should watch them.