Where is Nolly filmed? Locations featured in the ITVX Crossroads drama with Helena Bonham Carter
The actors looked to have a blast while filming on location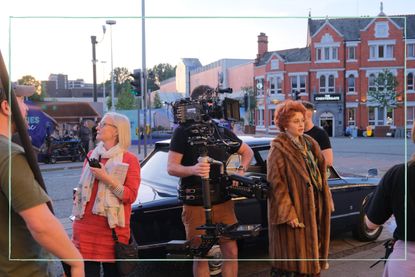 (Image credit: ITV/Future)
Helena Bonham Carter brings the colourful career and controversies of acting legend Noele Gordon to life, in ITVX drama Nolly - but where was the series filmed?
BAFTA-winning and iconic Helena Bonham Carter stars as fellow icon Noele Gordon, in drama series Nolly, landing on ITVX (opens in new tab) on February 2. The legendary actress portrayed flame-haired widow Meg Richardson in the long-running soap opera Crossroads, becoming one of the most well known faces in Britain. In 1981, at the peak of the soap's success and with Nolly a beloved household name, she was unceremoniously axed from the show with no warning or explanation. With Noele cast out of the show that was her life for over 18 years, the 3-part series explores what happens to women who refuse to play by the rules, acting as a love letter to a TV legend while depicting her most tumultuous years. Viewers are sure to recognise some of the locations featured in the drama, as we reveal exactly where they can be found while taking a deeper look at the life of Noele Gordon.
Elsewhere at ITV, Maternal (opens in new tab) is proving to be an important show highlighting the plight of women returning to work and realising it's impossible to have it all. Although set in Manchester, Maternal filmed (opens in new tab) in an entirely different Northern city. Another location fans have been asking for, is where Hotel Portofino filmed (opens in new tab) - the actual places featured might also come as a surprise.
Where is Nolly filmed?
External locations featured in Nolly, filmed in Manchester, Bolton, and Venice. Internal shots were filmed in Space Studios Manchester.
In Manchester, film crews were spotted at Salford Lads' Club in Ordsall, and Stockport Plaza. Salford Lads' Club (opens in new tab) opened in 1903, as part of the wider movement of lads' clubs set up by local companies and philanthropists between 1886 and 1910. Many similar clubs were set up in industrialised cities, predominantly in the North West of England. Their aim was to provide a safe place for local teenagers who could become involved in street gangs, to engage with sports, arts, and cultural and educational activities. Salford Lads' Club also sought to help young boys find employment, for those aged 13 and upwards. No stranger to TV appearances, the club has appeared in numerous shows, commercials, and documentaries. It will be most recognisable for appearing in Coronation Street, Shameless, Peaky Blinders, Cold Feet, and Ridley Road.
The Stockport Plaza (opens in new tab) is an art deco Super Cinema and Variety Theatre. The building opened in 1932, and over 90 years later retains its original function, hosting pantomimes, musicals, plays, comedy, and concerts, alongside showing classic films presented in their correct ratio and format - customers can watch the classics on the big screen, how they used to enjoyed.
Mark Gatiss who plays Larry in the series, spoke to Virgin Radio about filming at the Plaza. He said "I play Larry. And it was a real treat, because he really was Noele's best friend. People used to think they were going to get married in that strange way that light entertainment used to have a hold over the nation. The most amazing part, for me, of doing it, was I had to do a recreate Larry's act, which we shot at Stockport Plaza with 150 extras. It was just so much fun."
In Bolton, film crews were spotted at Le Mans Crescent, which was transformed into a set featuring vintage cars and buses, in May and June 2022. Also no stranger to appearing on television, the crescent features distinctive cobbles and grand buildings, and sits behind Bolton Town Hall. Fans might recognise it from Peaky Blinders, It's a Sin, and The Ipcress File.
In Venice, filming took place at the Grand Canal, and the Dorsoduro area. The real Noele Gordon made a brief return to Crossroads in 1983, filming scenes in Venice which perhaps will be recreated in Nolly. Augustus Prew who plays Tony Adams in the series, shared a picture of himself and Helena Bonham Carter on set in Venice, with the canal in the background.
Space Studios Manchester (opens in new tab) has over 85,000 square feet of stages dedicated to TV and film production. The production spaces have been designed to meet the needs of any production company, with 24/7 access provided for filming at any time of night or day. The studio shared pictures of the cast and crew to their Twitter page, with the caption "That's a wrap, @quaystproductions have based here at @SpaceStudiosMcr for the last few months filming their first production, the highly anticipated 'Nolly' Due to air early 2023. Nolly is the true story of Crossroads star Noele Gordon starring Helena Bonham Carter."
That's a wrap 🎬 @quaystproductions have based here at @SpaceStudiosMcr for the last few months filming their first production, the highly anticipated 'Nolly' Due to air early 2023. Nolly is the true story of Crossroads star Noele Gordon starring Helena Bonham Carter. pic.twitter.com/RkYEjEyvu2July 28, 2022
See more
Who was Noele Gordon?
Noele Gordon was born on Christmas Day 1919, in East Ham, London. She appeared in John Logie Baird's world's first colour transmission on July 3 1928, and went on to forge a successful television career. Training at RADA, on graduation Noele appeared in various West End productions such as Brigadoon, and Call Me Madam. After a few film appearances, she presented The Weekend Show for Associative Television.
On the 28th February 1941, she announced her engagement to Capt. John Robertson Dunn Crichton. However, his wealthy family were unhappy about him marrying an actress, and the wedding was cancelled at the last minute. Noele was said to be so upset at the wedding being called off, she refused to ever marry in the future. In 1954 Noele left for America, to study and observe their commercial services, studying TV production for a year at New York University. On returning to the UK she became the first female television executive when she was hired to oversee the lifestyle output at a Midlands TV station.
By 1955 Noele she was part of The Weekend Show, before moving to ATV London to host ITV's first chat show - Tea with Noele Gordon. For the next decade, the she was kept busy with numerous producing, writing, and acting jobs. In November 1964, she landed her most iconic and best known role - that of Meg Richardson/Mortimer, owner of the Crossroads Motel in the fictional village of Kings Oak. The role won her several awards between 1968 and 1981, and she became the first celebrity placed in the TV Times Hall of Fame. In 1975, her character of Meg married Hugh (John Bentley) and 1000s viewers arrived to the wedding filming location to see the couple.
In 1981, after 17 years playing Meg, Noele was sacked when ATV was reconstituted into Central Independent Television (CIT). CIT had reportedly wanted to cancel Crossroads altogether, but was unable to do so at the time. It is thought she was fired because CIT hoped viewers would stop watching the show without her in it, enabling them to cancel it and make way for other shows. The series retained some popularity however, and continued until 1988, with a short revival between 2001-2003.
How old was Noele Gordon when she died?
Noele Gordon died of stomach cancer on April 14th 1985, at the age of 65. She is buried in St Mary's Church, Ross-On-Wye, near Hereford.
After she was fired from Crossroads, Noele returned to the soap for two episodes in 1983. She was asked back again in 1985, when the series had renamed Crossroads Hotel. However, at that stage she was too ill to return, dying shortly after the time she would have appeared. In May 1985, a memorial service for Noele was held at Birmingham Cathedral. Many famous faces from her past, and many of the Crossroads cast attended the ceremony.
Nolly: Reviews
The critical response to Nolly has been largely positive.
Rebecca Nicholson from The Guardian (opens in new tab) offered 4 stars out of 5. She said "In the end, this is a posthumous defence of Nolly, poorly treated by the industry she loved and sent out to pasture long before her time. It is a defence of soaps, of television, of fabulous older women and of showbiz, darling, even at its grubbiest and least glamorous. It is warm, thoughtful and gorgeous, and by the end of it, I was a little bit in love with Nolly myself."
Nick Hilton from The Independent (opens in new tab) offered 3 stars, saying "For all that she was branded a "difficult asset" by ATV executives, it's clear that Davies and his cast have a unanimous enthusiasm for Gordon's no-nonsense, feminist perspective on the industry that jilts her. Viewers unfamiliar with the cultural moment it depicts might struggle to get past the opening episode, but those that do will find something treacly yet efficiently moving, with Bonham Carter on sensational form."
Anita Singh from The Telegraph (opens in new tab) gave the series a whopping 5 stars. She said "For anyone nostalgic about this era, the show is full of delights. The fashions. The shopping – Gordon and Adams manage to make a trip to look in the windows of Rackhams in Birmingham seem impossibly glamorous. And if Crossroads was a regular part of your viewing schedule – even if you thought it was rubbish – then just hearing Benny say the words "Miss Diane" will evoke a Proustian rush."
Related ITV Features:
Video of the Week
Lucy is a multi-award nominated writer and blogger with six years' experience writing about entertainment, parenting and family life. Lucy has contributed content to PopSugar and moms.com. In the last three years, she has transformed her passion for streaming countless hours of television into specialising in entertainment writing. There is now nothing she loves more than watching the best shows on television and telling you why you should watch them.