Where is Jose Hernandez now? The astronaut from Amazon Prime's A Million Miles Away
What happened after he made history?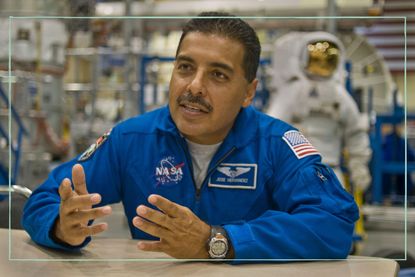 (Image credit: Houston Chronicle/Steve Ueckert/Associated Press/Alamy/Future)
Goodto Newsletter
Parenting advice, hot topics, best buys and family finance tips delivered straight to your inbox.
Thank you for signing up to GoodTo. You will receive a verification email shortly.
There was a problem. Please refresh the page and try again.
Where is Jose Hernandez now? As Prime Video releases a film about his incredible achievements, we look at what happened after the astronaut made history.
Prime Video are warming hearts everywhere, by releasing a film about the life of Jose Hernandez. The real-life story of the NASA flight engineer will be told in A Million Miles Away, which follows his incredible journey from from a rural village in Mexico, to the International Space Station. Prepare to be inspired by the drive and determination shown by one man, with unlimited support from those around him as he achieves his dreams.
But what happened to Jose Hernandez once history was made, and where is he now? We take a look at what Jose has continued to achieve, in the same way we looked at Mike and Bill Veeck now - the subjects of Netflix's The Saint of Second Chances. We've also delved into what happened to Ueli Steck and where Dani Arnold is now - the subjects of the streamer's riveting Race To The Summit.
Where is Jose Hernandez now?
Jose Hernandez is still very busy, spending time working at his California vineyard Tierra Luna Cellars, and as the CEO of Tierra Luna Engineering. He is also an author and motivational speaker.
Tierra Luna Cellars is the brain-child of Jose and his father, Salvador. Inspired by generations of his family labouring in fields, the small vineyard is an homage to the years they spent grafting, and the skills they learnt in the process. Their own line of wines are named after the constellations from space that Jose experienced during his time as an astronaut.
Tierra Luna Engineering "provide our clients with an innovative approach on aerospace, advance technologies and education outreach needs while also providing turnkey solutions to organizations wanting to increase their manufacturing capabilities in a sustainable and cost effective manner," according to the website. Jose both founded and remains CEO of the company that provides not only manufacturing, but also consulting, seminars, and conferences.
Hernandez is also the author of Reaching for the Stars: The Inspiring Story of a Migrant Farmworker Turned Astronaut. The movie A Million Miles Away takes inspiration from this memoir. He has also written The Boy Who Touched the Stars, an illustrated book of his experiences for children, to introduce them to the concept of space travel. Both books have accrued a plethora of positive reviews online.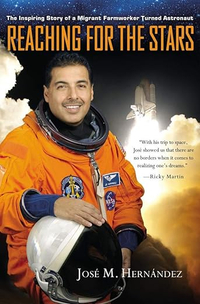 Reaching for the Stars: The Inspiring Story of a Migrant Farmworker Turned Astronaut by Jose Hernandez £14.99 | Amazon
Read the memoir of an incredible journey to space, that has inspired the major new Prime Video movie A Million Miles Away.
What did Jose Hernandez do?
Jose Hernandez defied all odds to become a NASA astronaut, after being turned down several times for training - he was the first migrant farm worker to enter space. While in orbit in 2009, he became the first person to use the Spanish language in space while using Twitter (now known as X).
Hernandez was one of four children born to a migrant family in Mexico. He didn't learn to speak English until the age of 12, spending most of his childhood traveling between Mexico and California - every March, his family entered the US working the fields, before returning to Mexico for Christmas.
After graduating high school, Hernandez earned a place at the University of the Pacific in Stockton, to study electrical engineering. He was then awarded a full scholarship to the University of California in Santa Barbara, to attend a graduate program.
One part of his early career involved co-developing the first digital mammography imaging system, for breast cancer diagnosis. After this award-winning stint, he joined the Johnson Space Center and began the astronaut application process. there he met Franklin Chang-Diaz, his childhood hero. The two shared similar experiences and upbringings, with Chang-Diaz spurring Hernandez on to achieve his dreams.
After being turned down several times for astronaut training by NASA, Hernández was selected for the 19th class of astronauts in 2004. He completed training in 2006, and was made mission specialist on the STS-128 mission on board the Space Shuttle, Discovery in 2009.
How old was Jose Hernandez when he went to space?
Jose Hernandez was 47-years-old when he first went into space.
Speaking to People, he reflected on the experience. "You go from zero to 17,500 miles an hour in eight and a half minutes," he explained, adding "I mean, this is the best Disneyland ride you can ever hope for. Describing the experience as "very, very humbling," he went on to add "I remember the very first time I unbuckled my seatbelt and experienced zero-G for the first time... I was making my best Superman impersonation as I floated down to the mid-deck. But then I saw the window that was pointed directly at Earth, and I said, 'I gotta stop and look at Earth from this perspective. Only 500-and-some-odd people have had the privilege to see it, of seven billion.'"
"We were over North America. But what struck me as beautiful is that you couldn't tell where Canada ended and the U.S. began. You couldn't tell where the U.S. ended and Mexico began. And I said, 'My gosh, I had to go out of this world to realize that borders are human-made concepts designed to separate us.' If we can give the opportunity to our world leaders to have this same 'aha' moment, I will guarantee you we wouldn't be having the troubles we have."
How many times did Jose Hernandez get rejected?
Jose Hernandez applied to the NASA astronaut training program 11 times until he was accepted on the twelfth try.
He stated that as the rejection letters always ended informing him he was welcome to try again, he planned to do just that until he obtained a place. The former astronaut told People "I tell folks, you gotta have that perseverance gene in you to keep trying and believing in yourself, and keep improving yourself each time you fail."
He eventually left NASA to focus on his family. Hernandez has five children with wife Adela, Julio, now 29, Karina, 28, Vanessa, 26, Marisol, 24, and Antonio, 20. He wanted to ensure his children went to college, and now dedicates time to campaigning for all children - especially those from a similar background to himself - to be given the opportunity to reach their goals.
Viewers tuning into Netflix's Who Killed Jill Dando? have been asking about Barry George now - the man wrongfully imprisoned for her murder then later released. We've also taken a look at the whereabouts of Mazher Mahmood now, the subject of Prime Video's The Fake Sheikh. Carlos Ghosn remains on the run, and we looked at where he's hiding out after his incredible escape from Japanese authorities.