Is A Million Miles Away a true story? The real events behind the Prime Video movie
The film tells an inspiring story about a NASA flight engineer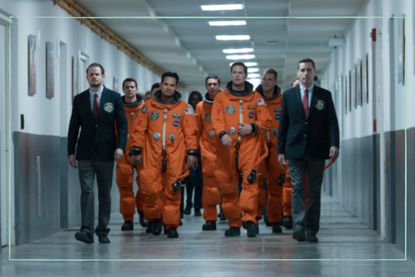 (Image credit: Daniel Daza/Prime )
Goodto Newsletter
Parenting advice, hot topics, best buys and family finance tips delivered straight to your inbox.
Thank you for signing up to GoodTo. You will receive a verification email shortly.
There was a problem. Please refresh the page and try again.
The new Prime Video film follows the extraordinary life of José Hernández - but is A Million Miles Away a true story?
Directed and co-written by Mexican filmmaker Alejandra Márquez Abella, A Million Miles Away tells the story of a boy who grows up in a family of migrant farm workers and goes on to become a NASA astronaut. It's an inspiring story that highlights how passion and determination can result in achieving a seemingly impossible goal, and has left viewers wanting to know where José Hernández is now.
Prime subscribers also want to know if Sitting in Bars with Cake is a true story, with Netflix fans were asking the same of the hugely popular Painkiller. Now the spin-off series from frenetic film Boiling Point is airing on BBC One, fans have also been asking if Boiling Point is based on a true story. Now, audiences want to know the origins of A Million Miles Away.
Is A Million Miles Away a true story?
Yes, A Million Miles Away is based on a true story and the biography of Latino NASA astronaut José M. Hernández, Reaching for the Stars: The Inspiring Story of a Migrant Farmworker Turned Astronaut, which was released in 2012.
Hernández's parents were originally from Michoacán, Mexico, but he was born in California, where he would work in the fields with them. He only spoke Spanish until he was 12 and rarely went to school, but he went on to achieve his lifelong goal of becoming an astronaut and travelling to space.
Michael Peña, who plays the role of José Hernández in A Million Miles Away, said of the film in its production notes: "My mom grew up not too far from where we shot in Mexico. Neither of my parents had a lot of opportunities. Each of them worked two full-time jobs so we could go to good private schools, which turned my attitude around as to what was possible. Becoming an actor is not the same as being an astronaut, but it is a nearly insane dream for anyone."
After graduating from Franklin High School in Stockton, José Hernández went on to earn his bachelor's degree in electrical engineering from the University of the Pacific. Two years later, he earned a master's degree in electrical and computer engineering from the University of California, Santa Barbara.
In total, Hernández applied 12 times to NASA's training program and was rejected year after year. He was finally accepted in 2004 at the age of 42, after becoming a certified scuba diver, obtaining his pilot's license and learning to speak Russian in order to bolster his application.
On August 28, 2009, José Hernández finally went to space, travelling for 14 days as a crew member on the STS-128 mission, which transported equipment and supplies to the International Space Station.
While in orbit, Hernández became the first person to use the Spanish language in space while tweeting updates. The first tweet read, "El primer dia de nuestra semana de ensayo simulando nuestra primer semana en el espacio! First day of simulating our first week in space!"
Ok it is official! The movie is coming out! I hope my story inspires many people to follow their dreams. Watch the trailer for A Million Miles Away now and stream the movie on Prime Video on September 15! https://t.co/lo4abT6f95August 15, 2023
See more
A Million Miles Away stays fairly close to the real events that shaped Hernández's life - including his early memory of watching the 1972 launch of the Apollo 17 Moon landing mission on TV.
The film also shows his Second Grade teacher Miss Young (Michelle Krusiec) visiting his home and persuading his parents to finally settle in one place so their children could have a good education.
"That was a true story. She went to his house when he was a kid and she convinced the parents to stay in Stockton and stop moving around California and Mexico," director Márquez Abella told TODAY. "And that was a very (big) moment in José's life that changed everything."
Meanwhile, José Hernández shared his thoughts on having his life adapted for the screen, "My purpose is to encourage kids of any culture or race to reach their maximum potential. I saw the slate of movies this team has produced and knew these guys were serious filmmakers who could help bring my message to a wider audience."
What is A Million Miles Away about?
A Million Miles Away follows the life of José M. Hernández, from his time as a migrant farm worker when he was a child to the day he finally achieved his dream of becoming an astronaut.
The Prime Video synopsis for the movie reads, "Inspired by the real-life story of NASA flight engineer José Hernández, A Million Miles Away follows him and his devoted family of proud migrant farm workers on a decades-long journey, from a rural village in Michoacán, Mexico, to the fields of the San Joaquin Valley, to more than 200 miles above the Earth in the International Space Station.
"With the unwavering support of his hard-working parents, relatives and teachers, José's unrelenting drive and determination culminate in the opportunity to achieve his seemingly impossible goal."
It adds, "Acclaimed writer and director Alejandra Márquez Abella has created a dazzling tribute to the loyalty and tenacity of the entire Hernández family, as well as anyone who dares to dream."
A Million Miles Away cast
Michael Peña as José
Rosa Salazar as Adela
Julio Cesar Cedillo as Salvador
Veronica Falcón as Julia
Juan Pablo Monterrubio as Young José
Garret Dillahunt as Sturckow
Sarayu Blue as Kalpana Chawla
Bobby Soto as Beto
Ashley Ciarra as Marisa
Eric Johnson as Clint Logan
Jordan Dean as Weissberg
Michelle Krusiec as Miss Young
Emma Fassler as Stacey
How to watch A Million Miles Away
A Million Miles Away premiered on Prime Video on Friday 15 September in the US and the UK. If you have an Amazon Prime subscription, you will already have access to Prime Video.
If you don't yet have a subscription, Amazon Prime offers a number of different packages, and you can get the first 30 days free. Find out more by visiting Amazon's website.
For the truth behind more hit TV shows, you'll never believe the real inspiration behind Apple+ series The Crowded Room. Netflix's Burning Body is also based on a real life murder case. Some viewers have also been asking whether Dear Child on the streamer has any truth to it - we delve into whether there is or not.
Parenting advice, hot topics, best buys and family finance tips delivered straight to your inbox.